We all know the quality of the graphics processing unit (GPU), Nvidia has been producing over the years.
Being one of the best Nvidia's products meet the demand of graphic designers, video editors, animators, professional gamers, and other high graphic demanding jobs.
It is also true that sometimes users still face some issues with Nvidia's GPU. One such error message is "NVIDIA graphics driver is not compatible with this version of windows" which appears during the update/installation process.
Since this prevents the installation of the NVIDIA driver on your PC, you can't enjoy the advantages of having the graphics card. The question is does this error mean your windows do not support the driver you are trying to install? Or does it indicates that you need to purchase a new graphics card!
In this article, you can read about what does this issue means, how it occurs, and how you can solve this issue without changing your windows or changing the GPU. That being said, let's start –
What is the "Nvidia graphics driver is not compatible with this version of windows" issue?
The error message states that the Nvidia driver you are trying to install is not meant for your current operating system. There is nothing wrong with the GPU hardware. This issue mainly lies between your Operating system and the driver.
It clearly tells you neither have to buy a new graphics card nor install a new operating system. Usually, this issue seems to occur when you are trying to install a 32 bit Nvidia graphics card driver into your 64 bit OS and vice-versa.
As long as the architecture of both driver and the operating system does not match, it can prevent you from installing the driver on your PC.
So make sure to check your windows version and then install the correct Nvidia driver to avoid the Nvidia graphics driver not compatible issue. To know your operating system information follow the guideline I have added below.
How to check your operating system information?
There are multiple ways you can check OS specification, however, since this issue is related to Nvidia GPU we will try to use the DirectX Diagnostic Tool.
Open the RUN dialog box, type "

dxdialog

" and click OK.
The DirectX diagnostic tool will start.
You will see the operating system information, where you can find the architecture version of your OS.
Both the bit version and windows Build are important for the Nvidia driver installation issue.
As I mentioned above, along with windows' bit version, another reason for the Nvidia graphics driver incompatible issue can be the build version of your windows.
Nvidia graphics drivers were not supported in predecessors of Windows 10 Threshold 2 version 1511. In fact, the supported versions were 1511 (Threshold 2 version), 1607 (Anniversary version), and 1703 (fall creators version).
In terms of build, successors of the 10586 version are supported by Nvidia drivers. To check the Windows version and the build separately you can use winver command like this:
How to check Windows build version?
Open the RUN dialog box and type "

winver

" to open the "about windows" window.
There you will find both windows version and build no.
Now doubt NVIDIA produces high-quality outcomes, however, it may still have some issues similar to this one. The following part of the article is explaining how to fix the "NVIDIA graphics driver is not compatible with this version of windows" warning.
How to fix NVIDIA graphics driver is not compatible with this version of windows
Step 1. Make sure your windows version does support Nvidia drivers
Again, before trying out other solutions it's recommended to check whether the windows version and build address support Nvidia drivers. I already have mentioned them earlier in this section. And if you want to check windows information try these steps.
If everything is alright for windows version you should forward to the next step.
Step 2. Reinstall the NVIDIA graphics driver after uninstalling it
The first step for fixing this issue would be performing a clean uninstall and reinstalling the NVIDIA driver on your computer. Most of the time this is the best solution to resolve issues because there might be some sort of cache memories or files preventing the installation.
To perform a clean install follow the given instructions carefully;
On your windows search bar type "MSConfig". Click on system configuration from the search result. Or you can also invoke the RUN box (Win+R) and type MSConfig to open system configuration. Either way work.
When the system configuration window appears, switch to the Boot tab and check on Safe boot also check the network option and click on OK.
Click on Restart when prompted and your computer will now boot into safe mode.
Now open file explorer and go to Local Disk C. From both Program Files and Program Files (x86), delete the NVIDIA corporation folder.
Then press Win + R and type "devmgmt.msc" in the Run dialog box and press Enter. This will open the device manager window.
Expand the display adapter. You should see all the network adapters currently connected to the PC. From this list right click on Nvidia adapter and select uninstall the device.
After uninstalling the driver go to the Boot settings again and disable safe boot mode. Wait for the prompt to restart your PC.
Visit this link:

https://www.nvidia.com/Download/index.aspx

and download the latest Nvidia driver for your computer.
Remember, you need to select the graphics driver that matches your hardware(GPU) specifications.
More importantly, pick your operating system e.g. Windows 10 64-Bit/32-bit or Windows 7 32-Bit/64-bit. If you don't know how to verify which windows version you are using read this section of this article. 
Once the download is finished, run the setup file and follow the installation instructions on the installer. Make sure to check the box "perform clean install".
Now restart your computer.
Verify if the "NVIDIA graphics driver is not compatible with this version of windows" warning appears or not. If not resolved proceed to the next method mentioned below.
Having trouble with the intel delayed launcher? Check this article on how to remove delayed launcher from your PC.
---
Step 3. Download NVIDIA driver using Geforce Experience
In case the issue remains you need to use Nvidia Geforce Experience to download or update the Nvidia graphics driver.
In case you don't have the Geforce experience application download it from this link:

https://www.nvidia.com/en-us/geforce/geforce-experience/.

Now start the Geforce Experience program. If you find the application update make sure you do that.
Now go to the Drivers tab on Geforce Experience. It will display the driver install button or update button depending on you have the driver installed or not.
If you did not find any automatic recommendation double-check the driver status by clicking on the "

check for update

" button.
For both cases, whether it is a fresh installation or an update you need to select "

Custom installation

".
During installation, you should check the "perform clean install" option.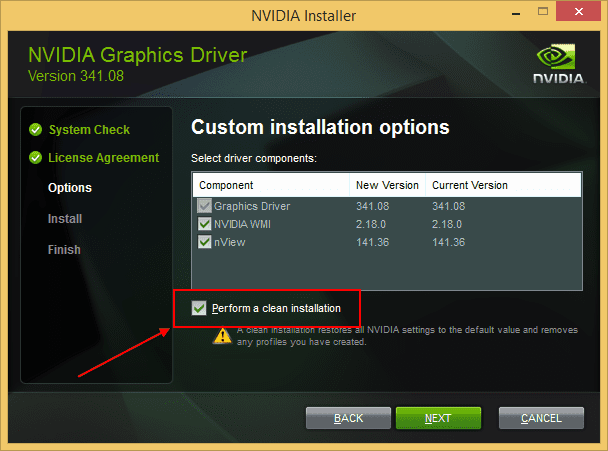 After installation is completed restart your computer.
Now verify whether "NVIDIA graphics driver is not compatible with this version of the windows" issue resolved or not. If not proceed to the next step to update windows.
Elara app: it's a virus or an internal program?
---
Step 4. Update your Windows
As we discussed earlier Windows 10 version & build can be the cause of this problem. If so, you can fix it by updating your operating system to the latest release.
There is a possibility that your windows version is not up-to-date which is causing the issue. You can also check the history of windows 10 versions for more related information.
In order to update your Windows,
Search for "

windows update settings

" on the windows search box or press Windows + I to open the settings window.
Then click on

update and security

> select

windows update

.
Click on the "

check for update

" button.
Allow installation of all the important windows updates.
During installations of the update, windows might restart several times, do not interrupt the process.
Once the Windows update process completes check whether the "Nvidia graphics driver is not compatible with this version of windows" warning get resolved or not.
There is a very low possibility that the issue still remains, most of the time these three steps work really well and successfully solve the issue.
If you use PDF forms in your business by any means, try this Smart PDF form creator tool to automatically design a mobile-friendly online form from an existing PDF file. You have to upload the preferred PDF and the tool will convert it into a smart form. Once the smart form is created you can collect information from people, manage them as well as get that information into the original PDF file instantly.
Similar articles:
How To Fix GeForce Experience Login Not Working Issue
How To Fix Laptop FPS Drop When Plugged In [Updated]
How to fix GeForce experience login not working issue