Insurgency Sandstorm is an FPS game that is currently available on PC, Xbox One and PS4. The game is developed by New World Interactive, and published by Focus Entertainment as a sequel to the popular game Insurgency, released back in 2014.
Nowadays, cross-platform play has increasingly become popular among the online player base. This increases the player base involved in the game as more people from different system environments can easily join the lobby.
In this article, let's find out is insurgency sandstorm crossplay compatible. We have researched the crossplay compatibility of Insurgency Sandstorm across various platforms.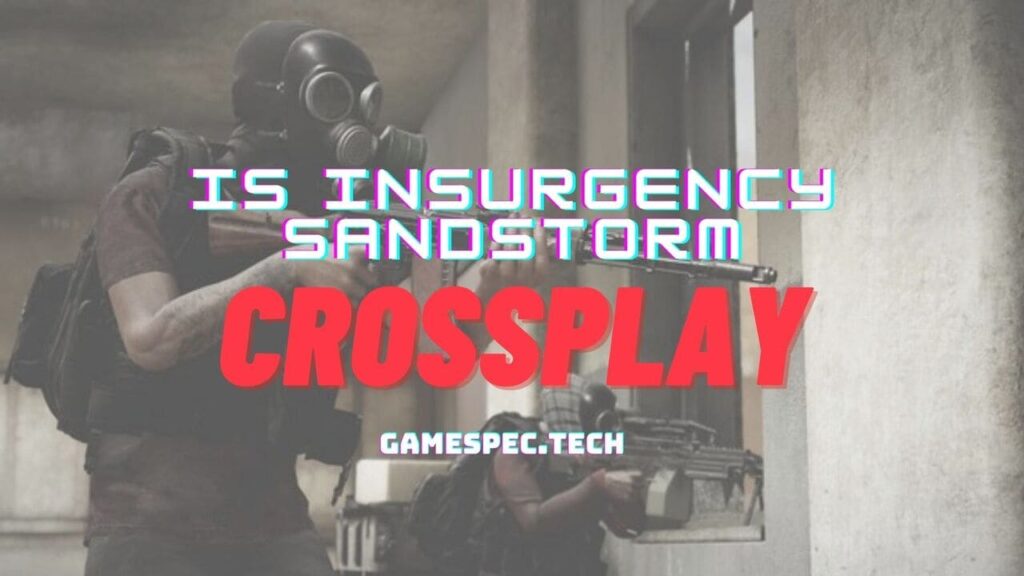 The game is set in the Middle East, and you play as a member of either an elite military force or an insurgency group. The objective of the game is to complete various missions, such as rescuing hostages or destroying enemy strongholds.
The game is played from a first-person perspective, and you can use a variety of weapons and equipment to complete your objectives.
In PvP battles, players may engage in tight moment-to-moment gunplay as well as participate in all-out war 8V8 PvE modes. The main selling point of Insurgency Sandstorm is the realistic gunplay, detailed terrains, and time-to-kill gameplay that puts players at risk of being shot several times before dying.
To avoid being shot a few times and dying, you must take cover, work with others, and plan your approach.
The game offers a variety of classes to pick from, each with its own arsenal of gear. Some can use guns while others may call in air strikes. It's crucial to choose the appropriate class that fits your team.
Some of the popular modes in the game among players are:
Domination: where each team tries to take control of three points across the map.
Frontline: the objective is to reach and destroy the weapon cache before your team's clock runs out.
Survival: You and your team need to fight for survival against a wave of enemy AI.
Now, let's take a look at whether you can play this game with players on different gaming systems: whether or not Insurgency Sandstorm supports crossplay!
Is insurgency sandstorm crossplay?
No. Insurgency: Sandstorm does not support crossplay. According to the FAQ on publisher Focus Entertainment's website Insurgency Sandstorm will support cross-generation gameplay following its console launch. There's no update of the game being compatible with cross-platform play anytime soon.
This means the PC users will be left out of experiencing cross-generation play because Xbox is a console. Thus PC users will have to play Insurgency: Sandstorm with other PC players only.
PlayStation users can play vs other PS users whether they own different consoles from a different generation. The same applies to Xbox users, they can enjoy cross-generation play on Sandstorm.
On FAQ they said: "We will support crossplay at launch for the same console systems (Xbox One-Series X / PS4-PS5)". Also added, "It is one of our top priorities to bring full crossplay between consoles, and we will keep you posted on that matter!"
Let's take a detailed look at insurgency sandstorm crossplay over different platforms and compatibility.
Is insurgency sandstorm crossplay between Xbox One vs PC?
No, Insurgency Sandstorm does not support crossplay between PC and Xbox One. It's on the far side than closer that the PC version will have cross-platform support anytime soon.
Since crossplay support is only for the same platforms it means that a player using a PC can't join another player on Xbox One. Since the game versions are distinct between Xbox One and PC preventing both gamers from participating in a multiplayer match.
This is a major drawback of Insurgency Sandstorm not being able to provide crossplay. It could have been so much better if it was cross-platform.
Is Insurgency Sandstorm Cross-Platform PC And PS4/PS5?
No, Insurgency: Sandstorm does not support cross-platform gameplay between PC and Playstation. You can't be on a PC and play with your friends who are playing the game on PlayStation.
Since PC seems to be left out of the console crossplay update you will only be matched with PC players in the lobby. Where's a PlayStation user will be able to join the game lobby with a homogeneous console setup?
Does Insurgency Sandstorm Support Crossplay Between Xbox and PS4 & PS5?
Cross-play between Xbox One and PS4/PS5 is currently unavailable because the devices are gaming consoles with two separate servers. The version of the Insurgency Sandstorm game also varies across both platforms.
This implies that a PlayStation 4 or PS5 player cannot join an Xbox One player in playing the game. It seems it's possible to enjoy the game only with players on the same platforms.
Hopefully, the developers bring cross-platform support between console-level at least so consoles get a bigger userbase to enjoy the game together regardless of what console we're playing on.
👉🏽 Also Read: How to Connect PS4 to Laptop (Step by Step Guide)
Is Insurgency Sandstorm Crossplay Available Between PS4 vs PS5?
Yes, Insurgency Sandstorm supports crossplay between PS4 and PS5. The fact that both platforms are hosted by the same server, it is allowed to have cross-generation functionality. Basically, since both are coming from the same platform it's obvious to have crossgen support on Sandstorm between Playstation 4 and 5.
It implies that a PS4 player and a PS5 player may engage in cooperating in the game without issue.
You will be able to play the game with your friends who have their hands on these two sony consoles. That being said if you're looking for a milsim shooter to play with your buddies, Insurgency Sandstorm could be at the top of your list.
Is Insurgency Sandstorm Crossplay Available for Xbox One vs Xbox Series X/S?
Similar to the PlayStation series, Xbox and Xbox Series X/S also support cross-generation play for Insurgency Sandstorm. Although the console model varies, the game version & server is cross-gen compatible, allowing for interaction between an Xbox One and an Xbox Series X/S players.
As a result, you no longer have to buy the game twice if you were playing it on Xbox One. You can simply grab a free upgrade too to Xbox Series X.
It was surprising not to see the crossplay support on Windows (PC) while both Xbox console players are benefiting from this crossplay update.
What would be the benefits of Sandstorm being a crossplay game?
If Insurgency: Sandstorm decides to bring cross-platform play then, there are some advantages that immediately come into our mind.
A Larger Playerbase: The biggest advantage of being a cross-platform play is that the game will have a massive player base. Although Insurgency: Sandstorm is a game the fans highly appreciate, with crossplay the game can grow even bigger and would be so much fun together with your buddies using different systems.
Faster Matchmaking: More players online together looking to join a lobby can lead to better & faster matchmaking. You're able to get into a match faster with players of different skill levels together, making the game more balanced and enjoyable at the same time.
Increase in framerate: Cross-platform means the game needs a bit to optimize for both gen consoles as well as for PC. This might help get more optimized gameplay compatible with all platforms.
Improved Graphics: Crossplay might also help improve the graphics. This is because the new-gen consoles are powerful enough to deliver better visual output. It will encourage the developers to make better-looking games.
FAQs
Is insurgency sandstorm crossplay?
Apart from the same platform play to the console Insurgency Sandstorm does not offer any cross-platform play. The developers have said that they're looking into it but nothing has been confirmed as of yet. So, for now, you'll just have to stick to playing with people on your own platform.
Crossplay to Insurgency: Sandstorm would be a huge advantage.
How do you play Insurgency: Sandstorm with friends on Xbox?
If you want to play with your friends on Xbox, you'll need to create a party through the in-game menu. From here, you can invite your friends to join you and start playing together. Worth noting that only those who are on the same platform as you will be able to join your game.
This means that if you're playing on Xbox One, only other Xbox One players will be able to join you. The same goes for those playing on Xbox Series X/S.
Conclusion
In the end, we conclude that the game Insurgency: Sandstorm is not available for cross-platform play. Only cross-generation play is available after console update. We will have to wait and see whether this game comes as a cross-play compatible in the future.
You can also read: