As a Roblox player, if you're looking to purchase $25 worth of Robux, you might be curious about how much Robux you can get. This post breaks down exactly how much Robux is 25 dollars and provides tips to help you maximize your purchase.
If you intend to buy Robux for $25, usually you'll receive 2,000 Robux. Although, you can get more Robux depending on where you purchase them and the quantity you buy. Furthermore, purchasing in larger quantities can often lead to a more favorable deal, allowing you to maximize your purchase.
How Much Robux is 25 Dollars And From Where Can You Buy It?
On the official buy Robux page, there's no direct option to buy 25 dollar worth of Robux. You get to purchase at least 400 Robux for $4.99 and up to 10,000 Robux for $99.99, separated into five packages.
According to web archives, the official Roblox website offered the option to buy $24.99 worth of Robux between 2014 and 2019, which was equivalent to 2,000 Robux.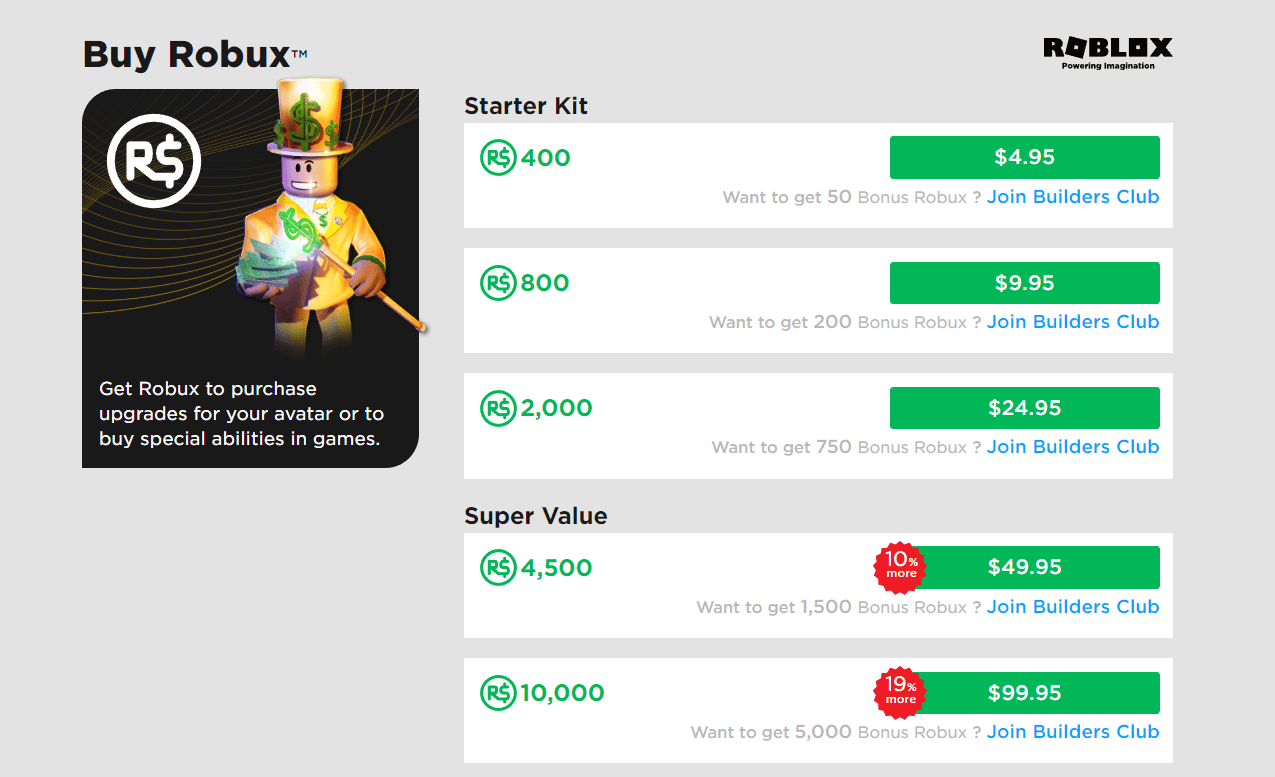 So the alternative option for purchasing Robux is via Amazon. On Amazon, you can find gift cards for various amounts, including $25, and you may end up with more Robux in 25 dollars than 2000 Robux. For example, this deal on Amazon can get you 2,200 Robux for $25.
Buying more gift cards at once can often get more Robux for your money. If you buy two $25 gift cards, you'll get a total of 4,000 Robux for $50. And if you're really looking to maximize your purchase, you can buy a $100 gift card and get 10,000 Robux (or 8,000 Robux if you were to purchase four $25 gift cards individually).
It's also worth noting that some gift cards may have additional discounts, so check for any promotions or sales before purchasing.
📣 Affiliate Disclaimer: the Amazon links I have added above are affiliate links, meaning I get a small commission if you make a purchase.
How To Get More Robux for 25 Dollars?
Apart from discounts on Amazon gift Robux gift cards and purchasing a higher-priced gift card, there's another way to earn more Robux with less than a $25 investment. However, this process requires monthly subscriptions and may not suit everyone.
Head over to the official Roblox upgrade page > Click on the 2,200 Robux per month package > This package costs you $19.99, saving you around $5 per month instead of purchasing it as an Amazon $25 gift card for 2,200 Robux if you buy Robux regularly.
You can do the math… here's a comparison of the cost for 2,200 Robux via Roblox subscription and Amazon gift card. This is reasonable for frequent Robux buyers.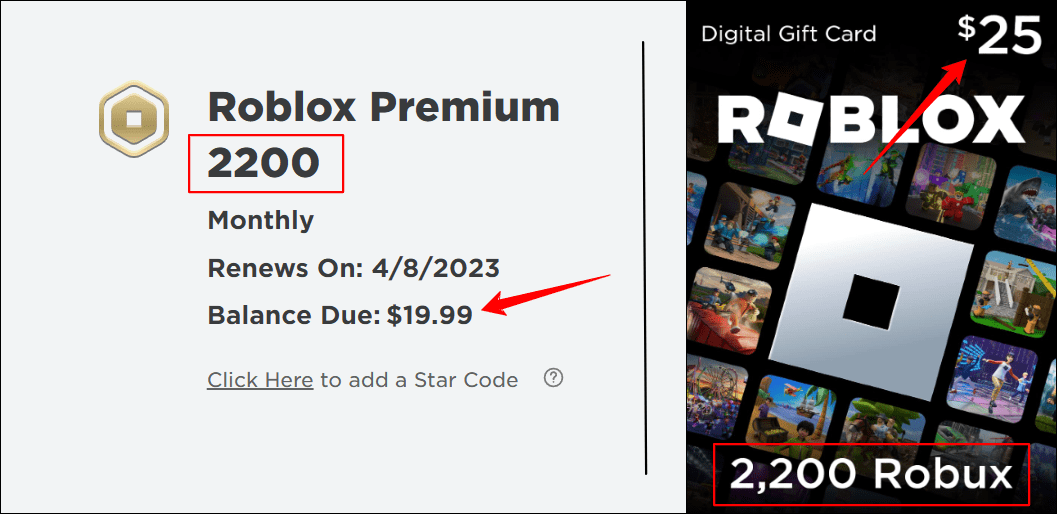 To summarise, if you want to purchase Robux for $25, you can typically expect around 2,000 to 2,200 Robux. In case you're willing to spend more money upfront and buy in larger quantities, you can often get more Robux for your money.
📣You can additionally read:
Frequently Asked Questions