Roblox is a massive online gaming platform. It has an inbuilt game development system, and Roblox Corporation created this platform. Roblox lets its users program their ideas into games and enjoy playing games created by other users.
The in-game currency in Roblox is called Robux, which you can use to purchase upgrades for your avatar, buy special abilities to upgrade your gaming experiences, build your items in games, and even develop your own games.
As a user, you can purchase Robux in exchange for real money. Buying it with actual currency is also possible, starting at $0.99 for 80 Robux. Besides, Roblox provides a Premium Membership that allows you to refill your monthly Robux balance, which begins at $4.99 for 450 Robux.
Roblox users can gift Robux to friends when they want to. However, giving away Robux may not be as straightforward as buying them because Roblox doesn't allow you to send Roblox to other users on the platform directly. For every game pass you purchase from a friend, Roblox gets a 30% commission.
So if you are wondering how to give Robux to friends, this post explains three different ways you can donate Robux as a gift or donation.
How Do I Give Robux To My Friend on Roblox?
Since Roblox does not allow a way to send Robux to your friends, people lean towards sending Roblox gift cards that do not require your friend to create a donation T-shirt and sell it for Robux, which is just straightforward and skip all these steps to get Roblox to your friend.
The Quick Method: You can give Robux to friends by sending them Robux gift cards. First, you will have to get Roblox gift cards from Amazon and send them the gift cards. When your friend redeems them, they can convert the funds into Robux.
In addition to sending gift cards, three different methods are available for sending Robux to friends on Roblox. Take a look at these steps and see which one you find the easiest.
Method 1: Give Robux To Friends For a Donation Item
Giving Robux to your friend for a donation item is one of the most popular ways. The whole concept of this method is your friend will create a donation item in the game. Then your friend has to make the item available for sale in the catalog.
Once the item is available in the avatar shop, you will have to purchase the respective item, for example, a donation T-shirt or any other clothing item, in exchange for Robux.
Here's how to do this:
First of all, you should ask your friend to create a donation item in Roblox and make it available for sale.
Your friends must join or be in the Builder's Club to create a donation item. The builder club can be joined with the Premium Membership ($4.99 monthly). Suppose your friend doesn't have a Builder Club membership; ask him to try this method instead. Note that only the seller needs to be on the Builder's club; the buyer can purchase items without being a builders club member.
Once the item is created, your friend needs to specify the item price and note the item name while uploading it to the catalog.
After the item is uploaded to the catalog with a preferred price tag, it's your turn to buy it.
Log in to your Roblox account.
Click on the "Catalog" link in the top left corner of the bar navigation or visit the catalog via this link.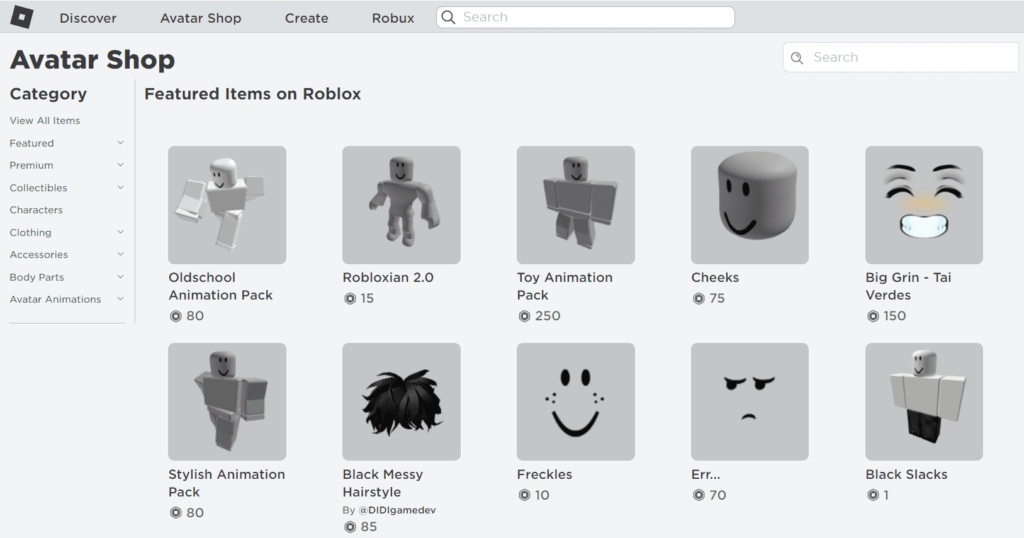 Use the search bar to find the item your friend has listed. (you can search for your friend's name who uploaded to item into the catalog and find the respective item as well)
When you find the item, click on it and then click on Buy With R$. A 30% market tax will be applied to the sold items via catalog.
After your purchase, Roblox will be transferred to your friend, i.e., the seller.
Method 2: Give Robux To Friends With A Game Pass
Another method to gift Robux on Roblox is by purchasing a game pass in exchange for Robux created by a user who does not have a Builder Club membership. This method is particularly helpful for donating Robux to a non-builder club user.
Here are the steps to do it:
First, your friend must create a game pass, or you can create one using their account.
To do that, log in to their Roblox account and click on Create option at the top bar.

Now your will need to create a game with Roblox's studio. If you already have one created, click on the dropdown menu to the right of the game you want to create a Game Pass for.
Then click on Create Pass from the options in the dropdown.
Then, click Choose File, which will display a file browser for you to pick an image from your local drive.
Select the image you want to display as the Game Pass icon (Roblox recommends using a template of 512×512 pixels and including essential details inside the circular)
Next, give your game pass a name and description (optional):

Pass Name: give a title to your Game Pass.
Description: describe what users should expect from the acquisition.

Click on the preview button to a pre-publish review of your game pass.
If you are satisfied with the preview, click the Verify Upload button to publish the game pass.
Next, you will need to scroll down to the same page, click on the gear icon of the Game Pass, and then select Configure.
You should click on Sales under the game pass configuration.
Then turn on the 'Item for Sale' toggle and specify the game pass price. The seller receives only 70% of the game pass price, so for example, if you are looking for 50 Robux, set the price at 72 Robux.
Click on save to set the Game Pass for public sale.
Share the item link with your friends or log out of your friend's account and purchase the game pass from your account to give Robux in exchange for the game pass to your friend.
📣 This method takes up to 3 days to process a sale and transfer Robux into the seller's account. in addition, the seller will only get 70% of the fixed price on a successful sale; the rest will go to Roblox as market tax.
Method 3: Give Robux To Friends Within Group
Creating a group is the third way to send Robux to your friends. By transferring funds to the group, you can effectively donate Robux to all group members.
It should be noted that there is a one-time cost of 100 Robux required to create a Roblox group. Follow these steps to gift Robux to friends in a group.
Navigate to the Create Group page and provide the necessary information. Group name and Emblem are musts.
Set your group privacy to public or manual approval.
Complete the group creation with 100 Robux.


Once the group is live, ask your friends to join the group.
You will need to add group funds to the group. You can create a game pass. (check this section to create a game pass). You can add the funds to the group by creating the purchase of the T-Shirt or any other clothing materials too.
After publishing your game pass, the funds will be transferred to group funds when someone purchases it. This fund can be distributed to the group members.
To give Robux someone in the group, click on the three-dot icon at the top-right and then select Configure Group.
Next, go to Revenue > Payouts > One-time Payouts > Add Payout Recipients.
Enter the particular group member name whom you want to give Robux.
Next, enter the Robux amount you'd like to pay out and click on Distribute.
Robux transfers in a group are usually immediate.
---
Whenever you come short on Robux, you can get additional Robux by purchasing more Robux, trading tickets, and collecting rewards. Check out these steps to get Robux in Roblox.
Similar article: Fun Roblox games to play when bored in 2023
How to Get Robux in Roblox?
You can use the methods above to donate Robux to your friend. But what if you are short with Robux and want to refill? In Roblox, there are three ways to obtain Robux:
📣Note: the steps below may change over time in the game when you read this post.
Method 1: Purchase Robux from Roblox Central Bank
Go to "Money" at the top menu on the Roblox homepage.
Then click on "Buy Robux" in the top right corner.
Mention the quantity of Robux you want to purchase.
Complete your payment using any of the following – credit cards, PayPal, Roblox game cards, and prepaid cards.
Method 2: Trade tickets for Robux in the Ticket Exchange
Go to the "Money" menu.
Select "Trade Currency."
Add how many tickets to exchange and click on "Submit Trade."
Method 3: Earn daily Robux by joining Roblox Builder's Club
Join standard Roblox Builder's Club; your account will be credited with 15 Robux each day.
To get 35 Robux daily, you can join the Turbo Builder's Club.
The Outrageous Builder's Club members earn 60 Robux every day.
Frequently asked questions
📝 Similar Articles: