Facebook lacks transparency when it comes to app issues and providing reasons for malfunction. One such example is when users receive the message "This person is unavailable on Messenger."
When you encounter this error, you are unable to send messages to the user until the issue is resolved.
Seeking assistance from Facebook support and just being told that, unfortunately, you cannot send messages to a particular person is not helpful or informative, as the message already indicates that the person is unavailable.
In order to effectively troubleshoot this issue, gaining an understanding of its root cause and identifying potential solutions is necessary. This guide explains possible causes for this person is unavailable on Messenger notice and solutions you can try to resolve it.
What does this person is unavailable on messenger mean?

You might encounter the "this person is unavailable on Messenger" notice if you are unable to send messages to someone on Facebook. This can occur if the recipient has deactivated their Facebook account or if you have been blocked by them.
According to the Facebook developer page, encountering the message not sent: This person isn't available right now falls into the permission errors. This error message may indicate that the person has chosen not to receive messages from you. In other words, that sounds like you may have been blocked.
Another possible reason could be that the person's profile received a ban from Facebook authority.
How to fix this person is unavailable on messenger notice for respective reasons
Here are some of the most frequently encountered reasons for the error message "This person is unavailable on Messenger" to appear:
1. This could be a temporary application bug
Occasionally, you may face technical glitches on social media apps. In such cases, waiting and attempting to message your friend later may resolve this issue.
The notice can also occur due to internet connectivity issues affecting the Messenger app. A poor internet connection can prevent the app from functioning properly and cause unexpected outcomes.
Solution 1.1 – clear the app cache and restart it
Most temporary app bugs get resolved by clearing the app cache memory, followed by an app restart. Flushing the app cache and restarting it can significantly reduce the possibility of app bugs appearing.
To clear your app data and cache on Android: go to your phone settings > then open app management > find and select Facebook messenger > go to storage control > tap on clear cache and clear app data as well.
For iPhone (steps are similar for iOS devices): go to the "settings" app > scroll down and tap on "general" > then tap on "iPhone storage" > locate the messenger app, and tap on it > then select offload app or delete app.
After clearing the cache & app data, restart the app, sign in to the messenger app again, and see if that helps remove that "person is unavailable" notice on the messenger app.
Solution 1.2 – update the app
Regular app updates from developers often include various bug fixes and improvements, and they may resolve this issue if it is recognized as caused by a software bug. It's always recommended to keep your apps updated to the latest version to ensure optimal performance and minimize potential issues.
Based on your device's OS, you can visit the Google play store or app store to see if there's an app update available. If you notice an available app update, don't hesitate to update the app.

After updating the messenger app, open it and see if you can message the person.
Solution 1.3 – try sending messages from the Facebook web
If the "This person is unavailable on Messenger" notice was an app bug, you could rely on the Facebook web version as it does not function like an app and is not a part of your device software.
All you need to do is log in to your Facebook account on a browser > and then attempt to send a message to the person for whom you are getting the person is not available message on the messenger app.
Several users have reported being able to send messages on Facebook but encountering difficulties with the Messenger app. It may be worth trying to send the message on Facebook to see if that resolves the problem.
Solution 1.4 – Try Facebook lite
Using Facebook lite to try to message a person when you can't reach them via Facebook messenger is still an unpopular step. Facebook Lite is packed with essential features needed on Facebook.
The lite version has the native messenger system in it and thus does not require an additional messenger app for direct & group conversations.
You can install Facebook lite on your phone (only for Android users) and see if you get the same notice as on messenger.
2. The person has blocked you on Facebook
It's possible that the person you're trying to reach out to on messenger has blocked you. When blocked, you just can't message that certain person because that's how it works.
However, you can investigate whether they blocked you on Facebook or only on the Messenger app. You can find out if you are blocked or not based on several signs on your Facebook profile.
To confirm whether the user has blocked you, there are a few signs to figure it out.
If you can't see the person on your Facebook friend list, view their profile, receive a "content not found" message when attempting to view their profile, invite them to Facebook groups, see their posts, or send a friend request, you have likely been blocked by the person.
Content not found

The page you requested cannot be displayed at the moment. It may be temporarily unavailable, the link you clicked on may be broken or expired, or you may not have permission to view this page.
Counter side, when you can access the profile and see their posts but still can't message them, it indicates that you were blocked only on Messenger.
So, if you've been blocked, consider reaching out to your friend through other means, such as a phone call or email, and ask them to unblock you.
3. Ensure you haven't blocked the message recipient
Blocking users on Facebook affects both ways, whether the recipient or you. It does not matter if you have blocked the person long ago or accidentally put them into your blocked list; you won't be able to have a conversation with them, leading to encountering the person unavailable on messenger notice.
So it makes sense to double-check you are not blocking the person unintentionally.
Solution 3.1 – Find if the recipient is in your blocked list
You can check if you have blocked a user via Facebook messenger or on the Facebook application and web.
To check if you have blocked a user on Facebook via messenger: open Facebook Messenger and go to that chat > then click on the chat name, which will take you to the individual chat control menu > scroll down to the bottom and check under the privacy and support section > there, if you notice the unblock option, that means you are blocking the user > if it's the opposite (block option appears), means you have not blocked the user so leave it as it is.
Another way to check your block list is:
First, open Facebook.
Then go to Settings & Privacy by clicking on the arrow pointing down in the top right corner of the screen.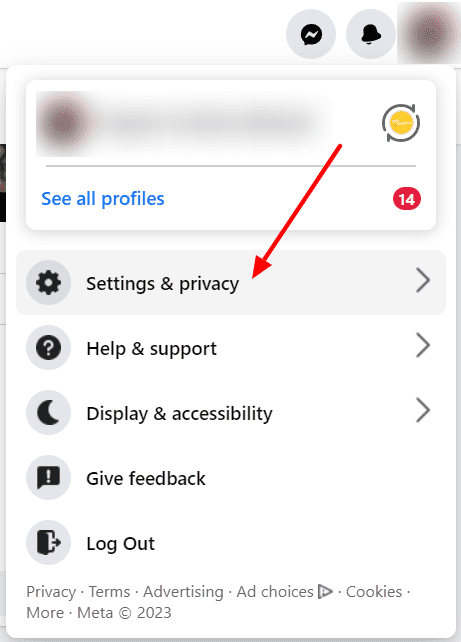 Select Blocking under Settings.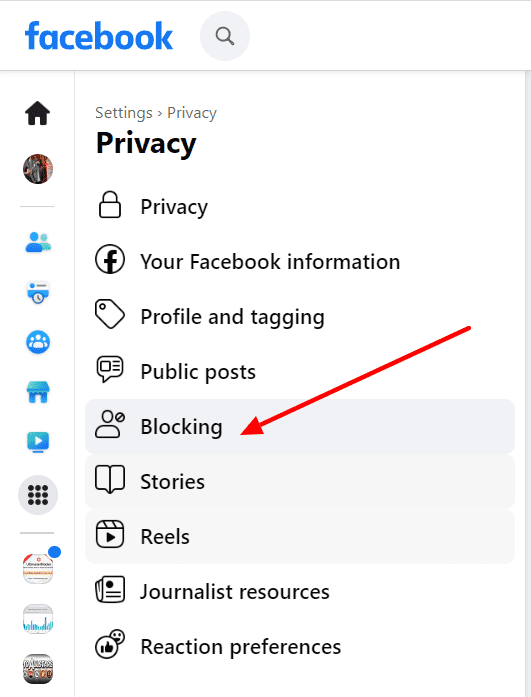 Find the Block Users option, click Edit, and you will see a list of blocked people.

To unblock a friend, simply click the Unblock button next to their name.
Solution 3.2 – Check your Facebook memories
To check the status of an account on Facebook, you can use Facebook memories. This feature allows you to view previous comments and likes made by the user. If the user's name is clickable and blue, it means that the user has not blocked you.
If you can't click on the profile name and it appears black, it means the person block has blocked you, or the account doesn't exist on Facebook.
To check your Facebook memories on your phone: open the Facebook app on your phone or Facebook web on your PC > then go to your Facebook profile > click on the "Memories" tab > then type the name of the user you are searching for using the search bar > then click on the user's name to view their memories on your timeline.
Reviewing Facebook memories may not necessarily resolve the issue, but it can provide clarity and help confirm if the user has blocked your account.
4. The user has deactivated their account
It's possible that the person you are trying to reach out to has deactivated their account for personal or security reasons. In this case, you may receive the error message "this person is unavailable on messenger."
Regardless, even if they've deactivated their Facebook or Messenger accounts, you'll still be able to find their name on your friend list.
You can search for their user profile or name and see their profile picture as well as their Facebook posts.
Typically, when a user deactivates their profile, you can't do anything on your side other than waiting till they reactivate their profile. Once they reactivate their Facebook profile, you should no longer receive the unavailable user notification and be able to chat with them again.
👉🏽 Also Read: Instagram saved posts not loading – how to solve?
5. The person may have updated their privacy settings
Facebook provides people control over who can communicate with them on Facebook and the Messenger app. Suppose the recipient has changed their privacy settings to "only allow communication with friends," and you are not in their friend list; you might not be able to message them.
The error message "this person is unavailable on Messenger" can also occur in such cases.
So without being in their friend list, you will not be able to send messages to them until they change their privacy settings or you become friends with them on Facebook.
This is a one-way solution that only can be solved by the recipient if they are the ones who adjusted their privacy settings. In case you are the one who updated privacy settings, you will have to either revert the settings or add the person to your friend list.
👉🏽 Also Read How to Delete Instagram Messages [Tutorial]
6. Facebook might have banned the user
Facebook holds the authority to ban any account that does not follow its community guidelines.
Usually, Facebook does not suspend an account for no reason. This usually occurs when an account is caught spamming, posting violent content, adult content, or hate speech and thus gets a ban.
Also, reports coming from multiple accounts can lead Facebook to ban an account from its platform. There's a chance that Facebook has triggered a temporary ban on the account.
Now how do you find out if Facebook has banned the person? Here are a couple of tips:
Try to remember if the user has posted explicate content recently.
Do the users seem to someone provocative?
Do you remember the user spamming lately, be it comments or posts?
Did the user account seem legit? If it was something like a dummy account, Facebook might catch the user for some fake and violent activities.
If any of these behaviors corresponds to the user's account, there's a chance the account got banned or a temporary ban.
Additional steps you can take to see if that helps fix the "person is not available on messenger" notice.
There are a few other options when nothing works you have on your hand when facing this issue unless the user has neither blocked nor deactivated their account on Facebook.
7. Check your internet connection strength
Make sure your internet connection strength is good. If the Facebook messenger app does not get enough bandwidth to operate, the app might behave weirdly.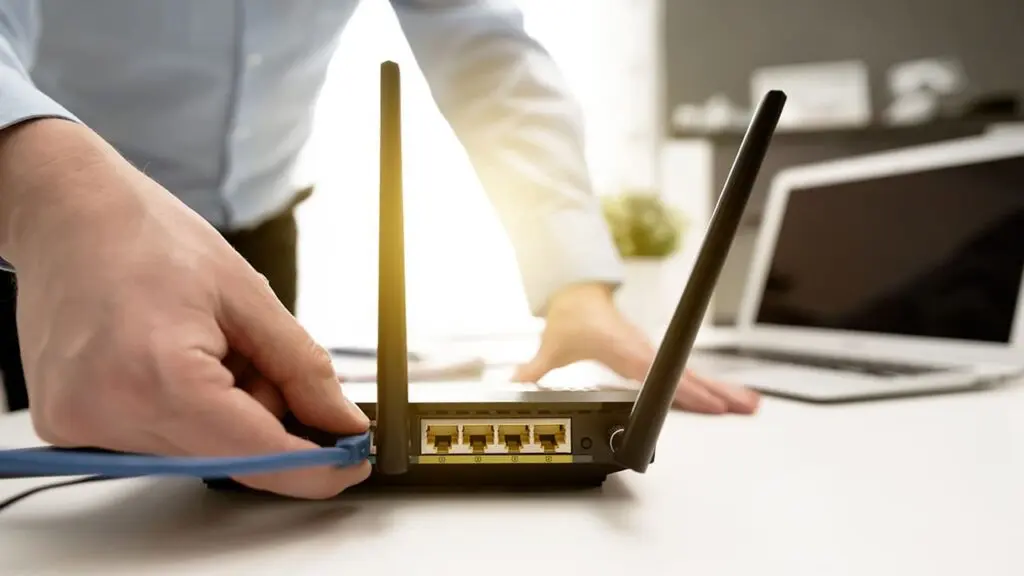 You can perform an internet speed test to see your internet performance. If you are on a mobile network, switch to a WiFi network and vice versa to see if that helps disappear the user unavailable notice.
You can try sending a message to another person on Messenger to see if that works
8. Contact With Facebook Support Team
If none of the above fixes can help, then you have the option to reach out to Facebook support and let them know more about your problem.
To reach out to Facebook, you can email them at their basic support email address: support@fb.com. They can see if your issue is caused by an application bug too.
If you don't find any response from them, you can reach out to disabled@fb.com which is mainly dedicated to supporting users when they lose access to their accounts.
Additional contents: