Does your Gmail app stop displaying notifications for incoming emails? Or, the Gmail notification system stop working completely on your Android device?
Not getting notifications for important emails is disturbing. Whether it's a mobile device or PC you want to see the notifications as quickly as an email arrives.
Many users have been complaining about Gmail notifications issues on their Android device & this error rate is only growing.
So if you are having trouble with Gmail notifications not working issue, don't worry, because in this article we will cover this problem and help you taking respective actions.
Please follow this guide accordingly to fix Gmail notifications not showing up on android devices.
Remember, it's important to figure out what is preventing Gmail notifications from appearing on your phone. It will help you figure out the issue behind the notification error and apply your solutions accordingly.
Before we get started, here's few FAQs about this error;
Why am I not getting Gmail notifications?
There could be various reasons preventing you from getting those Gmail notifications. To quickly list a few, Gmail notifications won't appear if the app notification setting is turned off.
Another common cause of this error is typically when your android device's system notification setting is turned off. If so, it will prevent your device to display any notifications from other apps including Gmail.
It could even be a system bug too after the latest feature update on your device. Such system bugs can block notifications from appearing on your device.
After all, I found that label syncing settings on your android device can cause this error as well.
Regardless of the main cause here let's go through step by step procedure to try and resolve Gmail notifications not working problem.
Steps to Fix Gmail Notifications Not Working Issue:
Note: Before trying out the solutions, please make sure to turn off the "DO NOT DISTURB" mode on your device.
1. Check system notification settings
As we know a common reason for not receiving Gmail notifications is the disabled notification settings on your device.
So first you should investigate whether the system notification setting is enabled on your android phone. Disabled system notification means the notification for received emails won't appear on your screen, including other notifications.
It's easily detectable when you know that you are not getting any short notifications on your phone, which might be due to the disabled notification setting.
Follow through the steps to check system notification setting on android devices:
Go to phone settings > open notification and select the Gmail application.
Check system notification status (enabled/disabled) for the Gmail application.
If disabled, make sure to enable it.
After enabling the system notification setting double-check whether Gmail notifications are appearing! If not then proceed to the next solution.
AD: if you are looking for Motorola replacement parts, check on this website.
2. Whitelist Gmail on power-saving mode
The performance + battery optimization race amid android devices leads the manufacturer to apply the power-saving mode on android devices. Power-saving mode halts background processes and applications in order to keep your device alive for a long time.
The manufacturer's idea is to keep the phone smoother while saving battery too, and that may cost you some disabled applications, and unfortunately, app notifications are one of the froze/disabled processes.
App freezing completely blocks the transmission of data and if the respective application support push notification then this feature won't work as long as you disable the power saving mode or manually provide access for notifications for the particular app.
So, whitelisting the Gmail application on power-saving mode may solve Gmail notifications not showing problems on your phone.
Depending on different devices the procedure may change, although you should find the settings under power-saving configuration.
How to whitelist the Gmail app on power-saving mode?
Go to phone settings > select battery settings > then select power-saving mode.
Now click on app launch > find the Gmail app there.
Make sure the Gmail app launch is set to automatic and the run in the background option is enabled.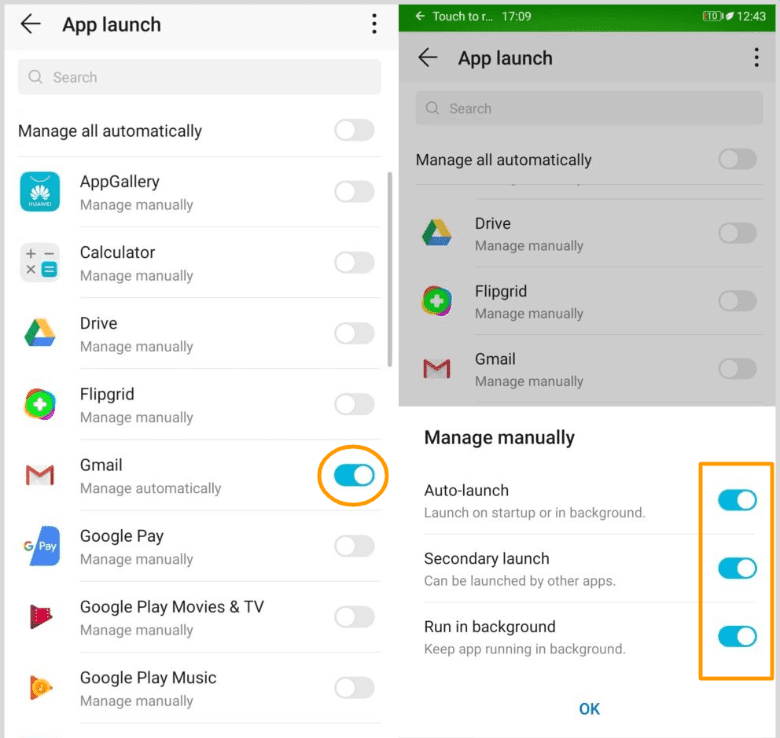 3. Grant necessary permissions to the app
Android devices provide behavior control of apps to the user so they can tweak it according to requirement.
Users can enable or disable required permission for each application on their device, such as Gmail. Having all the required permission to access your device functionality will allow the Gmail application to work properly.
Also on some android devices, you will be able to get advance notification settings where you can allow the application to deliver notifications in different circumstances.
You can allow the app to display notifications based on different scenarios such as lock screen mode, idle mode, allow notification to interrupt other activity on your phone, etc.
Allowing the application to run in the background can help you resolve the issue because disallowed background activity can prevent the starting of the Gmail app(in the background) and as a result, the notification won't trigger.
Secondary lunch permission is not directly related to the "Gmail notifications not showing" problem. However, allowing other applications to launch Gmail will start the Gmail app if it's not set to automatic launch.
4. allow Gmail to be the default mailing application
A default application is used by the operating system to handle all kinds of tasks or events of a particular type, for example, the Gmail app for all events related to emails.
Setting up Gmail as the default mailing application can resolve Gmail notifications not working issues.
If the primary access of emails is given to another app (capable of handling emails) on your phone then there's a possibility that your Gmail app won't display notifications.
How to set a default application on android?
Go to phone settings > open app settings.
Select default apps > look for Email on the list.
Now set Gmail as the default application for email transaction on your device.
Remember: depending on the device these settings can appear differently.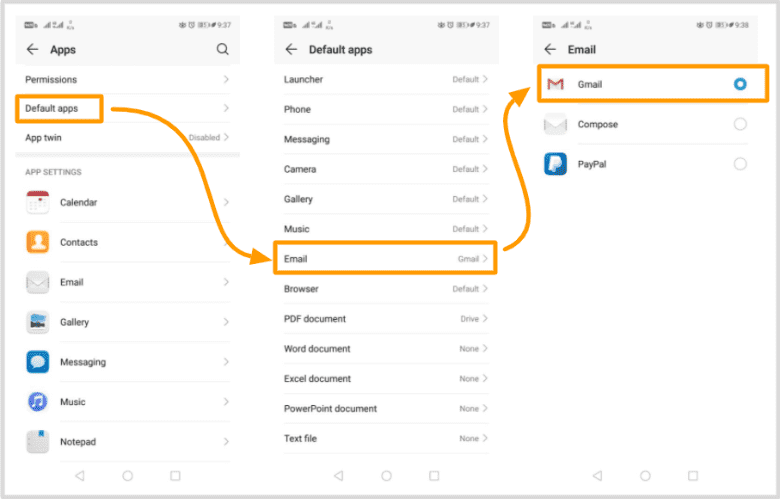 5. Enable Gmail/Email sync
Gmail sync is not the usual cause of email notifications not appearing. Although, if syncing is disabled in your Gmail application then your device might not get any notifications about incoming emails.
Gmail sync is not the usual cause of email notifications not appearing. Although, if syncing is disabled in your Gmail application then your device might not get any notifications about incoming emails.
Disabled sync doesn't necessarily suggest that notification is not working because of it but you should always troubleshoot it if you are facing Gmail notifications not working issue.
Follow the steps below to enable Gmail sync on your android phone.
How to enable Email sync on an android phone?
Open your phone settings > Go to Accounts.
Then select the preferred Gmail account from the list.
Ensure that Auto-sync data is enabled.
If disabled, click on the Sync Email option.
Set the sync frequency to your desired time (do not set sync frequency to never)
6. Clear app cache and data
Another way to solve it is by clearing Gmail app data and cache. Doing so will reset the application and flush all previous data that might have caused the notification issue on your phone.
Basically, releasing the cache memory solves many problems related to applications on android devices. If cache memory is preventing notification functionality for the Gmail application then cleaning it will get back your notifications to work.
After resetting the application data, ensure to re-link the non-Gmail address. Check out the steps to clear app data;
How to clear app data on android?
Open phone settings > open app > select Gmail from the app list.
Select storage among the settings. (you may find the cache and data clearing options directly too).
Click on clear cache and clear app data as well.
Once you do that the application needs to be reconfigured.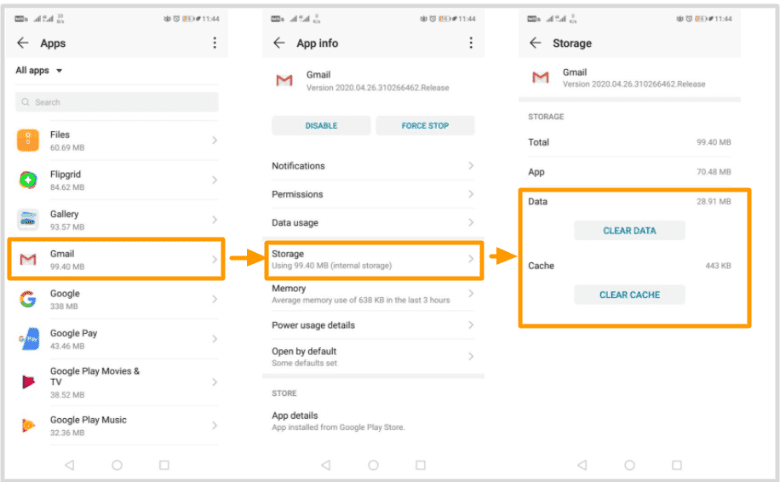 7. Sign out from your Google account and sign in again
There is a possibility that your Gmail push notification might start working after removing your Google account from the android device and signing in again.
No explanation why this might work but eventually this is like a shot in the dark procedure that can prevent email notifications from being disappeared. It did work out for some people while other ways were not working.
It's very simple to sign out and sign in again to your google account on your device so follow the steps below to do it as quickly as possible.
Open phone settings > go to Accounts.
Select the Google account as the type of account from the list.
Now click on the account you want to remove from your device.
Click on remove to sign out.
Now come back to phone settings again > select account.
There should be an option to add a new account.
Select account type: Google account.
Now sign in with your email address and password.
After signing in, check if you are able to get Gmail notifications on your phone.
8. Update or reinstall the Gmail app
An app update or a clean reinstall might work for you if the previous steps didn't work out. Try to update your Gmail app or consider reinstalling it.
Updating and reinstalling will remove potential errors of codes inside the application and ensure the app is working correctly. Thus it can bring back email notifications to your phone.
To update/reinstall you need to go to the play store and check if the Gmail app has any latest updates. If there is an update available then install the update otherwise click on uninstall the application and then reinstall again.
9. Syncing the labels
After completing all the other obvious stuff to make sure you are going to get Gmail notifications, you need to change a setting for the label syncing.
For some unknown reason, by default, the settings don't set to be synched. You can enable label syncing with these steps;
Open the Gmail app.
Go to Settings.
Go to the Gmail address.
Go to Manage Labels.
Change any that are not synched to sync for 'Last 30 days'.
Then restart your phone and it should work.
On different devices, it may appear differently so check how to manage labels on your model or nearest models.
So, these are the 9 ways I tried and worked for solving Gmail notifications not working issues. I hope one of these procedures helps you to solve your problem.
If you like this article please share, and stay tuned for such an update in the future. Also, let me know which method did work out for you, it will be good to listen from you.
Similar articles:
How to fix incorrect PSK provided for network SSID error
2 Ways to Configure Adsense Auto Ads for AMP [WordPress]
How to Fix Razer Synapse Not Opening on Windows 10