Gmail is a popular messaging app with over 1.5 billion users. It helps users stay connected with friends, family, colleagues, and business partners from any device. Gmail notifications are a helpful feature of this app that allows users to stay informed when they receive new emails.
Notifications are a great way to stay on top of your email, but they can also be a major source of frustration if they're not working properly. A few different things can cause Gmail notifications not to show on your phone, but fortunately, there are also a few different ways to troubleshoot the problem.
In this article, you will read about why are your Gmail notifications not working and how to fix this issue on different devices.
Why are my Gmail notifications not working?
Gmail notifications may stop showing due to various reasons, and here are some of the most common causes users typically encounter:
Your device notification or Gmail app notification is turned off.
The Gmail app is missing some permission on your device.
Your Gmail account is not synced.
There could be a problem with the Gmail app.
You have set the device to "do not disturb mode."
You might have set the battery-saving mode enabled.
You are using a VPN, and it's turned on.
There is a problem with Gmail's servers.
You may encounter Gmail push notifications not working on devices other than just your phone. Different devices have different ways of troubleshooting this issue. Below, I have listed simple steps to resolve this issue so you can receive Gmail notifications again.
How to Fix Gmail Notifications Not Working on Android?
Your Android device's Gmail notification issue may hinder you from keeping up with your emails. It's a common problem that many Android users encounter for various reasons. Let's look at the possible solutions to help you get your Gmail notifications working again on your Android device.
1. Check system notification settings
The easiest way to fix the notification problem is to look at the primary device settings. Since device settings may vary, the steps listed below may not be exactly the same for your Android device.
Open your phone's Settings app and find notification settings.
Find and select "Gmail" from the list of apps.
If the system notification is disabled, enable it.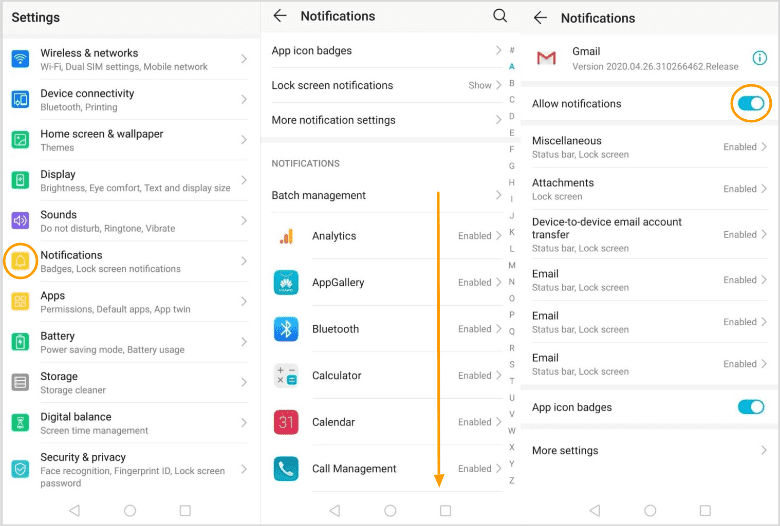 2. Whitelist Gmail on power-saving mode
Original Equipment Manufacturers (OEMs) have introduced battery-saving utilities in their devices, which prioritize extending battery life over maintaining app performance. While this feature has its advantages, it can hinder notifications from appearing as expected. Whitelisting the Gmail app should exclude the app's notification to appear even when power-saving mode is on.
Go to phone settings > select battery settings > then select power-saving mode.
Now click on app launch and find the Gmail app.
Set the Gmail app launch to Automatic.
Turn on the "run in the background."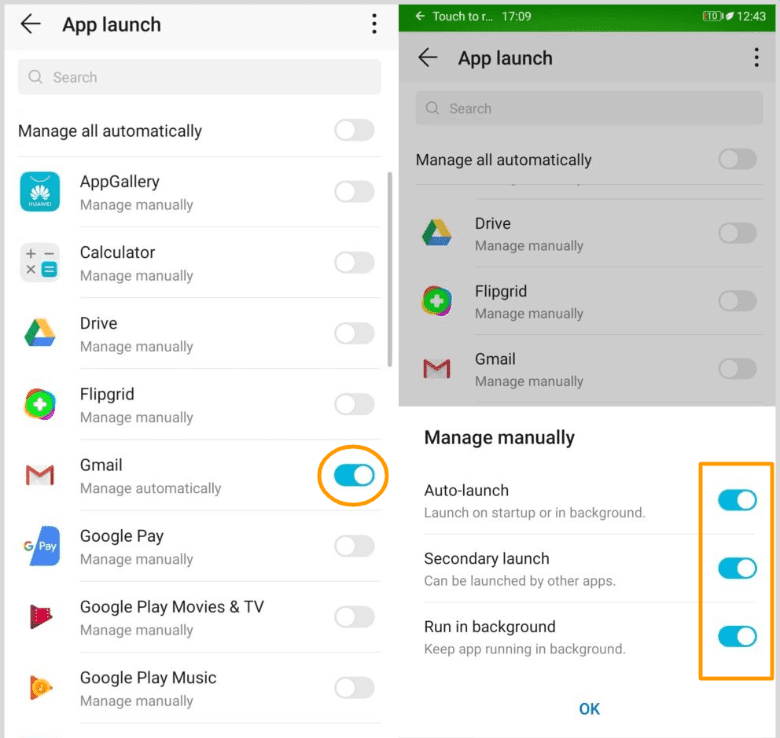 3. Disable power saving mode on Android
Enabling Power Saver or Data Saver mode can also cause Gmail notifications to be blocked or prevented from appearing as intended. Power Saver mode on Android improves battery life by reducing background activities, network usage, and syncing, which can affect notification delivery.
To disable Data Saver mode:
Open the Settings app on your Android phone and go to the "Connections" section.
Tap on "Data usage settings" and then tap on "Data saver."
Turn off the Data Saver option.
To turn off Power Saving Mode:
Open the Settings app on your Android phone and navigate to the "Battery" section.
Disable the Power Saving Mode option.
Alternatively, you can also disable Power Saver mode directly from the notification bar.
4. Grant necessary permissions to the Gmail app
To receive Gmail notifications on your Android device, make sure that the app has all the necessary permissions enabled in the app settings.
Open phone settings and go to app management.
There you need to locate and open Gmail.
Grant all necessary permissions to the app.
Then go back to the list of all apps under app management.
Go to default app settings.
Set Gmail as the default email app on your Android phone.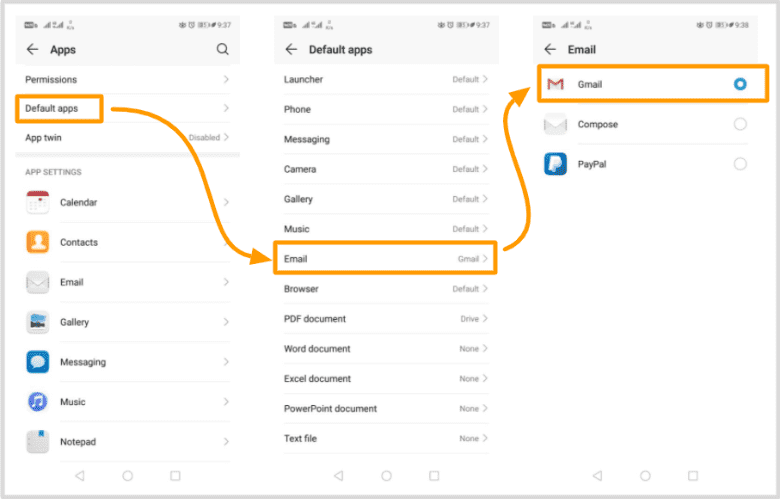 5. Make sure to enable email sync
Enabling Gmail sync can fix Gmail notification not showing on phone. You will have to enable Auto-sync data in Gmail to ensure your phone triggers the notification when your Gmail receives an incoming email.
First, open phone Settings.
Then select Accounts.
Then select the preferred Gmail account from the list.
Ensure that Auto-sync data is enabled.
If disabled, click on the Sync Email option.
Set the sync frequency to your desired time (do not set the sync frequency to never)
6. Clear Gmail app cache and data
Resetting the Gmail app by clearing its cache and data can resolve the notification issue on your phone. Follow these steps to clear the cache and data for Gmail:
Open phone settings and go to Apps.
Select Gmail from the app list.
Click on Storage among the settings.
Clear cache and app data.
After clearing app data, you will need to reconfigure the application.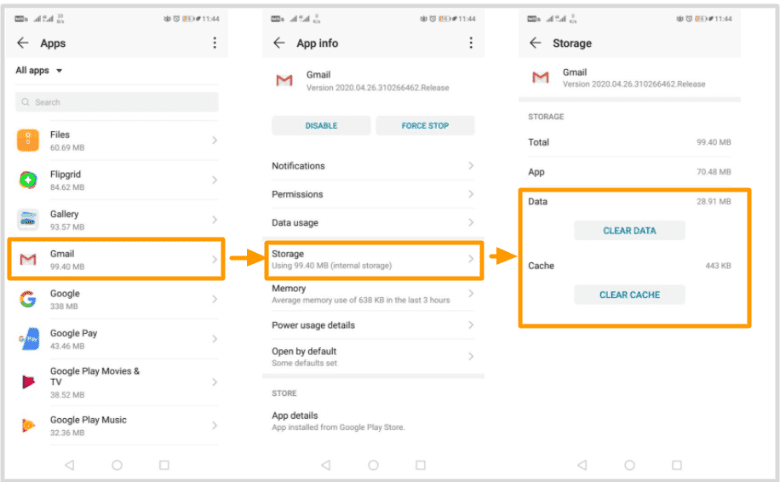 7. Sign out from your Google account and sign-in again
Try signing out and signing back into your Google account on your Android device to see if it fixes the Gmail push notifications not working issue.
Open the Settings app on your Android device.
Scroll down and select "Accounts."
Choose the Google account associated with your Gmail app.
Tap on "Remove Account" to sign out.
Restart your device.
Then return to "Accounts" in Settings and select "Add Account."
Sign in with your Google account again.
Open the Gmail app and check if push notifications are working now.
8. Update or reinstall the Gmail app
Updating or reinstalling the Gmail app can fix the issue of notifications not working due to app bugs or code errors. This will ensure that the app functions correctly and eliminate potential problems.
Open the Google Play Store app on your device.
Tap on the three horizontal lines in the top left corner to open the menu.
Tap on "My apps & games" from the menu.
In the "Updates" section, find Gmail and tap on "Update" next to it.
Wait for the update to download and install.
Once the update is complete, open Gmail and check if the notification issue has been resolved.
9. Make sure to enable label syncing
Turn on system notifications and make sure to manage your Gmail label syncing settings appropriately, as incorrect settings can cause issues with Gmail notifications.
Open the Gmail app.
Go to Settings.
Go to the Gmail address.
Go to Manage Labels.
Change any that are not synched to sync for 'Last 30 days.
Then restart your phone, and it should work.
Check how to manage labels on your Android phone.
10. Set network provided time & time zone
Setting your time & timezone to update from the network is another way you could fix the Gmail notifications not working issue.
Open your phone settings.
Then go to date and time settings.
Make sure to use network-provided time and network-provided time zone.
Once configured, test your Gmail notification status.
11. Disable Do Not Disturb Mode
Enabling Airplane mode or Do Not Disturb mode will cause your Android phone to miss out on email notifications. It's crucial that the do not disturb mode is disabled.
Open the Settings app on your phone.
Scroll down the list of options until you see "Sound & Vibration," and tap on it.
Look for the "Do Not Disturb" option and turn it off.
12: Re sign-in to your Gmail account
Open the Gmail app and tap on the three horizontal lines in the upper left corner to open the menu.
Tap on "Settings" in the menu, and then tap on "Accounts".
Select the Gmail account that you're currently logged into.
Tap "Log out" to log out of the account.
After logging out, you can log back into your account by tapping on "Add account" and entering your login credentials.
---
How to fix Gmail notifications not working on iPhone?
You can try some solutions immediately to fix the issue of Gmail push notifications not working on your iPhone. While the solutions are similar to those for Android phones, the steps will differ due to the different operating system on the iPhone.
1. Make sure Gmail notification is enabled
A good place to start is to check the Gmail app's notification settings on your iPhone and ensure they are enabled. Disabling the notifications feature in the Gmail app settings is a common reason for not receiving Gmail notifications on your iPhone. To verify this,
First, open iPhone settings.
Search for/go to notification settings.
Under "notification style," look for the Gmail app.
Make sure "Allow notification" is enabled for Gmail.
Also, check all three Lock Screen, Notification Centre, and Banner Alerts options.
In addition, make sure to set show previews to Always under the lock screen appearance section.
2. Enable IMAP
If you're not receiving real-time email notifications from the Gmail app, enabling IMAP might help. By enabling IMAP, your Gmail messages can be synced in real-time across multiple devices, allowing you to access them from any device.
To enable IMAP on iPhone:
Go to the official Gmail site from your iPhone browser.
Login to your account.
Then go to settings and tap on all settings.
Next, tap on the Forwarding and POP/IMAP tab.
Scroll down to the "IMAP Access" section, and enable IMAP.
Make sure to save the change.
3. Make sure the system notification is turned on
Have you checked if your phone's system notification is enabled? If it's disabled, you won't receive any message notifications. To check if Gmail notifications are enabled on your iPhone, follow these steps:
Open the iPhone Settings app.
Tap on "Notifications."
Scroll down and look for the Gmail app under "Notification Style."
Make sure that the "Allow Notifications" toggle is enabled for Gmail.
You should enable all three notification options: Lock Screen, Notification Center, and Banners.
4. Make sure you have mobile data turned on
Gmail requires mobile data to sync incoming emails and thus be able to display a notification. So make sure your mobile data is turned on.
Open the phone Settings.
Tap on Mobile data and tap on the toggle next to mobile data.
Alternatively, you can open iPhone Control Center and tap the icon resembling a pole with waves coming off it.
In addition, you would want to enable mobile data for the Gmail app individually. To enable mobile data for Gmail:
Go to the settings app.
Open mobile data settings.
Under mobile data for [sim name] section, look for the Gmail app.
Tap on the toggle beside the Gmail app.
5. Check your Wi-Fi connection
You should check your Wi-Fi connection status besides cellular data. You may not receive a Gmail notification if your cellular data is not working and your Wi-Fi connection has an issue or is out of range.
Go to phone settings.
Tap on Wi-Fi.
Tap on the toggle next to Wi-Fi; when it's green, it's enabled.
Then look at the network to which your phone is connected. (your phone must be connected to the internet via Wi-Fi for Gmail notifications to work correctly)
Similer Guide | WhatsApp Not Working On Wi-Fi – 9 Ways To Fix
6. Change Settings for Labels Sync
If you're having trouble with Gmail notifications on your iPhone, you can try some solutions similar to those used on Android devices. Start by ensuring system notifications are turned on and your Gmail label syncing settings are appropriately managed.
Here's an alternative way to phrase these steps:
Open the Gmail app on your iPhone.
Go to the Settings menu.
Select your Gmail address.
Tap on "Manage Labels."
Check that all the labels are synced for "Last 30 days." If not, configure them accordingly.
Restart your iPhone for the changes to take effect.
7. Update the Gmail App
Follow these steps to update the app instantly:
Open the App Store on your iPhone and tap on the "Updates" tab.
If an update for Gmail is available, tap on "Update."
If updating doesn't fix the issue, press and hold the Gmail app icon until it jiggles.
Tap on the "x" that appears on the top left corner of the app icon to delete it.
Confirm the deletion by tapping on "Delete."
Open the App Store again and search for "Gmail."
Finally, tap on "Get" and then "Install" to reinstall the app.
8. Restart your phone
If non of the steps above has helped to fix the Gmail notification not working issue, try restarting your iPhone. A simple restart might resolve the problem.
To restart an iPhone X or later:
First, hold the power button and the volume up button or the button.
Next, drag the power slider to the right to turn your phone off.
Finally, when your iPhone is completely shut off, hold down the power button to turn it back on.
To restart an iPhone 8 Plus or earlier:
Hold down the power button.
When the power slider appears, drag it to the right to turn your phone off.
Hold down the power button to turn your phone back on.
With these easy-to-follow steps, you'll be back to receiving your important email notifications in no time. The solutions I've discussed can help you resolve the Gmail notification issue whether you're using an iPhone or Android device.
📝 Similar Articles: