Gmail is a helpful mail service and an essential app on our smartphones & computers. However, it could be frustrating when your Gmail notification stops working. When this happens, you will not be notified of any incoming emails, resulting in missing important emails.
In this article, we are looking at the reasons to encounter Gmail notifications not working and how to get around this issue on Android, iPhone, Chrome, and your PC.
Common reasons behind Gmail notifications not working
It's usual to encounter technical issues with your PC, Android, and iPhone applications. As soon as you encounter this issue, it would be best if you knew why Gmail notification is not working on your Android, iPhone, or PC. With a clear idea of the cause, you have a better chance of fixing the Gmail notification that stopped working.
Verify that your Gmail notification setting is set to "on." Gmail notifications won't appear on your device screen if the "app notification setting" is turned off.
Another reason to stop Gmail notifications is if your device's global notification setting is set to "off."
Gmail cannot push notifications if it does not get the necessary permissions on your device. Therefore, you should ensure the app has all the necessary permission to receive email notifications properly.
If your device is set to "do not disturb" mode, you will unlikely receive Gmail notifications or any notifications on your device.
Power saving mode can prevent Gmail notifications on your device because the battery saver mode disables many features to avoid unnecessary power consumption, preventing incoming email notifications.
Gmail usually syncs emails from your inbox. However, if your Gmail label syncing settings are inappropriate, your device notification might miss out on Gmail notifications.
Application bugs can prevent Gmail notifications on your device; you want to have the latest app updates to avoid these app bugs.
Sometimes app cache memory can cause trouble for the system to deliver Gmail notifications. Make sure to clear your Gmail app cache and preferably reset the app.
A conflict between the system and Gmail app can prevent notification delivery. Hence you must try to restart the app, uninstall and reinstall the app, followed by a system restart.
Based on these common reasons for Gmail notifications not working, you can try these fixes one by one to find a way to resolve the notification not working issue.
How to Fix Gmail Notification Not Working on Android
Android users frequently encounter different technical issues and Gmail notifications not working on Android is one of those. To fix it, try these steps given below:
1. Check system notification settings
As mentioned, one of the primary reasons Gmail notifications do not show up could be your phone's system notification is turned off. So first, check whether the system notification setting is enabled on your android phone.
Go to phone settings.
Tap on Notifications.
Then select Gmail from the list of apps.
Check system notification status (enabled/disabled) for Gmail.
Enable notification if it was disabled.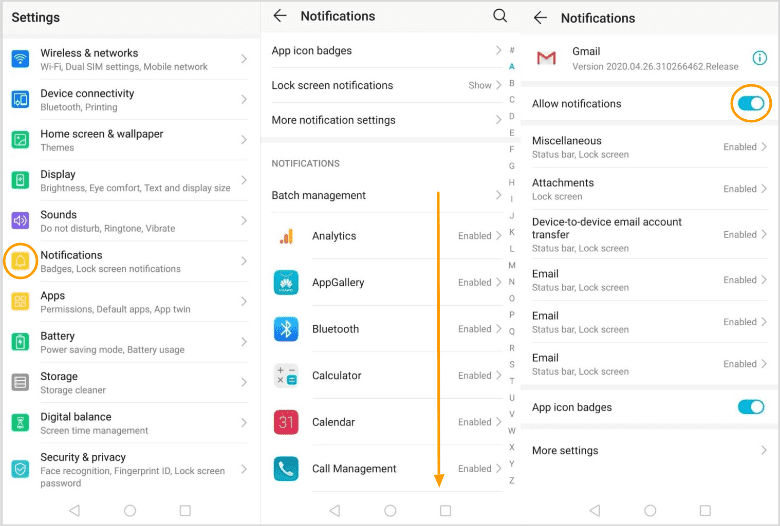 After enabling the system notification setting, double-check whether Gmail notifications are appearing! If not, then proceed to the next solution.
2. Disable power-saving mode or whitelist Gmail
App freezing completely blocks the transmission of data, and if the respective application support push notification, then this feature won't work as long as you disable the power saving mode or manually provide access for notifications for the particular app.
You can either turn off power-saving mode on your Android phone or safelist the Gmail app from those apps who affected by power-saving mode. To safelist Gmail on power-saving mode:
Go to phone settings > select battery settings > then select power-saving mode.
Now click on app launch > find the Gmail app.
Set the Gmail app launch to Automatic.
Also, turn on the "run in the background."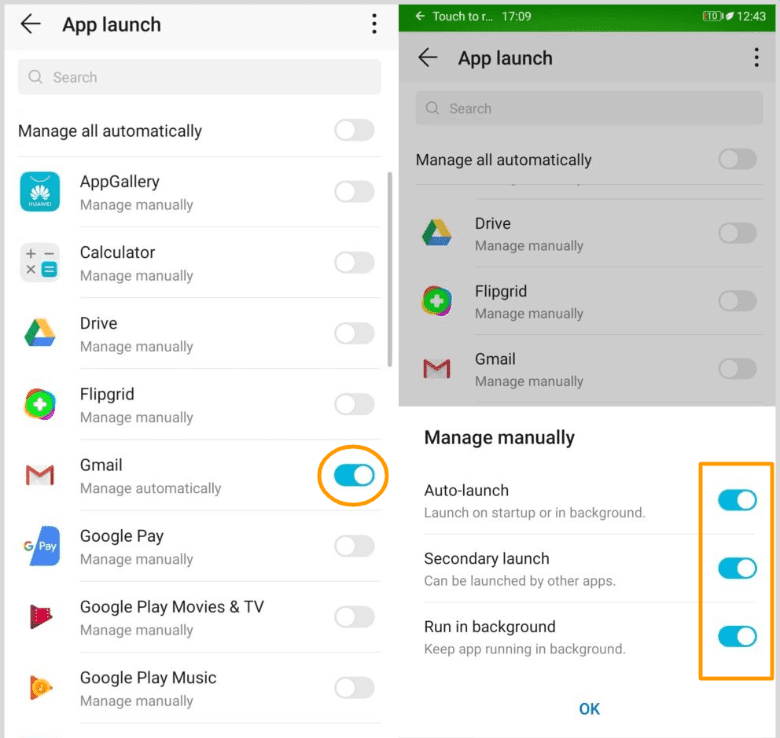 To disable power saving mode on Android:
Go to phone settings.
Go to Battery and ensure the power-saving mode is turned on.
Turn off the power-saving mode from there.
Once you have either power saving turned off or Gmail is whitelisted, test if you can receive Gmail notifications on your Android phone.
3. Grant necessary permissions to the Gmail app
Android devices provide app permission controls so users can tweak them according to requirements. Having all the required permissions to communicate with the system will allow the Gmail app to work correctly.
To grant permissions to the Gmail app on Android, follow these steps:
First of all, open phone settings
Then, go to app management.
There you must locate and open Gmail.
Then look for the permission settings.
You are supposed to grant all necessary permissions to the app.
Once done, go back to the list of all apps under app management.
Then go to default app settings.
You must set Gmail as the default email app on your Android phone.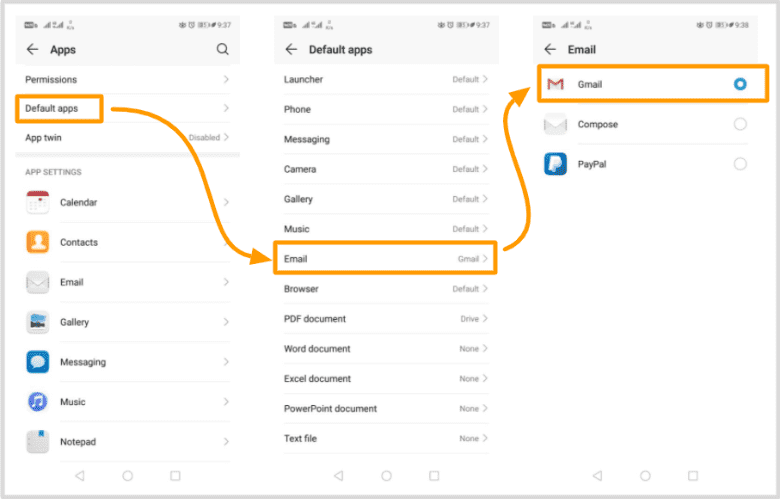 4. Make sure to enable email sync
Another way to fix Gmail notifications not working on Android is by enabling sync for Gmail. Follow these steps to enable Auto-sync data in Gmail to ensure your phone receives what's happening on the server side of your Gmail.
First, open phone Settings.
Then select Accounts.
Then select the preferred Gmail account from the list.
Ensure that Auto-sync data is enabled.
If disabled, click on the Sync Email option.
Set the sync frequency to your desired time (do not set sync frequency to never)
5. Clear Gmail app cache and data
Clearing app cache and data will reset the app and flush all previous data that might have caused the notification not working issue on your phone. To clear Gmail cache and data:
Open phone settings.
Then go to apps.
Next, select Gmail from the app list.
Select storage among the settings. (you may find the cache and data clearing options directly too).
Click on clear cache and clear app data as well.
Once you do that, the application needs to be reconfigured.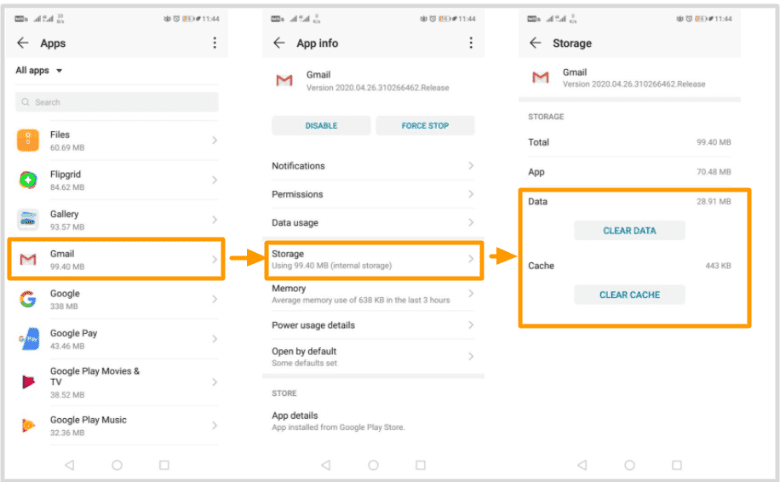 6. Sign out from your Google account and sign in again
There is a possibility that your Gmail push notification might start working after removing your Google account from the android device and signing in again.
It's straightforward to sign out and sign in again to your google account on your device, so follow the steps below to do it as quickly as possible.
Open phone settings > go to Accounts.
Select the Google account as the type of account from the list.
Now click on the account you want to remove from your device.
Click on remove to sign out.
Now come back to phone settings again > select account.
There should be an option to add a new account.
Select account type: Google account.
Now sign in with your email address and password.
After signing in, check if you can get Gmail notifications on your phone.
7. Update or reinstall the Gmail app
Updating and reinstalling will remove potential code errors and app bugs, thus ensuring the app is working correctly. Updating or performing a clean installation will fix this issue if the Gmail notification is not working because of an app bug.
To update or reinstall the Gmail app on Android:
First, go to the play store and check for any available Gmail updates.
If an update is available, install the update; otherwise, click on uninstall the application and then reinstall again.
8. Make sure to enable label syncing
Inappropriate Gmail label syncing settings can cause Gmail notifications not working issue so make sure to manage syncing of your labels according to your requirements.
You can enable label syncing with these steps;
Open the Gmail app.
Go to Settings.
Go to the Gmail address.
Go to Manage Labels.
Change any that are not synched to sync for 'Last 30 days.
Then restart your phone, and it should work.
Check how to manage labels on your android phone in more detail.
9. Setup network provided time & time zone
Setting your time & timezone to update from the network is another way you could fix the Gmail notifications not working issue.
Open your phone settings.
Then go to date and time settings.
Make sure to use network-provided time and network-provided time zone.
Once configured, test your Gmail notification status.
---
How to fix Gmail notifications not working on iPhone
It's not only Android users who encounter faulty Gmail notifications. Many iPhone users have reported not receiving email notifications from the Gmail app. The primary reasons are similar to what we have discussed; let's dive into the solution to bring back email notifications on an iPhone.
1. Make sure Gmail notification is enabled
First and foremost, ensure the Gmail app's notification settings are enabled.
First, open iPhone settings.
Search for/go to notification settings.
Under "notification style," look for the Gmail app.
Make sure "Allow notification" is enabled for Gmail.
Also, check all three Lock Screen, Notification Centre, and Banner Alerts options.
In addition, make sure to set show previews to Always under the lock screen appearance section.
2. Enable IMAP
When you enable IMAP, it allows you to read your Gmail messages on multiple devices, and the messages are synced in real-time. This might be one of the reasons for not receiving email notifications from the Gmail app in real time.
To enable IMAP via iPhone:
Go to the official Gmail site from your iPhone browser.
Login to your account.
Then go to settings and tap on all settings.
Next, tap on the Forwarding and POP/IMAP tab.
Scroll down to the "IMAP Access" section, and enable IMAP.
Make sure to save the change.
3. Make sure you have mobile data turned on
Gmail requires mobile data to sync incoming emails and thus be able to display a notification. So make sure your mobile data is turned on.
Open the phone Settings.
Tap on Mobile data and tap on the toggle next to mobile data.
Alternatively, you can open iPhone Control Center and tap the icon resembling a pole with waves coming off it.
In addition, you would want to enable mobile data for the Gmail app individually. To enable mobile data for Gmail:
Go to the settings app.
Open mobile data settings.
Under mobile data for [sim name] section, look for the Gmail app.
Tap on the toggle beside the Gmail app.
4. Check your Wi-Fi connection
You should check your Wi-Fi connection status besides cellular data. If your cellular data is not working and your Wi-Fi connection has an issue or is out of range, you will not be likely to receive a Gmail notification.
Go to phone settings.
Tap on Wi-Fi.
Tap on the toggle next to Wi-Fi; when it's green, it's enabled.
Then look at the network to which your phone is connected. Your phone must be connected to the internet via Wi-Fi for Gmail notifications to work correctly.
Also read: WhatsApp Not Working On Wi-Fi – 9 Ways To Fix
5. Restart your phone
If non of the steps above has helped to fix the Gmail notification not working issue, try restarting your phone. When there's a technical problem, restarting your device resolves the issue.
To restart an iPhone X or later:
First, hold the power button and the volume up button or the button.
Next, drag the power slider to the right to turn your phone off.
Finally, when your iPhone is completely shut off, hold down the power button to turn it back on.
To restart an iPhone 8 Plus or earlier:
Hold down the power button.
When the power slider appears, drag it to the right to turn your phone off.
Hold down the power button to turn your phone back on.
After a restart, check if Gmail notifications are back. With these steps mentioned above, you should be able to resolve the Gmail notification not working issue on iPhone and Android.
📝 Similar Articles: