Hulu, a video streaming website owned by Walt Disney Company and Comcast, is one of the biggest competitors of Amazon Prime and Netflix. You can access films and popular TV programs for just $6.99 a month.
Sometimes, interruptions like work can cause you to have to stop streaming a show on Hulu mid-way.
In such cases, the show will likely appear in the 'Keep Watching' collection on your Hulu homepage. This collection serves as a record of your recent viewing history. However, if you're unable to locate the show in this section, the 'Watch History' feature can assist you in finding it.
In this article, we'll discuss how to access and utilize the 'Watch History' feature on Hulu and troubleshoot any issues with it not working properly.
Steps To View Hulu Watch History
You can check your viewing history to review the shows and episodes you have recently watched on Hulu. To do this:
Locate the "Keep Watching" collection on your TV's home screen.
The "Keep Watching" collection will show you a list of shows and movies that you have recently watched and have not completed.
Use the slider to scroll through the list and select the show or movie you wish to continue watching from where you left off.
Unfortunately, obtaining a comprehensive list of your viewing history is not an option currently available.
How to check previously watched individual episodes
The 'Keep Watching' section only displays recently watched movies and shows and will not display individual episodes you have recently watched. If you are looking for specific episodes you have recently watched, this section may not help.
To check the history of individual episodes,
Navigate to the detail page of a particular series.
Locate the three dots near the "DETAILS" button and click on it.
Select "Add to My Stuff" from the options available.
Navigate to the Hulu website and access the "My Stuff" dashboard.
In the "My Stuff" dashboard, you will be able to track the episodes of the series you have saved.
The "My Stuff" dashboard will display the number of episodes you have remaining to watch for each saved series.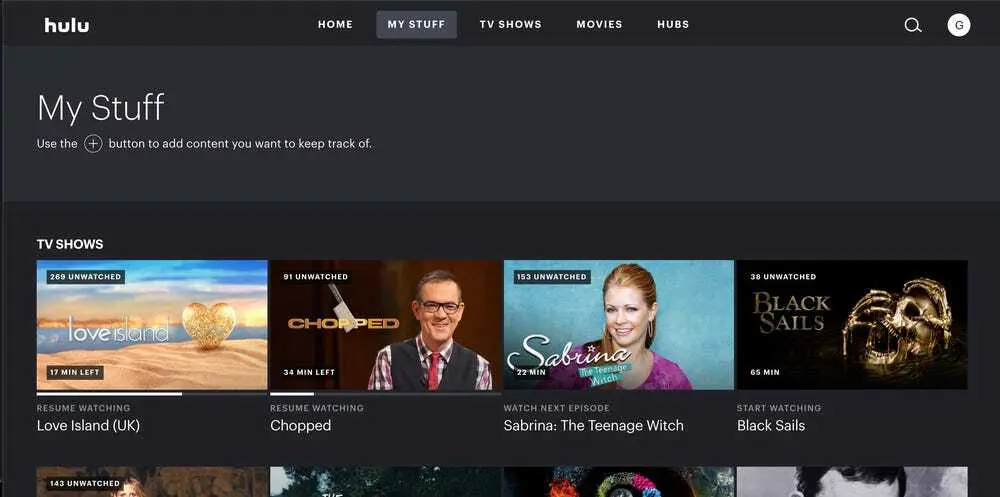 As you continue to watch the episodes of a series, the episode status will be updated in the "My Stuff" dashboard to reflect your viewing activity.
Once you have completed watching all the episodes of a series, it will no longer be listed on the "My Stuff" dashboard.
In addition to the episode status, you can also use the badges and progress bar available in the "My Stuff" dashboard to quickly identify which episodes of a series you have watched and which ones you haven't.
The badges and progress bar will give you a visual representation of your progress and make it easy to pick up where you left off.
📝 Similar Article: How to Download Apps on Vizio Smart TV
How to remove your Hulu watch history
"Hulu automatically keeps a record of the movies and shows you watch, but sometimes, you may want to remove certain items from your watch history. It's important for users to have control over their watch history. Here's how to do it on different platforms:
Remove your Hulu watch history on the web:
Open hulu.com and log in to your account.
Then navigate to the Keep watching collection.
Hover on a movie/show thumbnail to get more info and options.
You will see an X icon, click on that to remove the movie or show to remove from your watch history.
Click on done to complete removal or undo to revert the process.
Remove your Hulu watch history via Mobile App:
Open the Hulu app on your phone.
Navigate to Keep Watching, then tap on All Watch History.
Tap the three dots on the movie/show thumbnail to open the options menu.
Tap on Remove from watch history.
Confirm your action or tap on cancel to undo.
Remove Hulu watch history on TV:
Open the Hulu app on your smart TV.
Then navigate to the movie/show detail page.
Select manage movie or manage series.
Then select remove from watch history to remove the movie or series.
Make sure to confirm your action to complete the action.
📝 Similar Tutorial: How to Fix Conexant Audio Driver Issues in Windows 10
How to delete all watch history from your Hulu account
Sometimes, you might want to start fresh and delete everything you have watched on Hulu. You can do this by clearing your watch history. Here's how you do it:
Visit the Hulu website on your PC.
Login to your account.
Then navigate to the account tab.
Under Privacy and Settings, select California privacy rights.
Then under Manage Activity, go to Watch History and click on Clear Selected.
Can't access Hulu watch or manage history – what to do?
Sometimes, you might have trouble seeing or controlling your Hulu watch history because of bugs or problems with the Hulu app or website. If you're having trouble, try going through the steps again carefully.
There can be various reasons why you may not be able to view your Hulu watch history. Some people have reported that since the latest update, they have been unable to access it, but there is no official confirmation.
The issue was addressed and resolved quickly after it was brought to the company's attention, but it may still occur occasionally on your Hulu account.
Below, I've prepared a list of common troubleshooting steps for this issue.
Solution 1: Restart the Hulu Application
One of the easiest ways to resolve this issue is to try restarting your Hulu application by clearing its data and force-stopping it. This will stop any running processes from the app from running in the background.
On mobile devices and android:
Press and hold on to the Hulu application icon.
Tap on the "i" icon that appears.
Scroll down and select "Storage."
Tap on the "Clear Data" option.
On Windows PC:
Open Files Explorer.
Navigate to Local Disc C.
Select Quick Access and enter C:\Users\[your device name]\AppData\Local
Scroll down and locate Hulu
Right-click on Hulu and select Delete.
Solution 2: Update the app to the Latest Version
If your Hulu application is outdated, you might see an error where you cannot view your watch history. Under such circumstances, you can update your app to the latest version.
Go to App Store/Play Store/Microsoft Store.
Search for Hulu and click on the Update option.
Solution 3: Restart your device
If you are experiencing glitches while streaming on Hulu, it may be caused by the device you are using rather than the Hulu application on your web browser. To fix this, try restarting your device, as it can resolve any bugs or glitches on the device.
Regardless of the device you are using, close the Hulu app, turn off the device, and restart it. After the device starts up again, re-open the Hulu app and check if you can access the History.
Solution 4: Check Your Network Connection
A weak internet connection or lack of proper internet access can cause the list of TV shows and movies collection to not display correctly on the screen. The delay in the network will force Hulu to slow down and probably not display the watch history at all.
So to avoid this, ensure your device has a strong internet connection to be able to display the latest watch history.
Solution 5: Reinstall the application
The Hulu app is generally easy to use; however, it is not immune to glitches like any other application. If you are unable to access your watch history, it may be a temporary glitch.
In this case, a solution could be to uninstall and reinstall the app, following the same process as when you first downloaded it.
Solution 6: Sync Watchlist
If the Hulu watch history is not working, another option to try is syncing your watchlist. To do this,
Click on your profile icon and select the "Account" option.
Under "Manage Your Account," go to the "Overview" tab.
Scroll down and click on "Sync Watchlist" under "My Stuff."
Finally, click on the "Sync" button.
Solution 7: Issue a Report at Hulu
If the previous solutions do not resolve the issue, try contacting the Hulu help center by submitting a report.
First, click on the "Account" profile in the screen's top right corner.
Next, tap on the "Account" option.
Then, scroll down and select "California Privacy Rights."
After that, click on the "Request Report" option.
Finally, follow the instructions provided by the help center.
You can also check the Hulu community section for more help on this.
📝 Similar Articles: