Apps are an integral part of a Smart TV. In this article, you will read how to download apps on Vizio Smart TV.
Smart TVs give us access to enjoy programs on widescreen from the comfort of home. With hundreds of apps, people can watch Netflix, Disney+, YouTube, and so on all in one place. Many smart TV allows users to download/install apps on their TV while some others don't.
Vizio smart TV was known to allow its users to install their favorite apps. Though, in 2016, after Vizio launched its SmartCast platform users were left with no idea how to download apps on VIZIO smart TV.
Can I Download Apps on Vizio Smart TV?
Downloading or casting apps to your VIZIO Smart TV may vary based on the type of Vizio OS you have.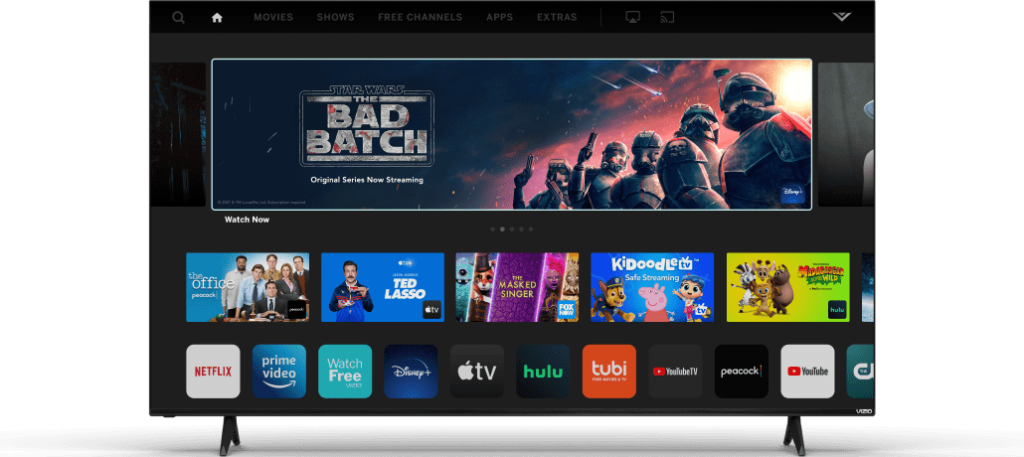 For 2015 release and older: VIZIO Smart TVs uses VIA or VIA+
Between 2016 and 2017: VIZIO smart TVs featured SmartCast OS or VIA+
2018 onwards: VIZIO smart TVs solely rely on the SmartCast platform
In March 2016, VIZIO released its new OS called SmartCast. This new approach was designed to provide control over the content on the Smart TV via the user's tablet or smartphone.
One year later in 2017, the SmartCast OS was relaunched, with the ability to control new apps that were directly available on the TV. These featured apps included Netflix and Amazon Prime Video.
VIZIO released their first Quantum Dot LED 4K TV back in 2018, with the addition of functionalities such as Google Assistant and Amazon Alexa support system. Apple AirPlay 2 and Apple HomeKit were also included in the new feature list.
What Are VIZIO VIA, VIA+, and SmartCast?
VIA stands for VIZIO Internet Apps. As mentioned earlier, the TVs released before 2015 by Vizio were running on VIA and VIA+ systems where users have control over the apps, whether they want to install a new app, update an app, or delete them.
People could stream their favorite movies, TV shows, and music directly from apps such as Netflix and Hulu on their Vizio Smart TV. Back then, casting from smartphones, Amazon prime video, Google assistant, Alexa was not part of the system in Vizio TVs.
With the release of 4K UHD TVs the new SmartCast operating system arrived that prevents users from downloading/installing 3rd party apps, however, increases the system security and new-gen features such as smart casting, app management from mobile devices, AI assistant, etc.
How to download apps on Vizio Smart TV Using VIA?
If your VIZIO smart TV was released prior to 2017, you can download and install apps to your TV using VIA. Follow the steps: –
Press the V button on your remote.
Select Connected TV Store from the menu.
Then select All Apps.
Now navigate through the list of apps and find the app you want to install, then press OK.
Next, you need to select the Install App option.
👉🏽 Also Read: How To Update Apps On Vizio TV?
How to Download Apps on VIZIO Smart TV Using VIA Plus?
If your VIZIO smart TV is running on VIA Plus OS, you can add apps to your smart TV too. Follow these directions:
Double press the V button on your Vizio remote.
You will find a list of already installed apps that will be displayed under the My Apps tab.
Then navigate through the Featured, Latest, All Apps, and Categories tabs to locate the target app.
Next, press and hold the OK button until you get your app's name on the My Apps list.
How to Install Apps on Vizio SmartCast TV?
VIZIO SmartCast TVs already have pre-installed apps ready to let you stream all your favorite shows, movies, music, and more. On their official website, you will get to see 10 classified app categories that can be accessed from SmartCast TVs.
If you want to add your own apps that aren't on the official list, you will have to cast them directly from your smartphone. Although the apps aren't directly available to Vizio SmartCast TV, this is a smart move from the company and gives your flexibility to cast almost anything you are using on your Smartphone to TV.
To cast from your smartphone to Vizio TV-
First, open Google Play Store or Apple App Store on your mobile. (download the app if you don't have it on your phone, otherwise, just skip this step)
Next, open the app you want to cast from.
Open a program such as a movie or series you want to stream.
Then select the cast icon to start casting to Vizio TV.
Your mobile screen content will start streaming on your VIZIO SmartCast TV as soon as you select the Cast option.
Note: When the program ends on your phone, casting will stop. If you use your VIZIO smart TV remote to perform another action while casting, the screencasting will end or pause.
How to Screencast Using VIZIO SmartCast Mobile
With VIZIO SmartCast TV, you also have the option to screencast using the SmartCast Mobile app developed by Vizio. The application is available for both Android and iOS.
This app allows user to manage their own list of apps wants to cast to personal VIZIO smart TV. From the app, users can also control the TV like a remote, power on/off, play/pause content, modify advanced settings, etc.
With VIZIO WatchFree+ you can expand your entertainment horizons as you can explore hundreds of the world's popular channels for free. You don't have to have an additional device, additional subscriptions, log in to access content on WatchFree+.
Wrapping up:
Vizio is one of the most elegant makers of big screens and the likeliness of people owning a VIZIO smart TV is still very high. This, coupled with the recent updates from the company and the flexibility to download the SmartCast Mobile app or default screencasting indicates users can manage their entire streaming library on their Vizio TV in one place.
Additional contents:
How to fix ps4 controller not working on pes 2021
10 Unique iPhone 11 Tips and Tricks You Must Try
Best ways to fix Razer Synapse not opening on Windows 10