Vizio Smart TV is one of the most popular brands among smart TVs. It gives access to the most popular apps, movie shows, news, sports, and various genres. Alternatively, we can use Vizio Smart TV as a display for consoles, streaming devices, and other HDMI devices.
The built-in applications on Vizio Smart TV may require an internet connection at some point. You might also require an internet browser for other activities on your Vizio TV.
This article explains how to get internet on Vizio smart TV. In addition, we have explained the ways to run an internet browser on your Vizio TV.
Can you configure the internet and install a browser on Vizio TV?
Yes, you can configure the internet on the Vizio smart TV; you will need a wireless network. However, configuring a browser on Vizio Smart TV is complicated as it does not have built-in or downloadable browsers like other smart TVs.
Vizio Smart TVs come with casting and mirroring capabilities, so you connect your phone, tablet, or laptop to the tv before browsing on a larger screen. You only need WiFi and an internet connection to screencast or mirror your personal devices.
Steps to get internet on Vizio Smart TV
You can connect Vizio Smart TV to the internet network with wireless or wired connections. Follow given below steps to get internet on Vizio Smart TV:
Method 1: Connect Vizio Smart TV to a wireless network
Press Menu on your Vizio remote.
Select Network and press OK.
Click on the Network connection and select Wireless.
Select your Wi-fi network from the available list of wifi networks
Enter the password
Connected. Your wireless network should now be connected after entering the correct Password.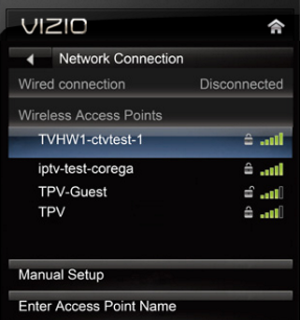 Method 2: Connect Vizio Smart TV to a wired Network
Connect one end of the Ethernet cable to your wifi router and another end to the Vizio Smart TV.
Press Menu on your Vizio remote.
Select Network and press OK.
Select Wired network from the list.
Connected. You will get a notification once your connection is completed.
Once connected with either of the above-given ways, you can enjoy your favorite show seamlessly.
How to benchmark if Vizio Smart TV is having issues connecting to Wi-Fi
Sometimes you might not be able to connect internet network on your Vizio Smart TV. In such a situation, these are a couple of steps you can follow to troubleshoot the issues:
1. Check your Wi-fi Network
The problem may persist if there is some problem with your internet connection. First, check the internet by accessing the network to other devices. You need to troubleshoot the wifi network if you cannot connect to other devices.
2. Power cycle the TV, Router and Modem
Turning off and unplugging the TV, Router, and modem might solve the issue. You can follow the below steps to restart the TV:
power off your VIZIO TV.
Disconnect the power cord.
Hold the power button of the TV for 10 seconds.
Reconnect to your power cord.
Your TV will automatically power on when connected; if it doesn't, power it with the remote.
3. Changes in DHCP settings
Toggling DHCP settings also might solve this issue.
Press the menu button on the Vizio Smart TV remote.
Select a network.
Go to Manual set up > DHCP.
If DHCP is OFF, press the right arrow to turn it ON.
If DHCP is ON, press the right arrow, turn it OFF, and again turn it ON.
4. Change Security encryption
Login with the admin username and password.
Go to wireless settings.
Select the Security option.
Select WPA-PSK.
in the security Inscription (WPA-PSK), enter a passphrase.
Click on apply to save changes.
If you don't have a Passphrase, you need to get in touch with your internet service provider and ask them to change the security settings.
5. Factory reset the Vizio Smart TV
If none of the above points works out, reset the factory setting to your Vizio Smart TV. If there are any software-related glitches with the TV, this may sometimes solve the issue. Follow these steps to factory reset your TV:
Go to Admin & Privacy
Select Reset to Factory settings
TV will power off for a moment while it resets and then turns it back on. A setup screen will appear the first time you have connected your TV. Follow the on-screen instructions.
6. Reach out to Vizio Customer Support
You can contact Vizio Customer Support for further assistance if nothing works. Vizio TVs come with free lifetime customer support.
👉🏽 You can also read How to Active NFL Channel on Your Devices Via nfl.com/activate
How to get an Internet Browser on Vizio Smart TV
Vizio Smart TV does not have a built-in internet web browser. They are built on a platform that utilizes applications that direct the unit to specific services (i.e., Netflix, Hulu, Vudu, etc.).
There are different ways you can browse on Vizio smart TV screen, depending on your equipment.
So if you want to do some browsing or anything that requires a browser on Vizio Smart TV, then you must follow an alternative way to achieve it since Vizio TVs do not come with a default web browser.
1. via Fire TV Stick
Fire TV stick allows you to install browsers that you can plug into your Vizio TV and get a browser available on the TV.
First, connect your Vizio Smart TV to the internet.
Next, install a browser on the Fire TV Stick

To install, Go to the Find tab.
Search for the Silk Browser developed by Amazon.
Download and Install the browser on your Five TV Stick.

Open the browser and use it.
2. via HDMI Cable
An HDMI cable can transport high-bandwidth data from your computer to the smart TV. You can use it to project your computer screen to Vizio TV, run a browser on your computer, and experience browsing on a wider screen.
Connect one end of the cable to the TV and plug the other end into your computer.
When done, your laptop screen will be projected onto the TV.
Open a browser on your laptop to get the same on your Vizio TV screen.
3. Mirror your Phone to Vizio Smart TV
You can mirror your phone screen to Vizio smart TV and see the browser on a bigger screen while controlling it from the source device. To mirror your phone:
Connect the TV and Phone to the same WiFi network.
Install and open Google Home App on your phone.
Select Vizio Smart TV
Select Cast My Screen
4. Mirror your computer to Vizio Smart TV
Like a phone, you can mirror your computer's screen to your Vizio TV. Follow these steps to get an Internet Browser on Vizio Smart TV virtually.
Google Chrome installed on your device should be updated
Connect the TV and computer to the same network
Open Google Chrome
On the right side of the page, click on the three dots.
Select Cast and Cast to your TV.
Select Cast desktop from the dropdown menu
Select Vizio Smart TV and Cast it to your Vizio TV screen.
FAQs:
How to get Google assistance with your Vizio Smartcast TV?
To be able to search on Google on your Vizio Smart TV, you can use Google Assistance, and for that, you will need the following:
A supported VIZIO SmartCast TV or Home Theater Display
A Google Assistant device such as a Google Home, Google Home Mini, Google Home Hub, or a mobile device installed with the Google Home app.
An Internet Connection
Follow these steps to enable Google Assistant actions in your Vizio SmartCast TV:
Access the SmartCast TV home screen by using the "V" button on your remote or by selecting the "SmartCast" using the input button
From the top menu, navigate to Extras and click OK.
Select "Google Assistant"
Follow the onscreen steps to pair your TV with your myVIZIO account and enable the Google Assistant action.
How to check my internet speed on my Vizio Smart TV?
Follow these steps to check the internet speed on your Vizio Smart TV:
Press the Menu button on the TV remote.
Select Network > perform a Network Test.
Do Vizio Smart TV apps need updates?
As soon as the Vizio Smart TV is connected to the internet, all applications are updated automatically. We do not need to update them manually.
📝 Similar Tutorials: