Roblox is a platform on which users of Roblox can play games created by other users. Users can also use Roblox's proprietary game development tool, Roblox Studio, to create and program games on the platform. Roblox can be accessed on numerous platforms, including a mobile app for Android and iOS.
Now.gg is a mobile cloud gaming platform that provides a large selection of android mobile games, including Roblox, that utilize similar graphical experiences as cross-platform play. You and several other million of players worldwide can participate on this huge virtual gaming platform.
This post explains what Roblox Now.gg is and how to play Roblox in a browser using now.gg platform.
What Is Roblox Now.gg | A brief description
Now.gg is a massive online gaming platform powered by NowcloudOS. It takes advantage of the concept known as distributed computing, utilizing it to create sturdy platforms for various cloud-based mobile applications.
This platform lets users play online mobile games for free, like Roblox, Minecraft, and Fortnite, as long as they have a Google Chrome browser, a dependable internet connection, and an account on now.gg.
With the now.gg mobile cloud, you can experience Roblox by Roblox Corporation and become part of the massive global community of creatives, hobbyists, and fun lovers within Roblox.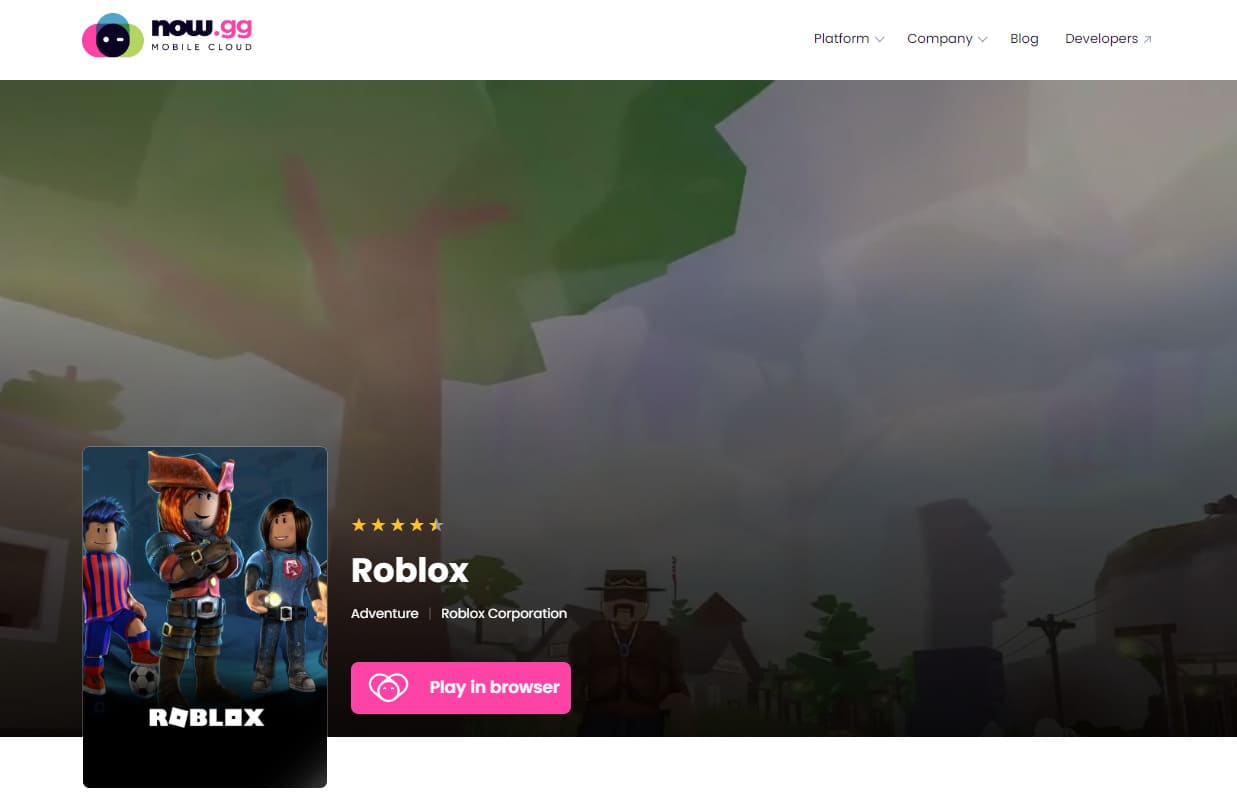 The fundamental architecture of now.gg defines a platform based on a distributed workload because as network bandwidth decreases and latency decreases, it becomes feasible to divide workload across devices, thereby permitting a cloud platform with low latency.
Thus now.gg handle most of the processing required via optimal hardware for different gaming workloads to run the games on the user's devices. 
It becomes useful for you as a gamer to be able to play mobile games from any device within a browser and experience a much smoother gaming experience than having those games on your mobile device or in an emulator.
👉🏽 Also read How To Give Robux To Friends [Complete Guide]
Benefits of Playing Roblox Online On Now.gg
Device Doesn't Play Importance: users can experience the same level of visuals in Roblox regardless of their mobile, computer, or console device.
Saves Device Storage: playing Roblox via now.gg means the game runs on a browser, and users do not need to download and install the game.
Maximized Graphics: playing Roblox on a cloud platform means you will experience the same graphics someone is experiencing playing Roblox on a browser on their PC or console. Graphics plays a big role in games, and experiencing equal graphics for all device adds more confidence and fun during the game.
Reduced latency: latency is a major issue in online gaming. Playing Roblox on Now.gg reduces latency because of their distributed workload across shared servers to reduce in-game network bandwidth.
Globally identical controls: gaming platform brings variations in in-game controls, but playing Roblox on now.gg platform ensures the controls for all the users are the same.
No device Heat-Ups for mobiles: mobile users would not have to deal with heating-up issues or lose a lot of battery during gaming because the processor isn't responsible for processing the game.
How To Play Roblox In a Browser Using Now.gg | For Free
You can play Roblox on now.gg without restrictions and compatibility issues. The graphical experience will also be the same across all devices, and screen size will adapt o your device.
Note: Roblox might not be available on Now.gg, depending on your device. In such a case, you can try another device with a compatible browser to launch the now.gg platform.
To play Roblox for free on your device browser via the now.gg platform, follow these steps:
First, go to the Now.gg huge library of Android games on your device browser.
Scroll down to the adventure games section and select Roblox.
Once you arrive at the Roblox dedicated page, click on the play in browser button.
In the next screen, you will have to sign up (if you don't have an existing account) or login in case you have an active account.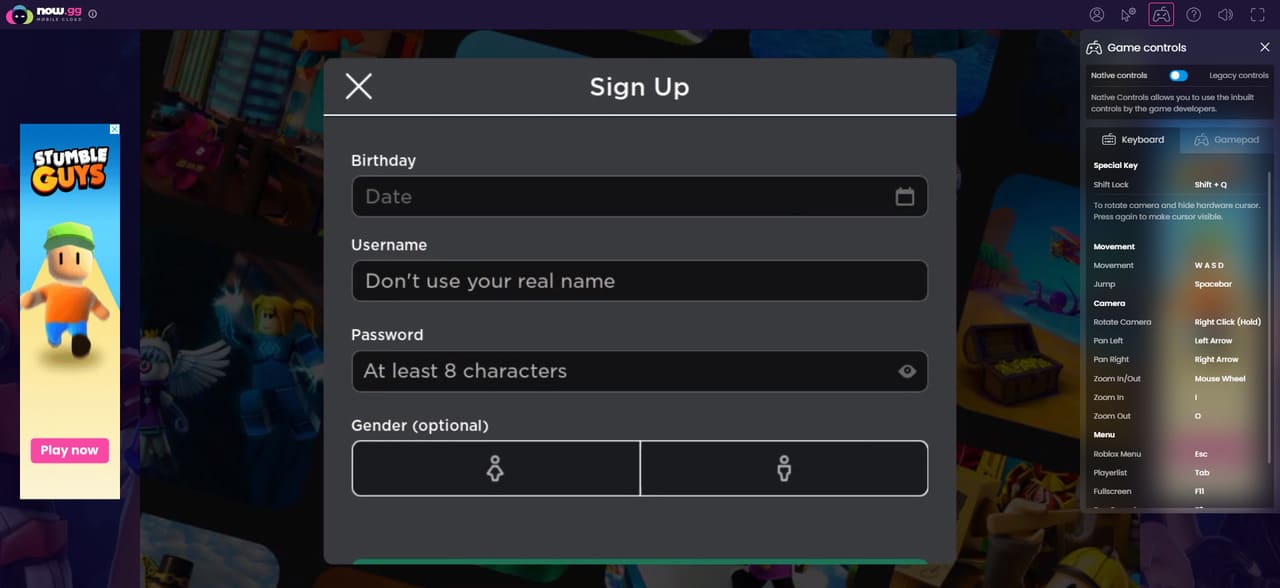 After signing up, you can play any Roblox games on your browser.
While playing games, you can adjust your mouse sensitivity (for PC users), use native or legacy controls, connect your gamepad, control sound and go full screen using the now.gg control toolbar at the right top.
Now.gg cloud will save your game progress if you are signed in, which you can check within the account icon.
---
Roblox on Now.gg vs. Android Emulator
Many people like to play mobile games like Roblox on PC using an emulator, and now the introduction.gg platform has given them another opportunity to experience android games on any device with a browser, so apparently, a mac or an iPhone will also support Roblox.
Despite being the classic solution to let people enjoy mobile games on their PCs, Emulators sometimes struggle in terms of performance and compatibility based on the PC's configuration. Now.gg seems to have a great balance between these two criteria and is not impacted by the device hardware capability.
With emulators, syncing game progress can be a big deal sometimes and add random crashes on top of that, which is what Now.gg does better because they have a cloud infrastructure to sync all of your Roblox game progress and eliminates the chance of an application crash.
When it comes to offline gaming, though, you can't rely on Now.gg's platform because it will require a flowless internet connection to run games, whereas an emulator can let you experience offline play within their system.
Again, emulators are limited to PCs, while Now.gg will let you play games on any device and operating system, whether a PC, Console, Mac, iOS, Windows, or so on.
No additional application load on your device is another advantage of Now.gg being a cloud-based platform rather than sitting on your local disk and device processor having to compile the processes.
And let's not forget the portability because you can play Roblox or any games in the platform anywhere in any device, which would be quite difficult on an Emulator, and you having to carry the exact device the emulator is installed.
It's quite perceptible that the cloud platform is a better place to play Roblox, even than the main Roblox application installed on your device. But then the Roblox app will provide a better experience being the dedicated application designed for the game since the release; still playing Roblox on now.gg platform has been fun in my experience.
How to Report a Problem with Roblox Games on Now.gg
A game is on Now.gg platform does not eliminate the change of typical in-game or application-related issues such as lags, stuck at the loading screen, high ping, controls related issues. If you encounter any such problem, you can report it. (tutorial taken from a mobile device – would be a similar process for PC and consoles with wider screen)
Step 1: Extend the now.gg menu on the top left corner.
Step 2: Tap on the question symbol just below the screen-adjust option.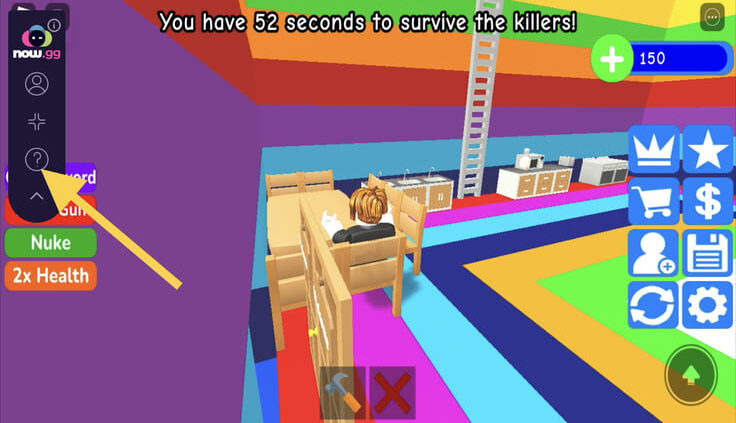 Step 3: Select the issue from the popup list and tap on next.
Step 4: Upload issue screenshots from your device or capture screen for a better explanation. Do not forget to add your current email for further communication. Check the "run a diagnostic report" option and click on next.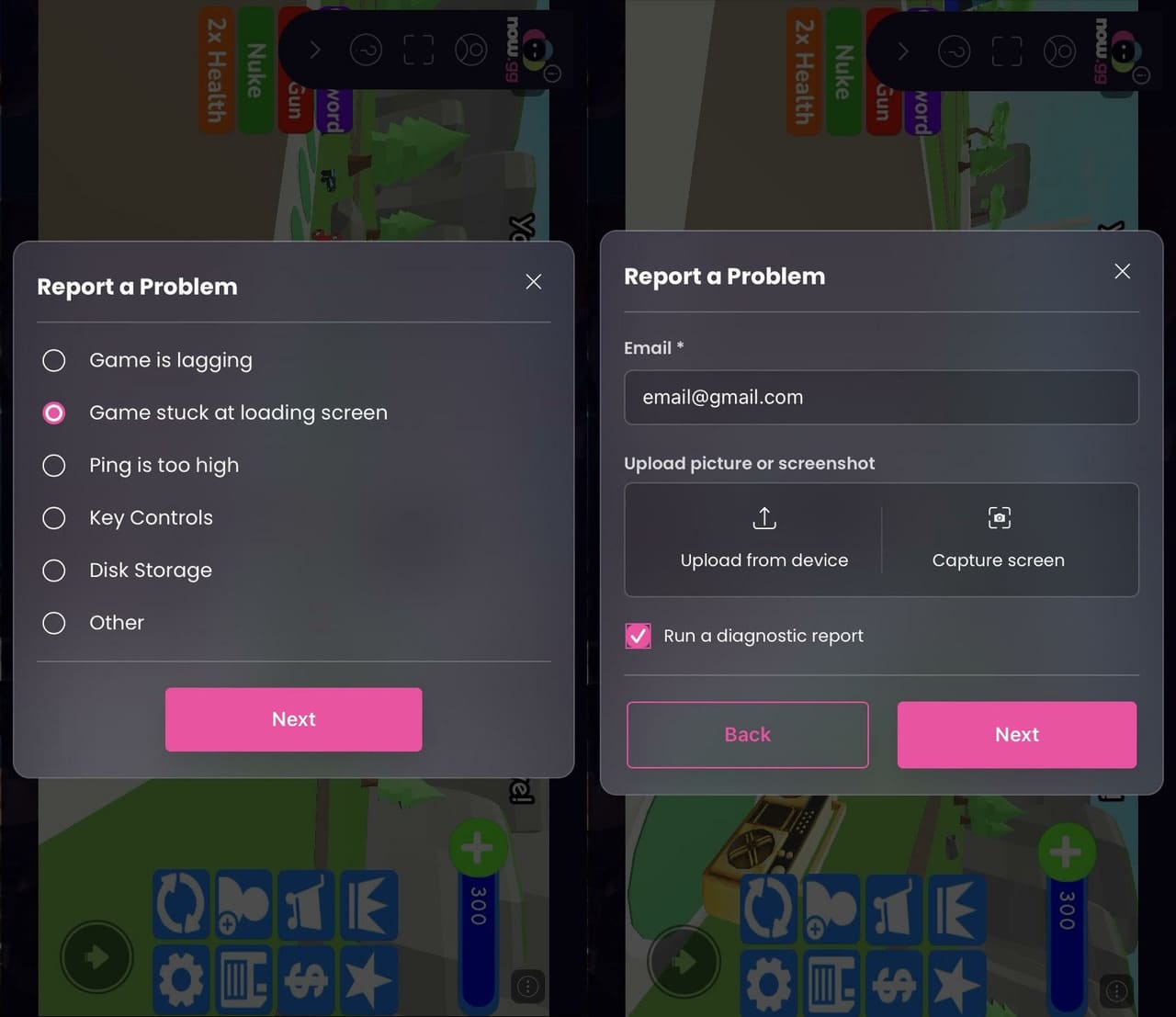 Step 5: Explain the problem and tap on submit to complete the reporting.
Final Thoughts
Roblox is one of the classic online games that is popular today. If you find out that Roblox is blocked on your work or school-owned device or it's that the Roblox application is not working, you can quickly switch to play Roblox unblocked via now.gg.
📝 Additional posts you might be interested in: