Brazzers is a Candian x-rated content production company, and their official site works on a recurring subscription-based model for its user to access premium content.
The probiller transaction system handles Brazzers' transactions as well as monthly subscriptions. While canceling your Brazzer subscription, another tool called Truebill confirms the cancellation and processes the cancellation application.
This guide explains how to cancel Brazzers membership from their official site or via Truebill.
Quick Guide on How To Cancel Your Brazzers Membership
First, visit the Brazzers support page at support.brazzers.com.
Next, click on the Billing tab at the top of the page.
Then scroll down, find "How do I cancel my membership?" and select the "cancellation method" link.
Next, choose your preferred cancellation method and request an account cancellation.
Remember: To be able to terminate your Brazzers membership, you must use your Brazzers login to access your account; thus, your Brazzers password & username will be required to cancel the subscription on the official site.
Let's look at the steps to terminate Brazzer's membership via their support page, Truebill, and live chat.
1) How To Cancel Brazzers Membership [Via Official Site]
To cancel your subscription via Brazzer's official site:
Go to Brazzer's official site and click on Member Login at the top right corner.
Under account settings, go to Billing.
It will take you to Brazzer's support section, where you can cancel your subscription.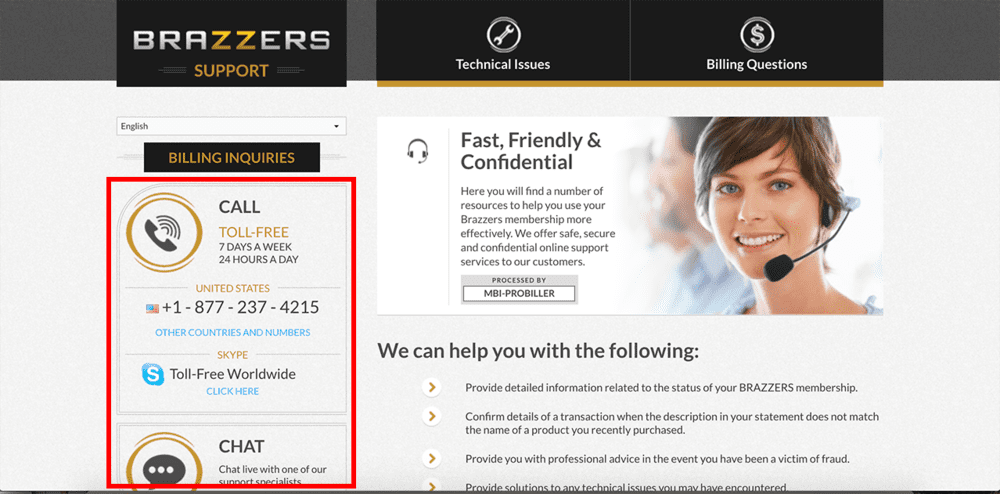 Under the

billing question tab, you will have several questions where you will have to scroll down until you find the "How do I cancel my membership" section.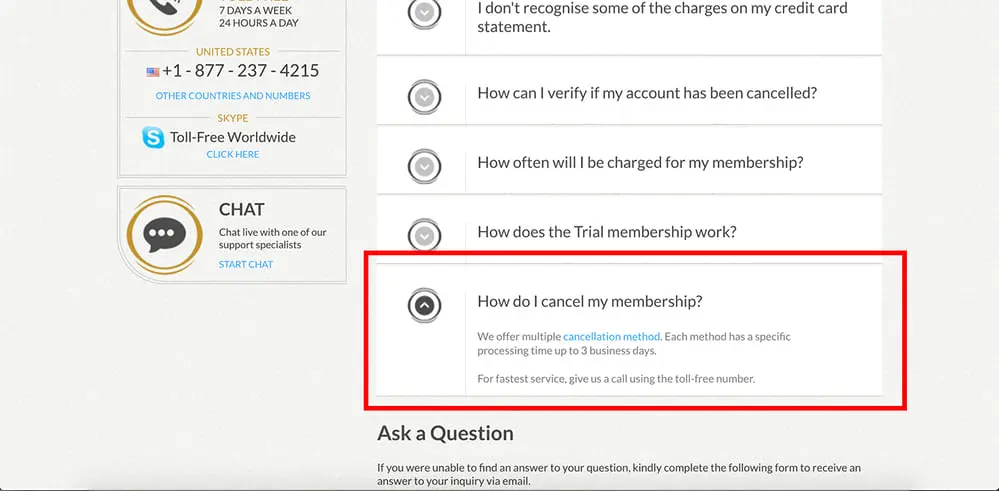 Click on the cancellation method that takes you to a new page with three options for membership cancellation.
You can cancel your Brazzers membership by phone, live chat, or by filling out a form. Once you have chosen your preferred method, follow their guidance to cancel your Brazzer membership.
Note: The cancellation form on the official site has similar attributes to the one used on Truebill for subscription cancellation and thus requires the same information.
Here are some Brazzers customer support addresses you can reach out to and ask for the termination of membership.
Website: https://support.brazzers.com/
Phone: 1-877-237-4215 (from the US)
Live Chat: https://support.brazzers.com/cancel/
Note that you can still access premium content on the site after canceling your subscription until the previous subscription cycle ends.
2) How to Cancel Brazzers Membership Through Truebill
When you have issues canceling through Brazzer's official site, try contacting Truebill directly. Truebill provides you with a form you must fill out to cancel the Probiller account connected to your Brazzer subscription.
During this process, you will need the email address that matches the accounts on Brazzers and probiller to complete the cancellation process.
In addition, you might have to provide the corresponding username, phone number, specific credit card number, and billing address, including the date and amount of the last charge.
You must enter a reason for the "cancellation of the subscription" to sum up the process. For any compliments, complaints, or relevant information, you will have an option in the Truebill form.
Here are the steps to cancel your probiller subscription:
Start by signing up on Truebill.
Connect your probiller account for Truebill to scan your transactions and detect all of your subscriptions.
Select your ProBiller subscription, then follow the instructions to start your Brazzers subscription cancellation process.
Finally, check your email for confirmation.
You can manually cancel your subscription from ProBiller too:
First, visit https://www.probiller.com/contact/
Select the phone, live chat, or email option.
Provide the name of the subscription or Brazzers as the entertainment site name to cancel, along with your email address, billing address, and the last four digits of the card used.
You will receive an email confirmation of the MBI Probiller cancellation.
Make sure to confirm the cancellation from that email.
👉🏽 Also Read How to unmatch with someone on tinder
3) Terminate Brazzers Membership With Brazzers Support Website and Chat
Brazzers has a robust customer support system where you can change your account-related info, change your credit cards, and adjust your account and subscription settings.
One way to cancel your subscription is via live chat, which you can access via the support page on the official site. This method is quicker and takes you through the process quickly.
To start a chat session with their support specialist, click on start. They will ask you to verify your identity and account; hence you should have your credentials ready or remembered.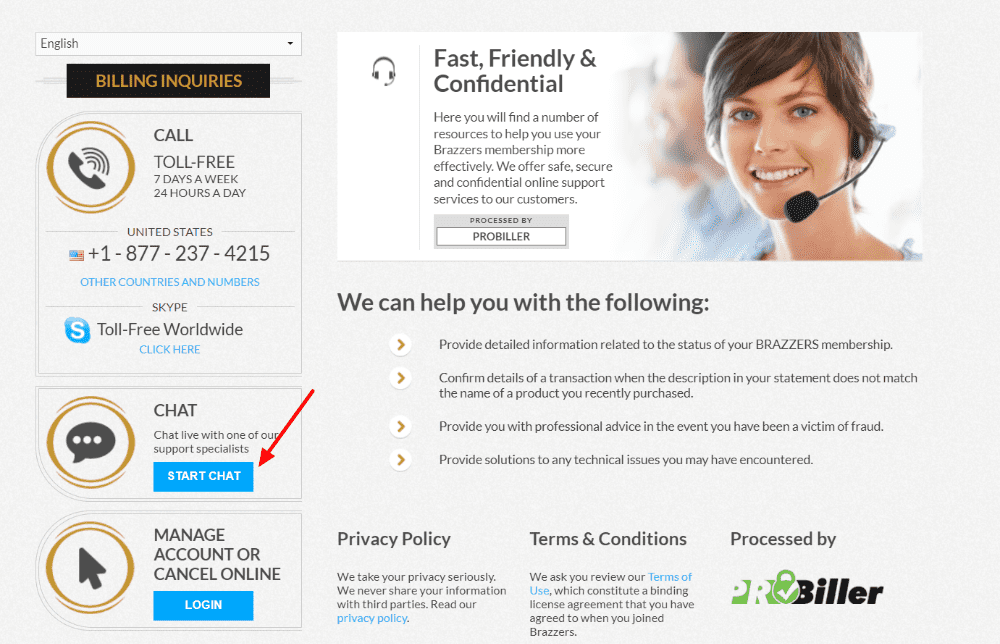 Once verified, the chat agent will guide you to cancel or make adjustments to the account & membership.
The support website is multilingual and offers toll-free phone numbers across multiple countries. In addition, it makes their support system intuitive and makes it easier to cancel a subscription.
Additional contents: