As a widely-used social media platform, Instagram's developers frequently release updates as we receive those updates frequently in the app store. No doubt, the back-end engineers tirelessly toil to keep the platform running smoothly and managing such a massive user base.
However, despite the best efforts, hiccups may still occur on the Instagram app. These glitches, though infrequent, are a shared experience among the Instagram community.
One such common issue you may encounter on Instagram is that the app prevents you from posting photos and videos. My mind would start to boggle as to why Instagram doesn't let me post moments.
So if you are wondering why won't Instagram let me post or why can't I post on Instagram, fear not, for you've stumbled upon the right page.
We'll discuss the reasons why Instagram may block you from posting and the various solutions to this Instagram posting issue. Rest assured; this is but a mere bump in the road.
Sometimes, it may be a glitch with the Instagram app or server; other times, it could be a problem with your phone, network connection, or even your Instagram account.
Why Instagram doesn't let me post photos and videos?
Posting visual stories is the essence of Instagram's existence, so if the platform itself is preventing you from posting, you have the right to question its purpose.
An all too familiar cause of Instagram's posting problem may be a weak internet connection. If that's not the issue, try clearing the app cache, as it may be causing trouble.
Worth Noting: Instagram displays "Instagram will auto-post when possible" when your device is facing trouble with the internet connection preventing IG from uploading media to their server. Ensure you have connected to a stable network, and then try to re-upload the photo/video.
If that doesn't resolve the problem, it's time to take a closer look at the bigger picture.
Keeping your app updated to the latest version can prevent potential glitches and ensure seamless posting. Make sure your Instagram app is up to date.
When Instagram fails to identify the video or picture format being uploaded, it may prevent you from posting it. This is because the platform is not able to process and display the file correctly. Furthermore, it may also be rejected if the video or picture does not meet Instagram's size and resolution requirements.
Instagram encourages users to share their own original photos and videos. However, if you're attempting to post someone else's content without their permission, Instagram will not allow it. Posting reels or videos you've downloaded from other accounts without permission violates Instagram community guidelines.
If you're attempting to upload a high-quality video on a slow or unstable connection, it may take longer for Instagram to process the upload. To avoid this, try connecting to a high-speed WiFi network and then attempting to upload again.
Instagram has a set of terms and conditions that all users must abide by when posting content on the platform. Posting hate speech, graphic violence, nudity, or sexually explicit content might trigger Instagram's system to automatically prevent you from uploading it.
If someone has reported your account for spam or hate comments, Instagram may temporarily suspend your posting activity as a form of punishment. The duration of this suspension can vary from a few hours to several weeks. During this time, you will not be able to post on Instagram.
Purchasing followers, likes, or comments for your Instagram account can result in restrictions on your posting abilities or even a permanent ban. Additionally, overuse of hashtags, such as including more than 30 in a single post, can also result in Instagram posting issues.
Server outages can happen due to scheduled maintenance, security updates, or unexpected high traffic on the servers. When this happens, Instagram may not be able to process any posts, and you will face posting problems on Instagram.
When you try to upload a photo or video on Instagram, the app needs to access your device's gallery to select the file you want to upload. If the app does not have the required permissions to access your device's gallery, it might not be able to post the file.
Instagram has a limit on the length of the video files that can be uploaded to the platform. The maximum length for a video file on Instagram is 60 seconds. If you are trying to upload a long video than 60 seconds, Instagram will not be able to process it and may prevent you from posting it.
Note: here are Instagram video length limits: 60 seconds for video clips as posts, 15 minutes for IGTV uploads (on the mobile app), 60 minutes for IGTV uploads on Insta web (PC), and 15 seconds for Instagram story clips.
👉🏽 Similar tutorial: How To Recover Disappearing Messages On Instagram
Why Won't Instagram Let Me Post Comments & Likes?
A double-tap is usually all it takes for you to show love on Instagram, but sometimes even that simple gesture can fail. The heart remains stubbornly un-red, and comments disappear into the void.
If Instagram comments can't be posted or you can't like a post, these are the possible reasons and can lead you to a solution:
A weak or unstable network connection can prevent you from leaving a comment on someone's post or liking it.
When a user deletes their post, it's like it never existed. So, if you're trying to like or comment on a post that has been removed by its creator, you will be unable to do so.
Occasionally, Instagram server outages can also be a reason why you can't seem to like a photo on Instagram or post a comment on it.
If the user has blocked you, then you will not be able to like or comment on their posts.
Instagram's terms of service do not allow the bulk liking and commenting of posts and can temporarily ban your account from these activities.
If the user has added specific words to the blacklist in the comment section, then you will not be able to comment with those words. Blacklisted words can be assigned at Settings > Privacy > Hidden Words > Manage List.
If you have tagged more than five people in a single comment, the comment may not be able to post.
👉🏽 Similar tutorial: How to Delete Instagram Messages [With Steps]
Why Instagram Won't Let Me Post Stories?
IG Stories is a great way to share photos and videos with friends and followers that disappear after 24 hours.
If you have encountered that you can no longer post stories or share stories, take a look into these explanations.
If you have slow internet, you may not be able to post stories; if the story gets stuck, you will not be able to edit or remove it. To solve this problem, try connecting to a faster WiFi network or switch to a different network provider.
Minor bugs can prevent you from posting stories on the IG app; try closing it and restarting it. Then try posting a story again; it might work.
When sharing stories or posts from other accounts, make sure the account is public. Instagram does not allow sharing stories from private accounts.
How to Fix Instagram Doesn't Let Me Post Issue?
The issue "Instagram won't let me post" has a couple of workarounds. Not all of these solutions may work for you or won't match with each other.
Try following the given hierarchy to find a way around this irritating IG concern.
1. Restart your device
The first and easiest solution would be restarting your phone. A simple restart can solve temporary software issues and could fix Instagram's posting issue.
On Android, hold press the power button until you get the reboot option. Tap on restart the phone. Based on your phone model, the procedure can be different.
On iOS, press and hold power and home buttons until the Apple logo appears on the screen. For iPhone 11 and 12, hold down either of the volume keys and power buttons for about 3 seconds until it goes black and the Apple logo appears.
2. Reduce Your File's Size
If you try uploading images or videos imported directly from your high-quality camera, you might encounter this issue.
We rarely give intention to Instagram file size limit, but you need to know the critical size and aspect ratio before uploading a high-quality image and video.
Uploading a file of 4K or UHD quality would take longer to upload. Still, occasionally, they won't get posted either for being too large in size or unable to keep the uploading stream active for some reason.
To fix this, Instagram doesn't let me post issues; make sure to reduce the file size before uploading it. I have added some of the ideal sizes info originally published at adobe.
2.1. Instagram post size
Posts can be square, landscape, or vertical.
The ideal size of square posts is 1080px by 1080px with an aspect ratio of 1:1.
For landscape posts, the ideal size is 1080px by 566px, with an aspect ratio of 1.91:1.
Vertical images should be sized at 1080px by 1350px with a 4:5 aspect ratio.
2.2. Instagram video post size.
The aspect ratio of video can be anywhere between 1.91:1 to 4:5.
The ideal horizontal video aspect ratio is 16:9.
Make sure your video files are no larger than 4 GB.
Max length of the video could be up to 60 seconds.
3. Reset the Network Connection
As we have discussed, one of the most common reasons for Instagram doesn't let you post photos & videos can be an unstable or poor network.
If this is the case, you should try refreshing the network connection. Either put your device into flight mode or switch your network status to off and on, then check if this solves the problem.
If you are using a router, then make sure the router is active. Make sure your device can receive internet connectivity from the router.
If you are using Instagram on your PC while connected to a router, ensure the connection between your PC and router is stable. One of the common problems with routers could be incorrect PSK for network SSID errors.
If you are on the phone, like I said above, follow these steps:
Check your phone's internet connection status; if disabled, enable it.
If the connection is already enabled, tap on the flight mode, wait for a few seconds and disable the flight mode. It will flush & restart a new connection.
If you are using Wi-Fi, try to reconnect with the Wi-Fi.
Additionally, you can turn your data off and turn it on again.
After everything is done, try uploading photos/videos on Instagram again.
👉🏽 Also read: 5 Ways To Fix Laptop FPS Drop When Plugged In
4. Clear Instagram cache memory
When a user flushes the application cache memory of Instagram, the issues seem to get resolved. During runtime, the Instagram app generates and stores the cache on your phone.
The cache memory holds metadata related to your account from previous entries. Cache memory can prevent apps from performing regular activities. This can prevent you from posting photos/videos on Instagram.
To clear the Instagram cache, you need to open the app manager or directly access Instagram app storage settings.
The steps to delete cache memory in Android and iOS devices are different but simple. Go through the steps to clear the cache memory on each device type.
How to clear Instagram Cache on Android?
Go to phone settings > Select App settings.
Find Instagram from the list of apps and tap on it.
Click on "Storage" and then select "Clear Cache."
How to Clear Instagram Cache on iOS?
Go to "Settings" and click on "General."
Select "iPhone storage" inside the General.
Find Instagram in the list and tap on it.
Click on "Offload App" to clear the Instagram cache.
You can tap on the "delete app" option to permanently delete all Instagram-related data and then reinstall the app with fresh data.
After clearing the application cache, check whether you can post photos or videos on Instagram. If you cannot do so, proceed to the next step.
5. Check Instagram Photo/Video Policy
Instagram has strict terms about what kind of pictures you can upload. They have potent bots that can quickly identify any picture or video violating their policy.
If your picture or video violates their policy, then Instagram won't let you post that picture/video.
In another circumstance, if you are sharing something you don't own, you have to give credit to the creator of the post; otherwise, copyright issues may prevent you from posting such pictures or images.
So make sure your videos comply with their policy and do not have any copyright issues.
6. Change Your Instagram Data Settings
Instagram has data-saver settings that prevent you from sharing too many posts simultaneously. The application disables some bulk uploading features to save your internet data.
If you are not able to post on Instagram, then there is a possibility that your data saver is enabled. Though it has nothing to do with single-file uploading, you should still consider its possibility.
You can disable the Instagram data saver and go to mobile data settings inside your Account. Follow the steps mentioned below to increase your data use limit.
Go to your Instagram Profile, then select "settings."
Click on "Accounts" inside the settings.
Find the "Mobile data usage" setting.
Turn off the "Data saver" option.
7. Free Up Storage Space in Your Phone
If your phone's storage space is full, you may encounter this issue. Instagram tries to save uploaded videos/images into your local memory (based on save uploaded photos settings).
When the app keeps original media, saves posted videos, and saves posted photos on your device, then space needs to be freed for these images and videos to be saved.
If your device memory is full, you may not be able to post a new image because the app won't complete the saving process.
You can either disable the "save posted media" option or clear up some spaces on your phone. These options can be found inside the app Account settings > Original Post.
Go to Instagram app settings.
Tap on the account.
Then tap on Original post settings.
Check the status of the three options there.
Make sure to disable save posted videos and save posted photos.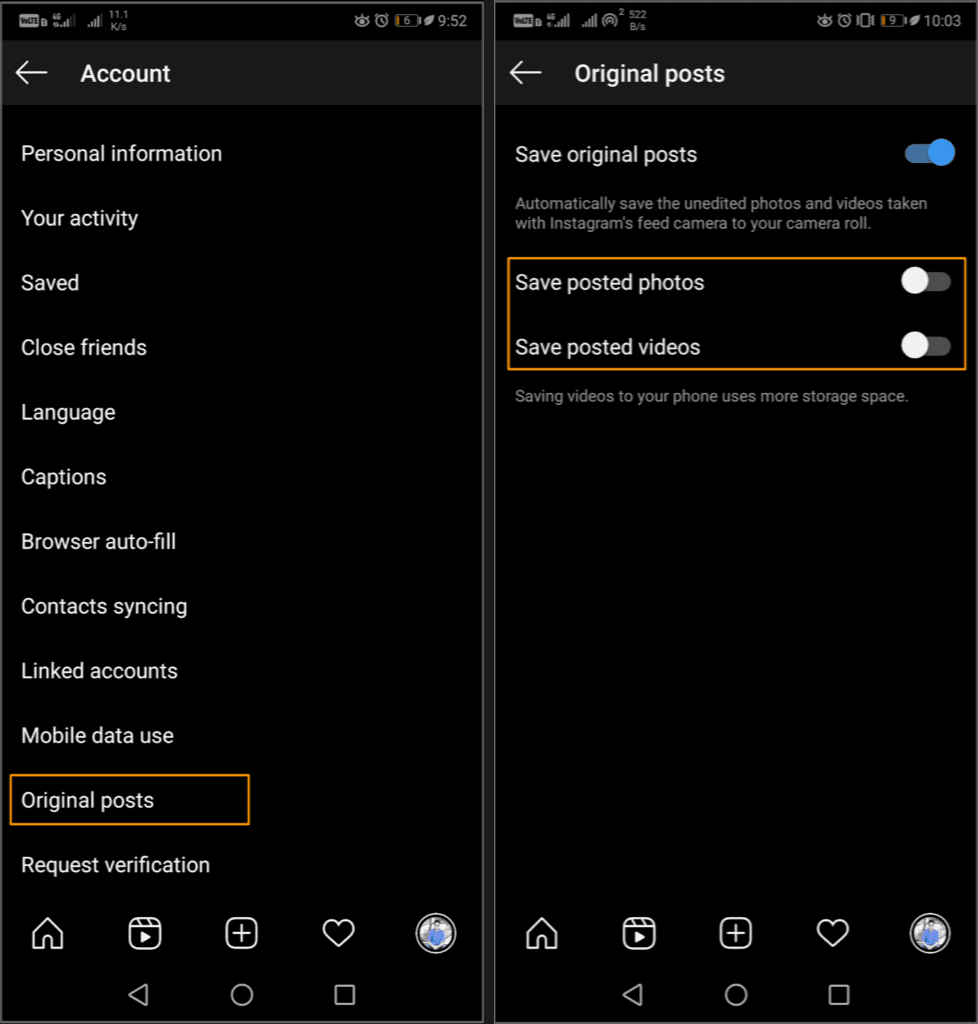 The alternate way is to solve this issue by removing some content from your phone's memory.
Delete unnecessary apps and data from your phone so that Instagram can save posted videos/images. Once done, you should not see the upload fail issue.
8. Uninstall Apps That Have Access to Your Instagram Account
Some apps on your phone can have access to your Instagram account. If you are using both Instagram and the application simultaneously (even running in the background), they can conflict and may lead you into this trouble – unable to post on Instagram.
To uninstall the app on Android, drag it and drop it in the trash icon. For iPhone, hold press and choose the remove app option.
👉🏽 Also read: How to solve Windows did not detect any networking hardware
9. Try updating and reinstalling Instagram
An Instagram app update can fix most of the bugs you may experience and improve the app's security measures.
Depending on your device type, you can update the app from Play Store or App Store and see if that solves the posting problem on Instagram.
I prefer that reinstalling the app sometimes does better than updating. It flashes all the data from your phone and thus reduces the chance of issues like Instagram doesn't let me post.
Below I have added a few similar issues that can be fixed with these steps. Let's take a look at those.
Why Does Instagram not Let Me Post Multiple Photos/Videos?
In this case, you first need to look at your Application Background Refresh settings.
If the background refresh is turned off for Instagram, the uploading process may halt or terminate automatically if you switch to another app when uploading is conducted.
In addition, Instagram may block your account temporarily for spamming multiple photos and videos over frequently. Such a ban stays for a couple of minutes or an hour, but soon you will be able to upload photos & videos again.
Also, ensure that the photos and video format is aligned with Instagram's supported formats to avoid errors during upload.
Why Instagram Doesn't Let Me Post Music on Stories?
You might haven't updated your Instagram app if you cannot post music on Insta stories.
Sometimes, when a piece of music has been removed from Instagram, you won't be able to add music to your IG stories; try adding different music.
It can also be because your country doesn't have access to the Insta music features. You can take the help of a VPN in this case.
Why is Instagram Not Letting Me Edit Posts?
It's possible that the previous app versions had a bug preventing users from editing their posts.
This has been fixed in recent releases, so if you encounter such an issue, update your app to the latest version.
Also, switch to a better Internet connection and see if that could help.
Wrapping up –
These are the easy-to-follow solutions for Instagram won't let me post issues. You need to experiment and see which solution works for you.
With these solutions, you should be able to post pictures or videos on Instagram again.
📝 Similar Articles: