Are you attempting to share a photo or video on Instagram but can't post it? Numerous factors could be causing the Instagram app to prevent your photos, posts, stories, or videos from successfully uploading.
It can be quite exasperating when Instagram doesn't let you post, and you may come across one of the following notifications:
An unknown error has occurred.
There was a problem with your request.
Something went wrong.
Action blocked.
Try again later.
Let's explore the typical reasons behind why the Instagram app might prevent you from posting and how to troubleshoot this issue.
Before we delve into the causes, here are the most common reasons why Instagram may prevent you from posting:
Sometimes Instagram experiences server outrage and can prevent you from posting anything to the server. The best way to check server status is to Instagram server reports on the Downdetector.
If your internet connection is unstable, you might be unable to post on Instagram.
If your photo/video file is too large, Instagram might fail to upload it to its server.
When there's a temporary app bug, you might be unable to post on Instagram.
You couldn't post on Instagram if your account received a ban or partial limitation. You can check by going to settings > account > account status.
Now, let's take a broader view of the reasons and find a way to address the issue.
Why Instagram Doesn't Let Me Post: What ARE THE FIXES?
1. Ensure the Instagram server is not experiencing an outage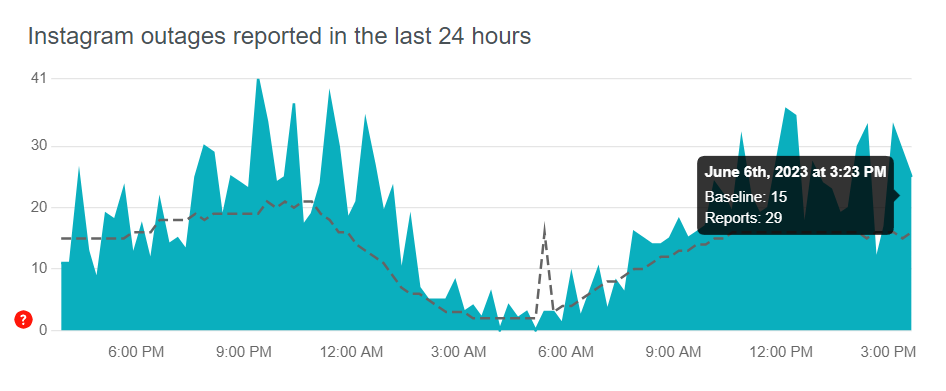 If Instagram's servers are overloaded or down, you may encounter the "can't publish your post" error. This can happen due to high traffic, maintenance, or security updates. During such times, the Instagram app won't be able to handle any posts or activities.
While you can't fix a server issue, you can investigate whether a server outage is the cause of your inability to post on Instagram.
Got to downdetector.com
Check the latest reports from users worldwide regarding Instagram's server downtime.
When you notice reports spiking in the recent hours, chances are there's a server issue ongoing.
In this case, wait for some time and try uploading again.
2. Ensure you have a good internet connection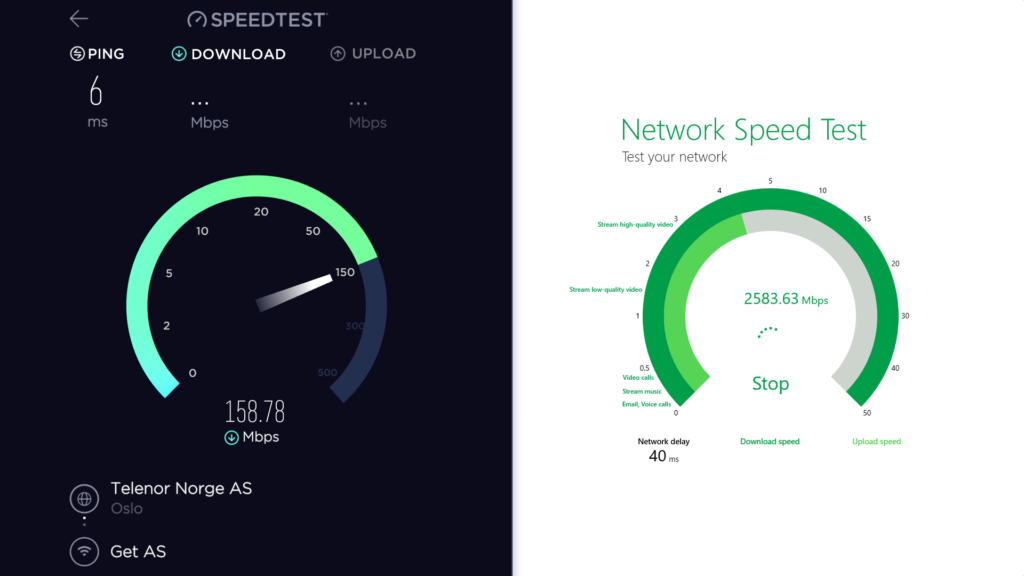 If you're experiencing a weak internet connection, Instagram may struggle to upload your photos and videos.
When your device has difficulty connecting to the internet, Instagram usually saves your post and waits for a stronger connection to upload it.
You'll receive a message from Instagram informing you that the upload will happen automatically, stating, "Instagram will auto-post when possible."
Test your internet connection at: speedtest.net.
In case the connection speed is too slow, try switching to a better network.
If you are on Wi-Fi, switch to the mobile network and vice-versa.
Retry uploading your post on Instagram.
3. Restart your phone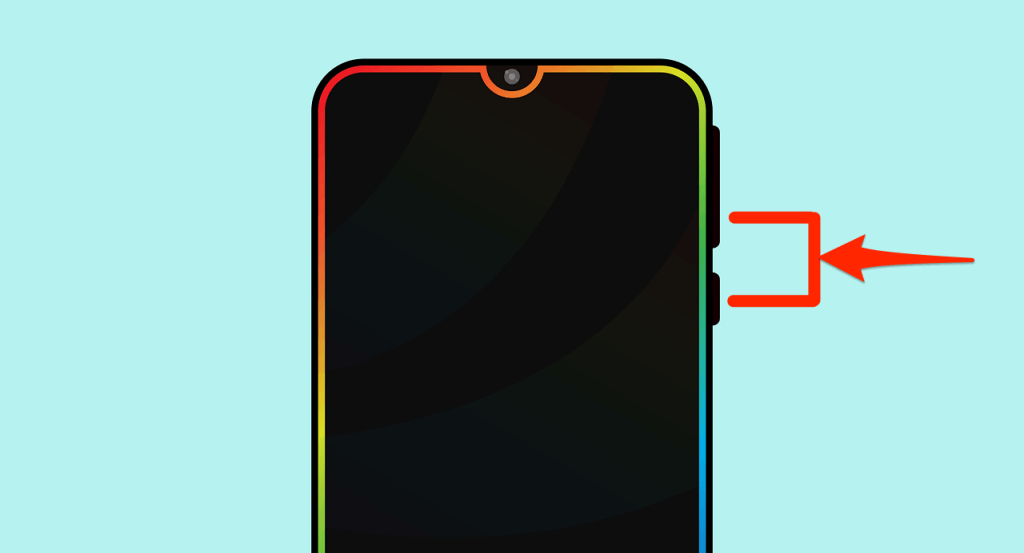 Sometimes a simple restart can resolve internet glitches, cache problems, and other temporary issues that might be preventing you from posting.
In this case, simply restart your device and see if that fixes the posting issues on Instagram.
4. Ensure Instagram has not blocked you
Instagram may restrict your ability to post if they detect non-compliant activity on your account or if other users report violations.
Violations of their terms and conditions can result in permanent bans, while temporary bans, known as Shadowbans, which typically impose limitations on posting frequency, visibility, and editing your bio or post captions.
Some of the most common reasons that can trigger Insta violations are:
First, you should be at least 13 years old to use Instagram.
You can't post photos and videos that include nudity or contain sexual activities.
Mistreating, bullying, menacing, pretending to be, or frightening other Instagram users is prohibited.
You should not use Instagram's reporting systems to harass or intimidate others deliberately.
You are not allowed to use Instagram for any unlawful or unauthorized activities by the platform.
Posting spam in the form of comments or direct messages is prohibited.
Participating in activities that involve praising, providing substantive support to, or encouraging others to support dangerous organizations may lead to a ban from the platform.
Purchasing followers, likes, or comments for your Instagram account.
When a temporary ban is triggered, you should receive an email from Instagram stating when you can start posting again. You can also check your account status on settings > account > account status.
Shadow bans usually end within a few days to a week, so waiting for a couple of days should allow you to start posting again.
You can try removing links from your bio, content, or anything that might trigger spam.
5. Confirm that your post doesn't contain banned content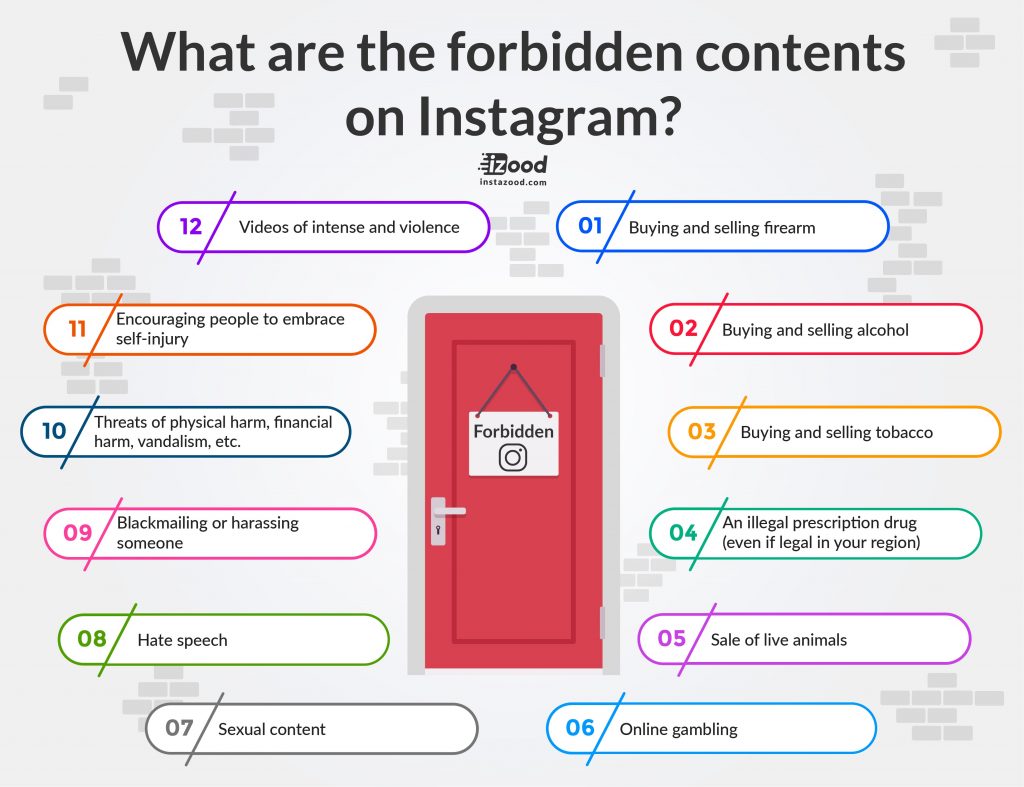 Lawmakers and users push for content censorship on platforms like Instagram to maintain content compatibility for diverse audiences.
To comply, Instagram uses AI systems to filter and block certain flagged content.
If you think your posts include such content, you may not be unable to upload them. You can try these steps:
Check what types of content are banned on Instagram.
Try uploading a different photo/video and see if it goes through.
If you can't post other photos or videos, something else might prevent you from posting on Instagram.
6. Check your upload size
Uploading a high-quality video on a slow or unstable connection can result in longer processing times or failed posts on Instagram. Instagram has file size limits to optimize its bandwidth and storage space, mainly impacting videos rather than photos.
Videos can be up to 10 minutes long and 650 MB in size or up to one hour long if the size doesn't exceed 3.6 GB. Exceeding these limits will result in an error.
Check your video file size and compare it with size limits.
Compress your video if the file size is too large.
Also, check if you are uploading the video in the correct format.
In addition, you can check these file size guidelines at Adobe.
Instagram photo size:
Posts can be square, landscape, or vertical.
The ideal size of square posts is 1080px by 1080px with an aspect ratio of 1:1.
For landscape posts, the ideal size is 1080px by 566px, with an aspect ratio of 1.91:1.
Vertical images should be sized at 1080px by 1350px with a 4:5 aspect ratio.
Instagram video size:
The aspect ratio of video can be anywhere between 1.91:1 to 4:5.
The ideal horizontal video aspect ratio is 16:9.
Make sure your video files are no larger than 4 GB.
Max length of the video could be up to 60 seconds.
Instagram video length limits are 60 seconds for regular posts, 15 minutes for IGTV uploads on the mobile app, 60 minutes for IGTV uploads on the web (PC), and 15 seconds for Instagram story clips.
7. You are posting too frequently than you should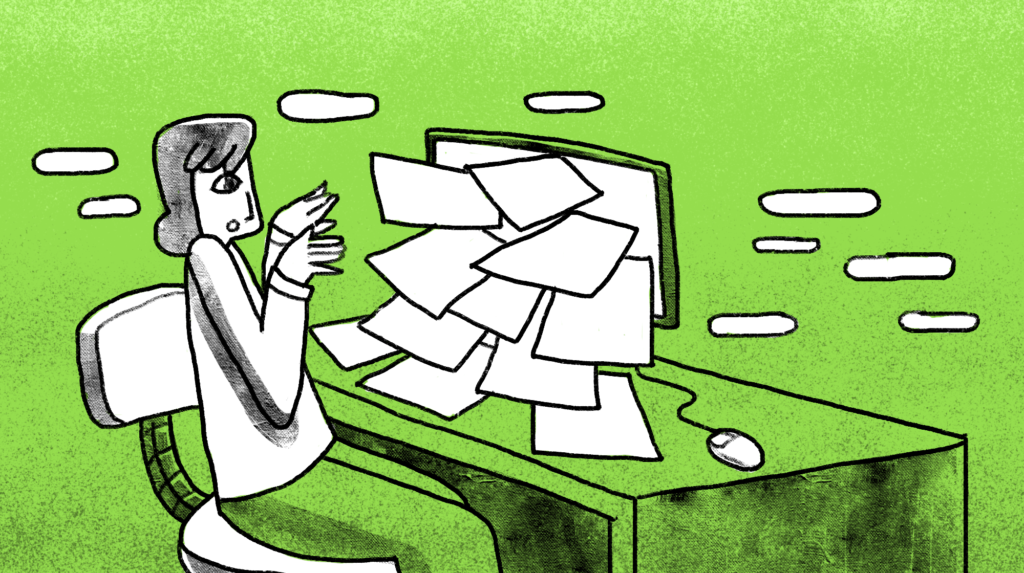 Instagram limits the frequent posting activity of new accounts to prevent spam and maintain an authentic platform. This helps ensure a positive user experience by reducing the presence of bots and fake accounts.
If you've recently created a new account and are experiencing difficulties with uploading, it's likely that the platform has temporarily blocked the posting feature on your account.
In this case, you will receive a notification stating: "It looks like you are misusing this feature by going too fast…"
Such limitations remain for two days up to a week.
You should check back after a couple of days.
8. Ensure you are not using more than 30 hashtags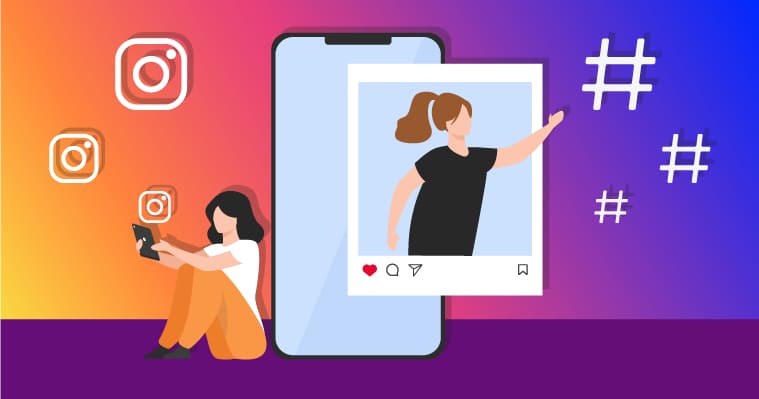 Instagram allows the use of hashtags in post comments or captions.
However, there is a limit of 30 hashtags per post. Including more than 30 hashtags in your caption may result in posting prevention on Instagram.
You can try –
Using 20 hashtags in the post caption.
And distribute the remaining 10 in the comments.
Try posting with this distribution of hashtags across the post.
If that does not work either, lower the count of hashtags… you can try using minimal hashtags to test uploading.
9. Clear Instagram cache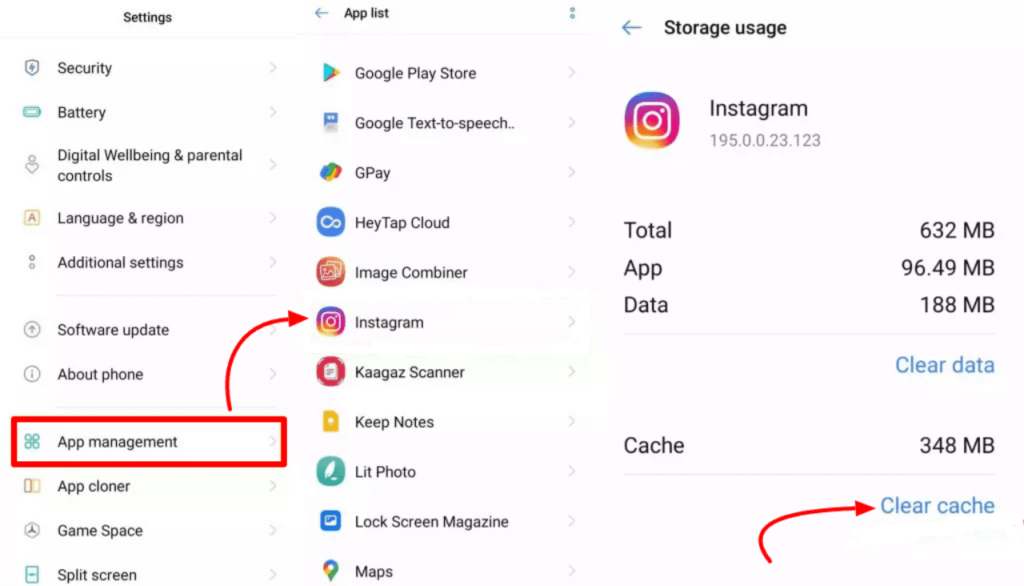 Sometimes, cached data on Instagram can create issues for you.
If the cached data is corrupted, chances are you might encounter problems with the app, such as being unable to post content.
Typically, clearing the app cache solves such cache-memory related issues.
Go to phone settings > App management.
From the list of apps, select Instagram.
Tap on "clear cache" to flush the app cache for Instagram.
On iPhone, you might need to offload the app and reinstall it.
10. Disable the 'save posted media' option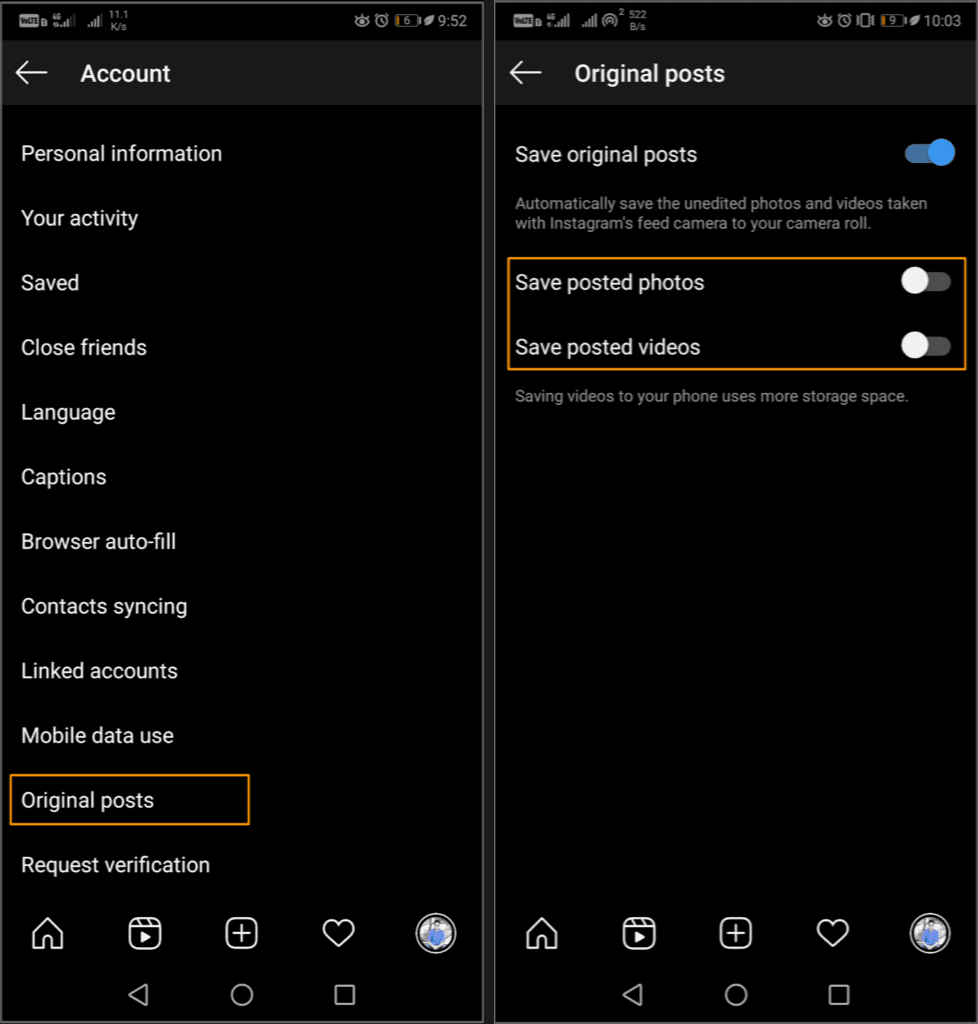 Instagram can keep a copy of the posted media file on your local drive.
This consumes your storage memory. This option can prevent the app from completing the posting service if your storage has almost no free space.
It will help if you disable the "save posted media" option.
Go to Instagram app settings.
Tap on the account.
Then tap on Original post settings.
Check the status of the three options there.
Make sure to disable save posted videos and save posted photos.
11. Update the Instagram app or reinstall it

If you are still unable to post on Instagram, ensure that you have the latest version of the app. Keeping your app updated to the latest version can prevent potential glitches.
Open the App Store or Google Play Store.
Search for Instagram and tap on app update (if available).
Still can't post on Instagram? Uninstall and reinstall the app from the app store or play store based on your device OS.
12. Ensure the app is not missing necessary permissions
When you attempt to upload a photo or video on Instagram, the app needs permission to access your device's storage, where you can select the file you want to upload.
If Instagram app lacks the necessary permissions, it may be unable to post them.
To check the app permissions for Instagram, follow these steps:
Open the Settings app on your phone.
Tap on "Apps & notifications."
Select the Instagram app from the list.
Tap on "Permissions."
Make sure that the storage and camera permissions are enabled. If they are disabled, enable these permissions.
13. Turn off data saver mode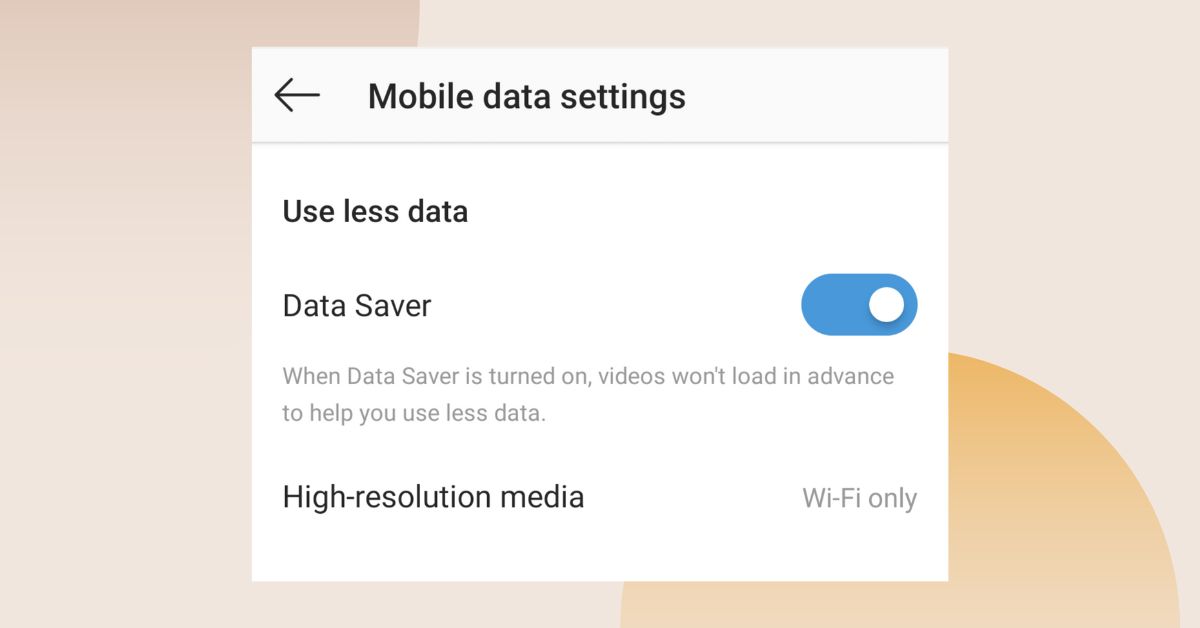 Instagram's Data Saver feature is designed to help conserve data usage on the platform. However, it can also impact the ability to post high-resolution photos and videos.
Some users have found that disabling Data Saver in the Instagram mobile app can resolve issues with posting.
If you are unable to post on Instagram, you may have enabled data saver mode on your device.
Tap on the three lines in the top right corner.
Tap on Settings.
Tap on Account.
On iPhone, tap on cellular data use; for Android devices, tap on Mobile data.
Then toggle off the Data Saver.
14. Sign out and sign back in
If you're still facing difficulties posting on Instagram, you can try signing out and then signing back in.
Reauthenticating into your account may help you fix random app glitches and you might be able to post normally.
Tap on your profile picture.
Tap the three-line menu icon.
Go to Settings.
Tap "Log out."
After logging out, enter your Instagram information (username and password) to log back in.
15. Try disabling your VPN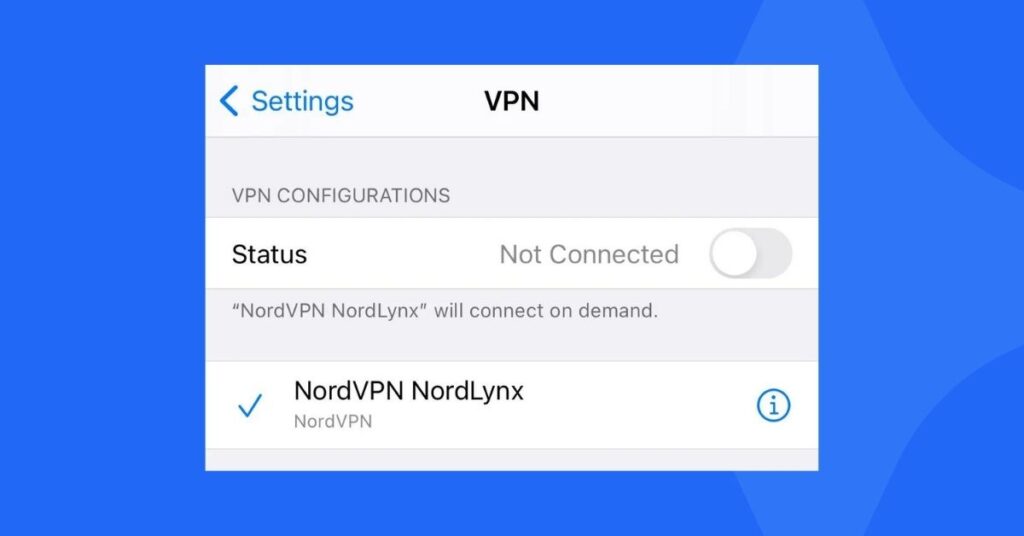 Instagram blocks VPN IP address ranges and proxies to ensure the security and integrity of the platform. VPNs and proxies can mask your internet traffic and identity, which may lead to potential misuse.
If you are using a VPN or running a proxy, you may encounter difficulties when posting content on Instagram.
Deactivate your VPN or proxy service and see if it helps the posting issue on Instagram. If you prefer to keep using the VPN, you can use a VPN service with obfuscation, such as NordVPN, that has no problem bypassing Instagram detection.
👉🏽 Similar tutorial: How To Recover Disappearing Messages On Instagram
16. Report your posting problem to Instagram
If Instagram won't let you post after these solutions, it would be best to report the issues to Instagram.
To report an issue on Instagram, follow these steps:
Open the Instagram app and go to your profile.
Tap the three-line menu icon, then select Settings.
From there, navigate to Help and choose Report a problem.
Select the "Report" option and provide a detailed description of the issue, including any relevant information.
You can also include screenshots to illustrate the problem further.
Frequently Asked Questions:
Wrapping up:
These are solutions to fix the inability to post on Instagram. It's essential to try these solutions and see which one works for you. Following these steps, you should be able to post pictures and videos on Instagram once again.
📝 Similar Articles: