Razer Synapse is a tool that serves as an interface to let you manage macros to Razer peripherals connected to your PC. Using Synapse, you can control Razor components' lighting, fan speed, and driver updates. In addition, it saves all your settings automatically to the cloud.
However, sometimes you may encounter technical issues like Razer Synapse not opening on your Windows PC. Many users have reported this issue, so in this article, we discuss why Razer Synapse does not open and how to fix this issue.
Reasons why Razer Synapse is not opening?
There are several reasons why Razer Synapse may not start correctly; therefore, it is difficult to pinpoint the cause. Some reasons why the Synapse application may not start correctly are:
Corrupted or missing file in the installation directory.
Important Razer device driver fails.
Windows firewalls blocking Synapse application.
Application bug.
Possible conflict with Razer surround.
Background Synpase processes prevent Synapse from starting correctly.
Windows core isolation can prevent Razer Synapse from starting.
Missing necessary Microsoft .NET Framework
When Razer Synapse cannot start, you should get a message like this -"fail to start," as in the image below.
Note: Razer Synapse startup issue does not always refer to damaged peripherals or hardware components and their connection. It would be best to retain the connection but ensure all of them are OK.
Steps to fix Razer Synapse not opening issue
1. Close Synapse Background Processes
Background Synpase processes can prevent the Synapse application from running correctly. Therefore, you should close these processes related to Razer Synapse with the help of Task Manager:
Press Ctrl + Shift + Esc to open your Task manager.
Go to the "Processes" tab and right-click on Synapse processes running in the background.
Click on the "End Task" button to eliminate these processes.
After closing the background process, right-click on the Razer Synapse application and then run it as Administrator.
See if that fixes the Synapse startup issue.
If the Synapse application is still struggling to run, go to the next step.
2. Reinstall Razer Synapse Application
When you encounter Razer Synapse not opening issue, one of the best solutions is to reinstall the application after uninstalling it from your computer. If the core files of the application go missing, a startup error can occur.
You eliminate the chances of missing core application files by reinstalling Razer Synapse. You should also do a clean reinstall to clear all the related residual files.
Here's how to reinstall Razer Synapse:
Press Windows + R to launch the Run application and type "appwiz.cpl" then press Enter.
Select and uninstall Razer Synapse and Razer Core from the list of all programs installed on your computer.
After uninstalling the applications, press Windows + E to launch file explorer and navigate to the following location:
C:\Program Files (x86)\Razer
The files in this directory should be hidden, so you must unhide them first. Click on the View tab at the top of the window and check on "Hidden items."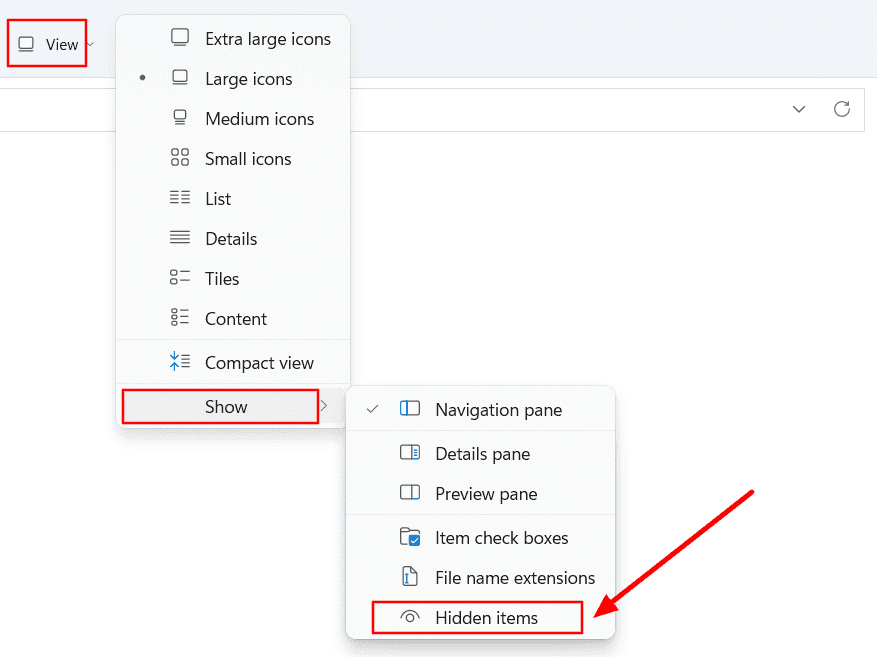 Now delete all the files present in that folder. A confirmation might be required; if prompted, select Yes. Also, delete all the files present in this directory as well:
C:\ProgramData\Razer directories
After deleting these files, restart your computer and then proceed to install Razer Synapse on your computer with the following steps:
First, download the latest Razer Synapse from their official website.
Once downloading is complete, run the executable.
The executable will extract & process all the required files before taking you to the installation window.
You must accept Razer end-user license before proceeding.
Once the licensing is agreed upon, the installation process will start.
Wait for the installation to complete, click on finish and exit the installation wizard.
After reinstalling Razer Synapse open the application and see whether it resolved the application startup issue. If not, proceed to the next solution.
3. Reinstall Razer Device Drivers
The Razer Synapse may fail to start if something is wrong with the Razer device driver. Hence, it would help if you reinstalled the device drivers too.
To reinstall Razer device drivers:
Search for device manager on your windows search bar and start the program. Now expand the following;

Mice and other pointing devices.
Keywords.
Human interface devices.
Right-click on the Razer devices under these categories and select uninstall device on the context menu.
You may get the "Delete the driver software for this device" option on the uninstall dialog box. If it appears, make sure to approve it.
Then click on uninstall.
Now, unplug your system's Razer components and restart the PC. Once the PC is restarted, plug all the Razer peripherals into the system.
Windows should automatically detect the Razer components and start downloading the drivers. If not, you can manually install the drivers via windows update & device manager as well.
When windows complete installing the required drivers test your Razer Synapse to see whether it opens correctly or not. If the issue stays, proceed through the following steps.
4. Uninstall Razer Surround
Razer Synapse usually displays a feature update option when your PC is connected to the internet. Along with the popup, it adds a recommendation to install Razer surround.
Razer Surround can conflict with Synapse and may prevent Razer Synapse from starting correctly. So, you better avoid installing Razer surround and uncheck the recommendation.
If you already have Razer Surround installed, try uninstalling it from your PC. To do that;
Either search for "Add or remove programs" or open RUN dialogue box & then type "appwiz.cpl".
It will give you the list of installed programs on your PC.
Select Razer surround, then click on uninstall to delete it from your operating system.
After removing Razer surround, start your Synapse application and see if it fixes Razer Synapse starting issue.
📝 If you can't find Razer surround in the installed programs list, skip this step.
5. Install Microsoft .NET Framework
The failure of Razer Synapse to open may be caused by missing .NET framework files that provide a runtime environment for the application.
Therefore having the latest .NET framework installed on your PC is recommended. Missing features of the .NET framework might prevent Razer Synapse from starting.
Download the updated version of the .NET framework from the official page and install it on your system.
Once the installation is complete, restart your PC and then try restarting the Razer Synapse application.
You may already have an older version of the .NET framework installed. In that case, you will need to update it to the latest version.
👉🏽 Also read: Best Ryzen 5 5600H Laptops Under 85k INR (November 2021)
6. Disable Anti-virus and Test Razer Synapse
Antivirus software can create issues in starting Razer synapse, whether it's the windows defender or a 3rd party Antivirus program.
If your antivirus program removes/quarantines any file from the Razer Synapse installation directory, it can prevent application startup.
To disable antivirus (if you are using Windows Security):
Open windows defender and go to virus and threat protection.
Then disable real-time protection and similar options available there.
For other antiviruses, such as Avast, Norton, and Kaspersky, you should get a quick disable antivirus option on the system tray icon context menu.
If Razer Synapse is still not opening, it means the issue is coming from somewhere else, so proceed to the next step.
7. Disable Windows core isolation
Windows 10 2018's April update introduced core isolation and memory integrity. When the Core isolation feature is enabled, windows create a secure area of system memory with the help of virtualization technology to run the windows system process and security programs.
It is a layer of protection to protect the system from virus/malware attacks. Unfortunately, enabled core isolation can cause the Razer Synapse not opening issue.
Disable Windows security's core isolation feature:
Find the feature in windows security
Go to Device Security
Click on core isolation details
Disable memory integrity.
After disabling "memory integrity," try running the Razer synapse. In case it doesn't help, proceed to turn off the windows firewall.
8. Turn off the windows firewall
Windows defender firewall can cause freezing or startup prevention to the Razer Synapse application. So turning the firewall off can fix Razer Synapse not opening problem.
To turn off the windows defender firewall:
Press Windows + R to open the RUN dialogue box.
Type firewall.cpl in the Run dialogue box and click on OK.
The Windows firewall window will open, and you need to click "turn windows defender on or off" on the left panel.
Check to turn off the windows defender firewalls for both public and private networks.
Note: Turning off windows defender is not a good idea if you remain connected to the internet. This step is only for troubleshooting purposes of the Synapse application, not starting errors. Whether it works or not, you should turn windows defender back on.
9. Deleting Some Files From Razer Directory
The app bug or glitch can sometimes be fixed by reinitializing the Razer files. This will eliminate corruption with the Razer files and help you resolve the Razer Synapse not opening error.
To do that:
Open File Explorer by pressing "Windows" + "E."
Navigate to the following directory:
C:\Program Files(x86)\Razer
This address can vary if you have selected a custom software installation location.
Select all the files in this folder, excluding the "RzSynapse.exe."
Delete the selected files from the directory.
Next, double-click on the RzSynapse.exe file, which should automatically replace all the deleted files after an application startup.
After that, check if your PC can start the Razer Synapse application correctly. If not, you should be looking to do a windows update mentioned in the next step.
10. Install available windows update
It is quite possible that a Windows update can fix the Razer Synapse starting error. Microsoft releases updates for security-related improvements and general fixes regularly.
Typically windows update is automatic, although if you have changed the update setting, the process might take manual action. To check for windows updates:
Search for "update" in the windows search bar & click on check for updates from the result.
Windows update window will appear. If your Windows is not up-to-date, click the check for updates button.
Download the available updates.
Restart your PC and run the application to see whether updating fixed the Razer Synapse not opening issue.
Still can't get Razer Synapse running on your PC?
These are the quick ways to solve the Razer Synapse not opening error in windows 10. If none of them works, try restarting your PC and the application on another PC with a similar OS, if available.
If the application works on another PC with a different version of OS, then it could indicate that your OS might have some compatibility issues with the program. Also, try asking for help from the Razer support team too.
📝 Similar Articles: