When it comes to Smart TVs, it's common to expect the ability to add your favorite apps and access the content they offer. However, not all Smart TVs are created equal.
Some offer a wide range of app options, while others have a limited number of built-in apps that you cannot change.
For several years, VIZIO Smart TVs allowed users to install and update their preferred apps. However, in 2016, they introduced a new platform called SmartCast, where downloading apps is still a simple process, yet it may be unfamiliar to many consumers.
This guide will walk you through the options available for downloading apps to your VIZIO Smart TV and installing them.
Can you download apps on Vizio smart tv?
Yes, you can download apps on Vizio Smart TV. The process of downloading apps may vary slightly depending on the model of your TV and when the series was released:
VIZIO VIA and VIA Plus televisions released before 2015 provide the capability for downloading and installing apps through the Connected TV Store.
VIZIO Smartcast HD TVs (2016-2017) do not have a built-in app store or the ability to install apps, but it lets you cast content from Chromecast-enabled apps on mobile devices.
SmartCast 4k UHD TVs (2018+) have built-in apps and the ability to cast content from Chromecast-enabled apps on mobile devices or cast from Apple devices over AirPlay. However, they won't let you install apps from an app store.
So based on your Vizio TV's model, downloading and installing apps on it might require a different procedure, which I have explained below.
Also, the availability of apps may vary depending on your location and the model of your TV. For example, you can take a look at how to get HBO Max on Vizio smart TV📺.
Let's go through the steps you'll need to take to download apps on your Vizio Smart TV based on the TV model you have.
How to download apps on Vizio smart tv (4 methods)
Foremost, make sure that your TV is connected to the internet. You can also follow your TV's user manual instructions to connect it to your home network.
Method 1: Download apps on Vizio smart TV from the app store
Downloading and installing apps on your VIZIO Smart TV is a simple process, and the easiest way to do it is through the built-in app store.
If you are using a VIA or VIA+ TV, you can easily access the app store by using your TV remote:
Check your television connection with Wi-Fi.
Press the V button on your Vizio TV remote.
You will have to select the Connect TV Store (the store name may appear slightly different based on the model you have).
Press the OK button to launch the app store.
Once you have opened the app store, you can browse through the various categories of apps available or use the search bar to find a specific app.
Once you have found the app you want to install, press OK to highlight the app.
Then select "Download" or "Install" and wait for the app to download and install.
Once the app is installed, you can access it by selecting it from the app row.
Method 2: Download apps on the Vizio SmartCast Platform
If you are having difficulty installing apps on your Vizio TV using the built-in app store, another option is to use the SmartCast feature.
This allows you to cast the screen of your mobile device or laptop directly onto your Vizio TV that supports SmartCast, essentially using your phone or computer as a remote to download and install apps on your TV.
Ensure that your TV and phone are connected to the same Wi-Fi network.
Download the VIZIO SmartCast app for your Android or iOS device from the app store.
Allow the app to pair with your VIZIO Smart TV, which should have a built-in Chromecast.
Open any app or video you want to cast on your Android, iOS, or laptop.
Select the CAST icon at the top of the screen.
Enjoy the content from your mobile device on your VIZIO Smart TV.
Method 3: Download apps from Playstore to Vizio TV
Another way you can download & install apps on Vizio TV is via Google Play Store. You will also require a browser to execute this method.
Here's what you need to do to download an app on your Vizio smart TV using Playstore.
Open a browser on any device with an internet connection, such as your PC.
Go to Google and search for the Google Play Store.
Find the app you want to download and go to its info page.
Click the green button labeled "Install."
A window asking you to sign in with your Google account will pop up.
Another window will appear with a list of devices. (you should choose the Google account where your Vizio TV is connected)
Choose the name of your VIZIO smart TV and tap "Install."
A popup will appear with a message confirming the app will be installed on your television. Make sure you click on "OK."
Then turn on your TV to confirm the app download and installation.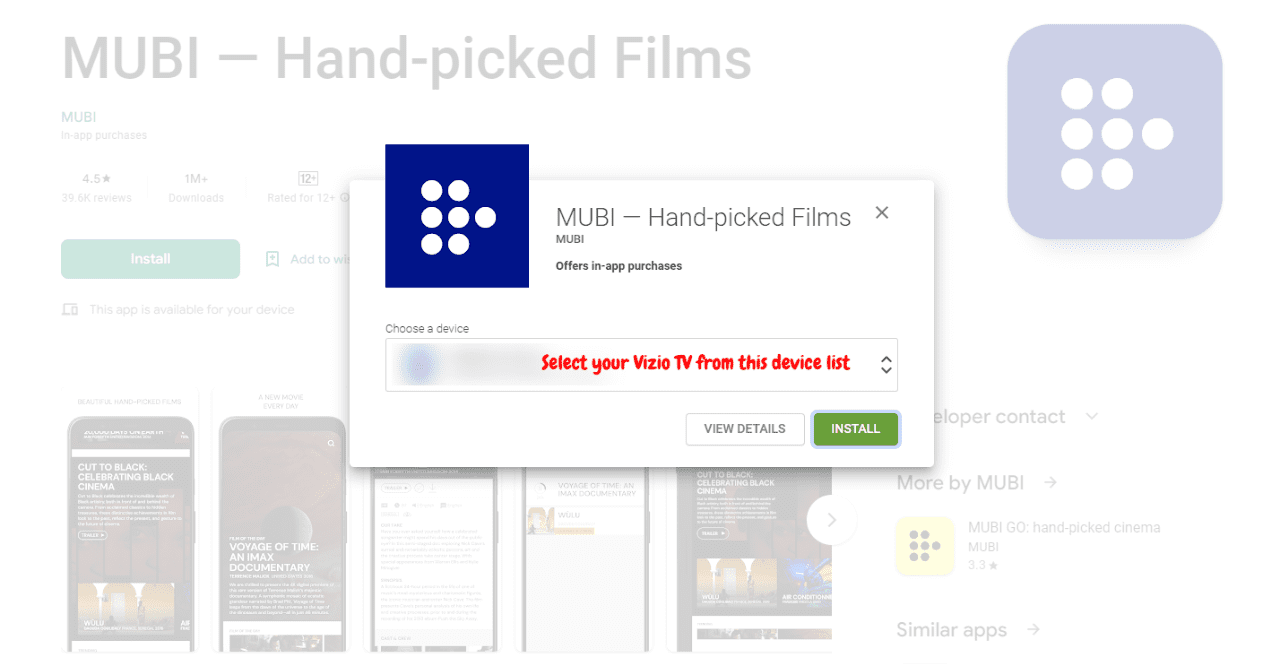 You can also check out this HBO max app installation on Vizion TV using Play Store as an example.
Method 4: Load apps on Vizio TV using Roku or a Firestick
You can also look for Roku and Firestick to install apps on a Vizio TV, but it depends on the TV model and the version of the Firestick or Roku you are using.
Some VIZIO TVs have built-in support for streaming devices such as Firestick and Roku, while others may require an additional device called SmartCast Input Adapter, which allows you to connect streaming devices to your TV.
To install an app on a VIZIO TV using Firestick or Roku,
You will need to first connect the Firestick or Roku device to the TV via HDMI.
Once connected, you can use the Firestick or Roku remote to navigate to the Firestick or Roku home screen and access the app store.
From there, you can search for the app you want to install and select it.
Follow the on-screen instructions to install the app.
The app should now be available on your VIZIO TV through the Firestick or Roku interface.
Method 5: Sideload apps onto Vizio Smart TV using a USB stick
Another option for installing apps on Vizio TV is via an APK file from a flash drive.
This method involves downloading the APK file to a flash drive, inserting the flash drive into your Vizio TV, and using the TV's file manager to install the app.
Note: This method may not be officially supported by Vizio, and it is also important to check the compatibility of your TV model with the APK version that you are trying to download.
In addition, you will need to enable 'ABD debugging' and 'apps from unknown sources' under the developer option on your Vizio smart TV.
Once these settings are enabled, follow these steps to install an app on your TV using an APK file:
Find and download the APK file from a trustworthy source on your PC.
Copy the APK file to a USB drive using your laptop/PC.
Then connect the USB drive to your TV's USB port.
You will need to open the 'My Files' app, find the USB drive, and select the APK file.
Tap 'Install' and choose 'Settings' once the installation is complete.
In 'Settings,' select 'Applications' and find the app installed from the APK file.
Try launching the application to see if it works or not.
FAQs:
Can you download Spectrum app on VIZIO smart tv?
It depends on the model of your VIZIO Smart TV. Some VIZIO Smart TVs have built-in support for the Spectrum app, while others may not have the app available in their app store. You can check if your TV model has the Spectrum app available by searching for it in the TV's app store.
If your VIZIO Smart TV does not have the Spectrum app available, you may be able to download the app on a streaming device such as Firestick or Roku and then use that device to access the app on your TV.
Alternatively, you can use the screen mirroring feature to mirror the screen of your mobile device or computer on the TV and then access the Spectrum app on your mobile device or computer.
Can you download ESPN app on VIZIO smart tv?
Similar to the Spectrum app, the possibility of downloading ESPN on VIZIO smart TV depends on the app's availability on the app store. If not, you can screencast or use Firestick/Roku to access ESPN on your Vizio TV.
Additional contents: