Amazon offers a video streaming service called Prime Video that you can use to watch movies and TV shows on any device. It's not just for the Kindle Fire tablets or anything else they make, either; it will work with your phone as well!
Amazon Prime is an amazing service that has something for everyone, but there's some confusion about how to log out of Amazon Prime on TV.
In this article, you will find out how to log out of Amazon Prime on TV, because at times signing out from Prime account on your TV could be very important.
Why Amazon Prime does not let users to sign out?
There are a couple of reasons why Amazon Prime Video has a complicated process to log out from the smart TV app.
First, when you're signed in, your account is associated with the device you're using. This helps Amazon deliver personalized recommendations and improve your streaming experience.
Second, logging out completely removes your account information from the device, which could lead to issues if you try to sign in again later. Finally, having a more complicated log-out process deters casual snoopers from easily accessing your account.
Overall, while it may be slightly annoying to have to go through a few extra steps to log out of the Amazon Prime Video app, it's ultimately for your own protection.
How to register your device on Amazon Prime?
To register a device to watch Amazon Prime videos, first create or sign in to your Amazon account.
Then, go to the Amazon Prime Video Settings page. Under "Register new devices," enter the code that appears on your TV screen. Finally, select Register.
Your device is now registered and you can begin watching Prime videos!
How to Log Out of Amazon Prime on TV
The only way it seems for you to deregister your device as an alternative of logging out just like when you have to log out of Kindle. This is little complicated but go through the steps to sign out from your Amazon Prime on your TV.
Open Amazon Prime Video on your smart TV.
Then go to the settings menu inside the Prime Video application. (use smart tv remote)
Use TV remote to highlight the "Deregister Your Device" button in the Settings menu.
Then press OK on the remote.
A confirmation popup will appear, make sure to highlight & hit the OK button.
A log out success message will appear to confirm your account has been signed out from your smart TV.
Once you are logged out of Amazon Prime Video, you will be prompted to log in again with your Amazon credentials in order to continue using the service. Once you have logged in, you will be able to access all of your content and continue watching as usual.
Amazon 4K UHD Fire Smart TV 50″
Support for vivid 4K Ultra HD, HDR 10, HLG, and Dolby Digital Plus.
Comes with a Fire TV Alexa Voice Remote.
3 HDMI inputs.
How to log out of Amazon Prime Video using website
You can deregister a TV device on Amazon's website using your mobile phone or laptop by going to the Amazon website and signing into your account. Once you are signed in,
Go to the your "account" page.
Then select "your devices".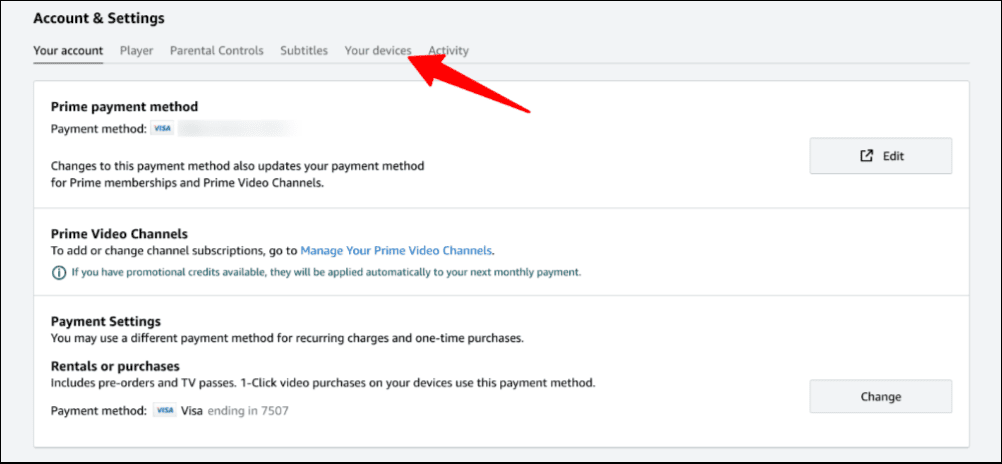 Select the TV device that you want to deregister and click on "deregister" to sign out.
You will be asked to confirm that you want to deregister the device as the deregister button will turn into "are you sure" message.
Once you have confirmed, the device will be deregistered from your Amazon Prime Video account and will be removed from your device list in the website.
You can do the same using an Android or iOS device, just have to visit amazon website on browser and follow the steps above.
Prime Video provides a simple method to log out of it on any device you want, but with a different term "Deregister". Thats what makes it uncommon for many users thus left wondering how to log out of Amazon prime on TV.
Additional Contents:
How to fix Challenge Required on Instagram
How to Delete Instagram Messages in 2022 [Tutorial]
How to unmatch on Tinder [step by step guide]