Noise cancellation is necessary to improve the quality of audio recordings, video calls, music recordings, podcasts, and voice recordings.
Background noise can hinder comprehension and distract listeners, but noise cancellation software can effectively reduce or eliminate those unwanted noises for clearer and more enjoyable audio experiences.
Whether it's enhancing speech clarity, facilitating productive conversations, improving music fidelity, making podcasts more engaging, or ensuring understandable voice recordings, noise cancellation is crucial in optimizing audio quality across various domains.
Top Free Noise Cancellation Software for Windows and Mac
There is always software that matches our noise removal requirements. The following freemium noise-canceling tools are highly rated by people in different industries with various OSs/ platforms.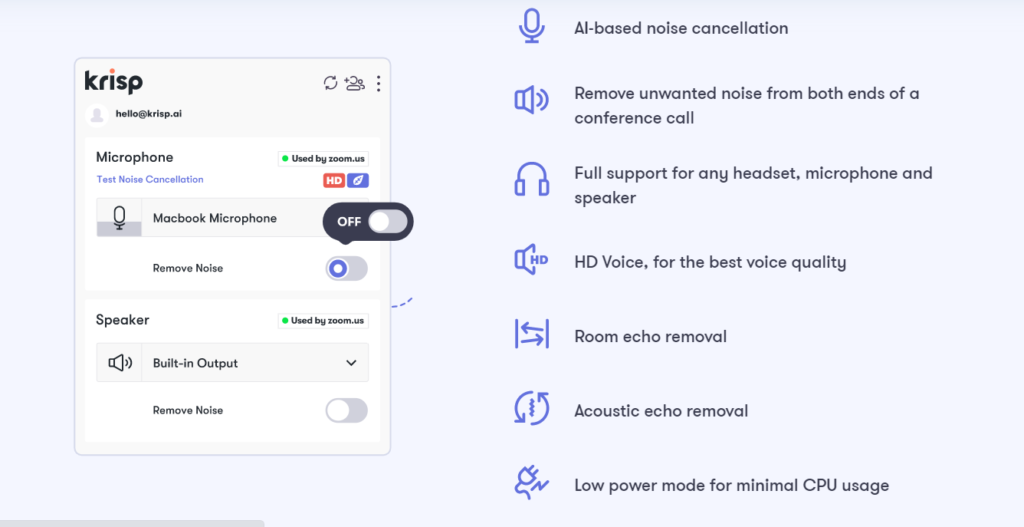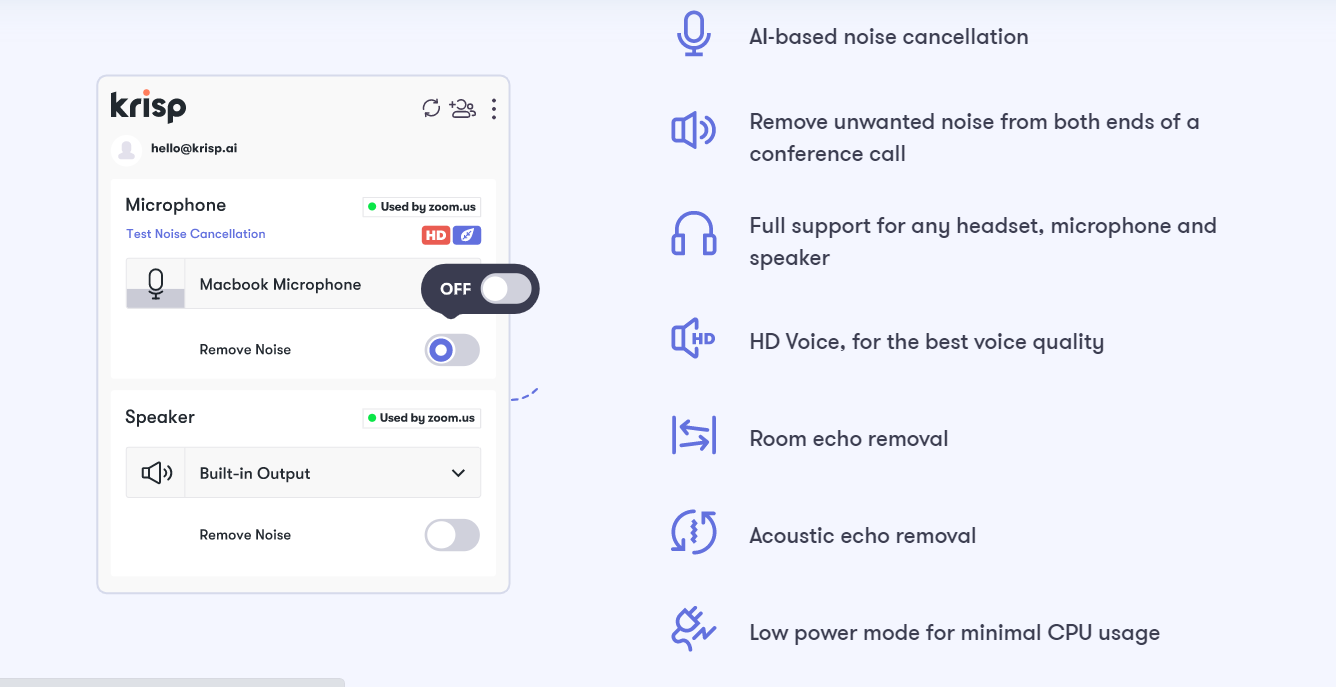 Krisp is a noise cancellation software that works in real-time to remove background noise from your microphone input. The AI automatically identifies and reduces ambient noise when you are on a call is a standout feature of Krisp.
This app runs silently in the background during your meetings and ensures a less distracting background.
It was awarded as one of TIME's best inventions of the year 2020 and is an Industry favorite.
Krisp is compatible with popular calling apps like Zoom, Skype, and Google Meet. It is also compatible with many famous recording and streaming apps.
Here are some of the features of Krisp:
Krisp is compatible with 800+ communication and streaming apps.
It supports bidirectional noise cancellation.
The application is compatible with most headsets, microphones, and speakers.
Krisp demands minimal CPU usage.
Its floating widget is convenient for quick access.
Pricing: Krisp offers a free plan that allows you to use the software for 15 minutes daily. For professionals and small teams, a pro plan costs $8 USD.
If you need advanced administration, there is a business plan for $10 USD. For enterprise and call centers, there is an enterprise plan that requires pricing negotiation.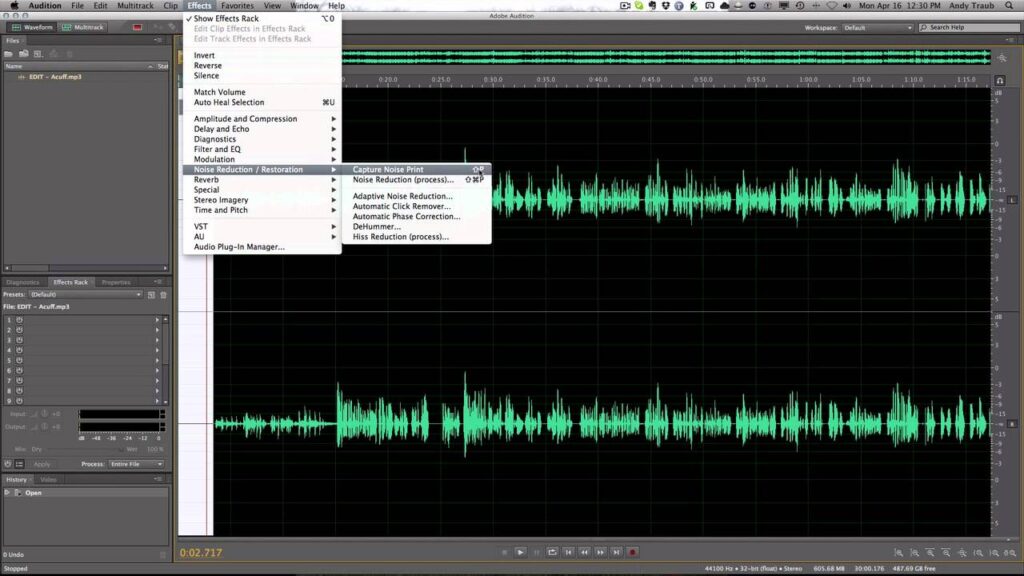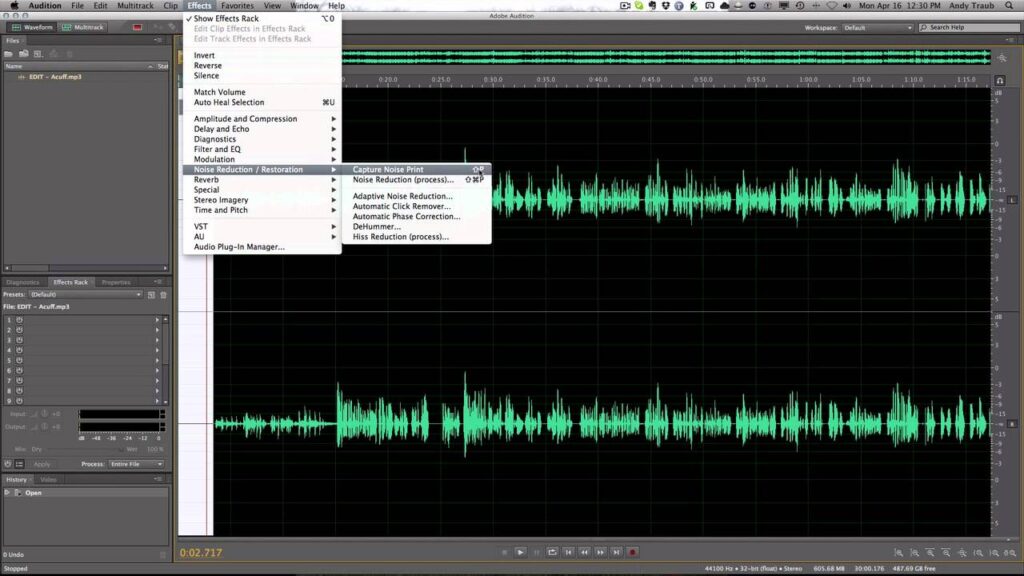 If you are looking for powerful and versatile free noise reduction software, then Adobe Audition is a good option to consider.
It provides multiple noise reduction tools. Noise Reduction uses algorithms to eliminate unwanted noise, Adaptive Noise Reduction to changes in the noise environment, and Manual Noise Reduction to allow users to identify and remove unwanted noise from audio recordings manually.
Audition can be great for improving audio recordings made in noisy environments, restoring damaged audio by removing unwanted noise, and helping create professional-grade content free from distractions.
In addition, it has the Automatic Click Remover to eliminate unwanted clicks and crackles.
Adobe Audition offers various noise cancellation features, including:
Noise Reduction: Uses algorithms to identify and remove unwanted noise from audio recordings.
Adaptive Noise Reduction: Advanced tool that adapts to changes in the noise environment.
Manual Noise Reduction: This lets you manually identify and remove unwanted noise from recordings.
Noise Profile: Creates a custom noise profile for more accurate noise cancellation.
Preview: You can preview the noise cancellation before applying it for desired results.
Pricing: It's a freemium tool, and you can get a 7-day free trial of Audition. Adobe Audition offers a single plan for $20.99 monthly.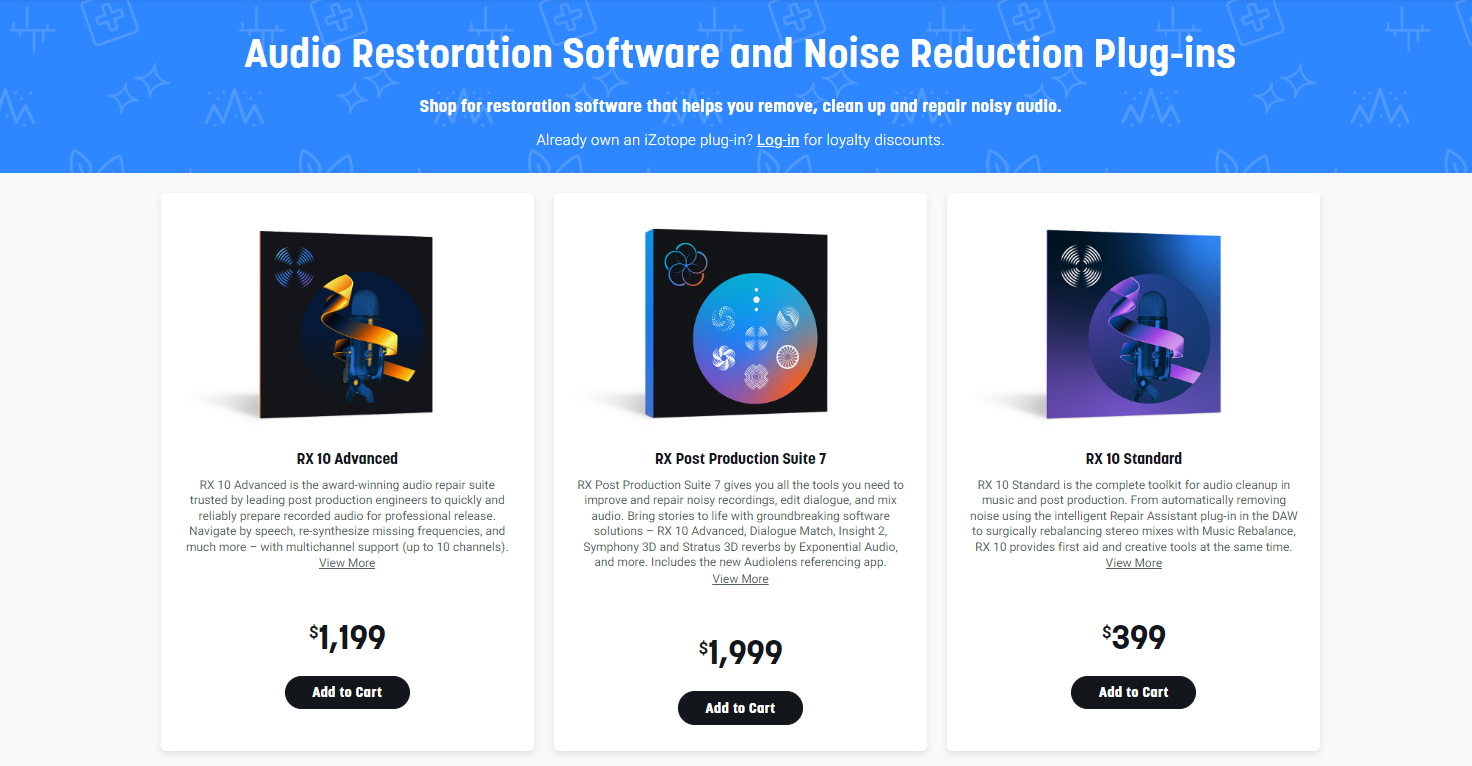 iZotope RX is a powerful audio repair and noise-canceling app that can be used to remove unwanted noise from audio recordings. It is a part of the iZotope RX suite of audio repair tools.
iZotope RX uses a variety of algorithms to remove noise from audio recordings. The most common algorithm is Adaptive Noise Reduction (ANR), which analyzes the noise in an audio recording and then creates a filter to remove it. ANR can be used to remove a variety of noise types, including background noise, hiss, and static.
iZotope RX also includes a number of other tools for removing noise from audio recordings.
De-hum: Removes hum from audio recordings.
De-click: Removes clicks and pops from audio recordings.
Repair Assistant: Automatically detects and repairs common audio problems.
Spectral De-noise: This tool uses spectral analysis to remove unwanted noise from audio recordings.
De-plosive: to remove the harshness caused by plosives, such as "p" and "b" sounds.
De-esser: useful to reduce sibilance, the harshness caused by "s" and "z" sounds.
Pricing: iZotope RX's noise reduction plugins range from $129 to $1,999 across six plug-ins.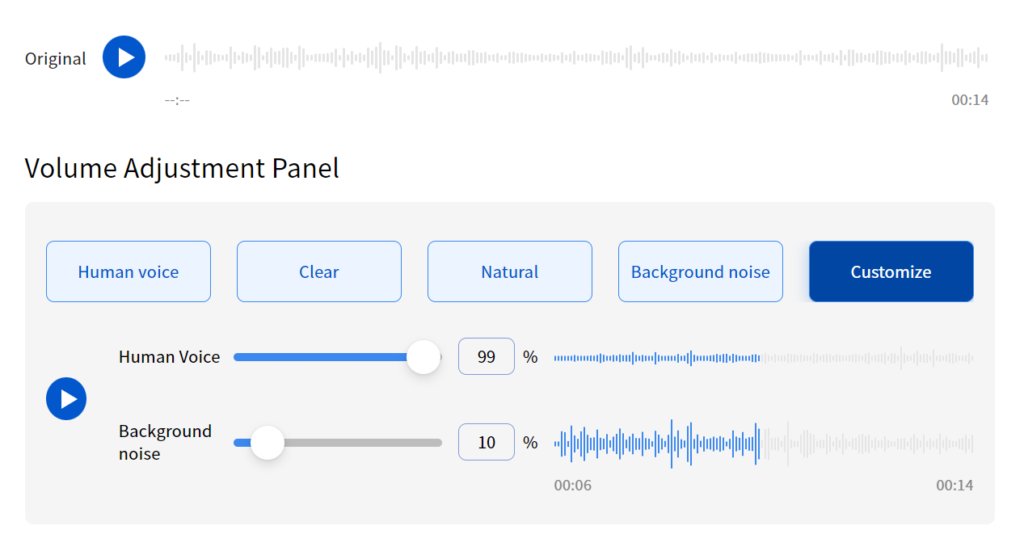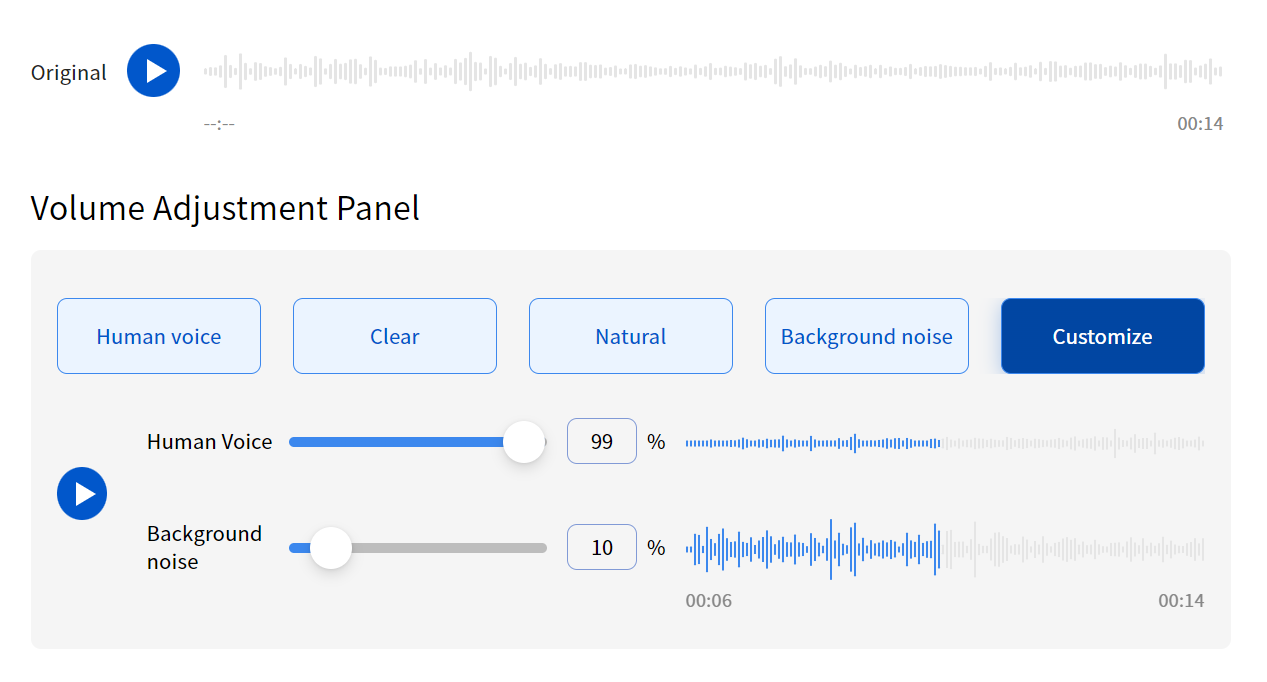 This online AI-powered tool can efficiently eliminate noise from audio & video recordings. It can filter out noises such as a crowded metropolis, a police car with sirens blaring just passing by, or amid strong blows of wind, and anything disturbing to your main audio stream.
To use DeepWave's Noise Eraser, simply upload your audio recording to the app or online tool. It will then analyze the recording and let you select the type of noise you want to remove, such as wind, traffic, or background chatter.
The user interface is simple and focused. You get to upload your file > based on your audio/video file's length, the cost increases > after a complete upload, it processes the file > and then gives you the output where you can compare between original and denoised audio before downloading to your local drive, or you can share it to someone using a private/public link.
Key features of Noise Eraser:
The process is fast without losing the quality of noise cancellation.
A dead simple user interface that does not require higher technical skill to operate.
The price is reasonable; you can extend your wave points when required.
Cross-platform compatibility is a great advantage of this application.
Pricing: The pricing is simple. You have two plans; the free plan comes with 20 minutes of monthly audio length with an advertisement, and the watermark would still be on the output. Under the premium plan, you can subscribe for 140TWD per month, which should be around $4.5/month, and the 1390 TWD per year plan should cost you around $45/year.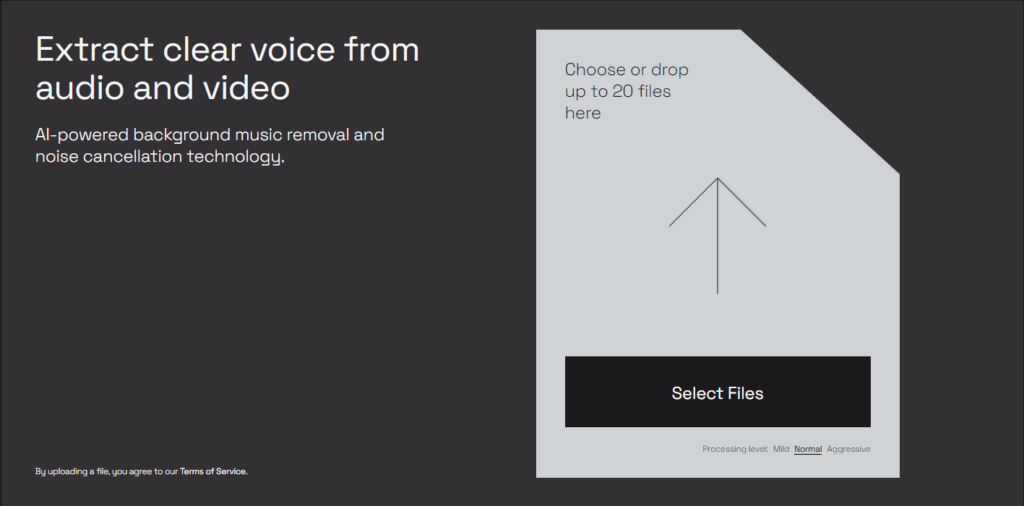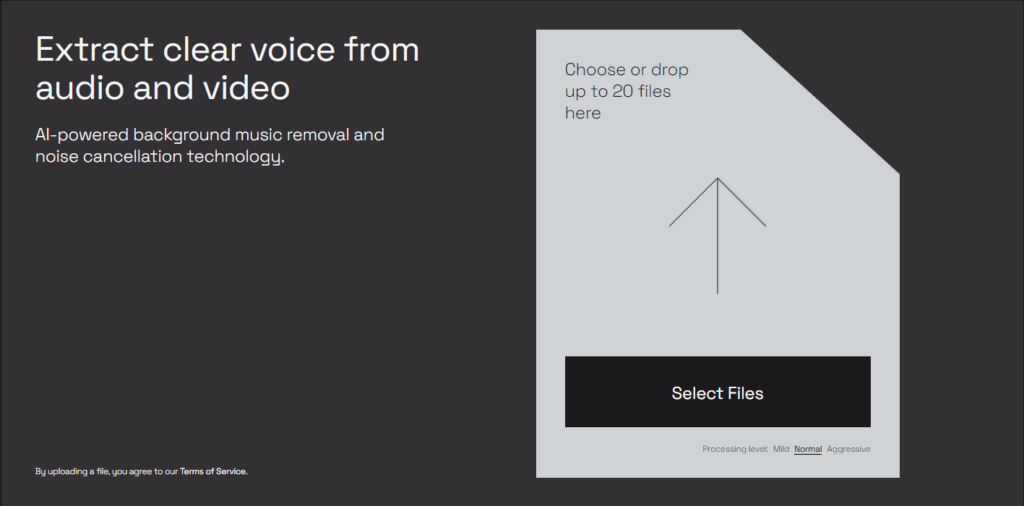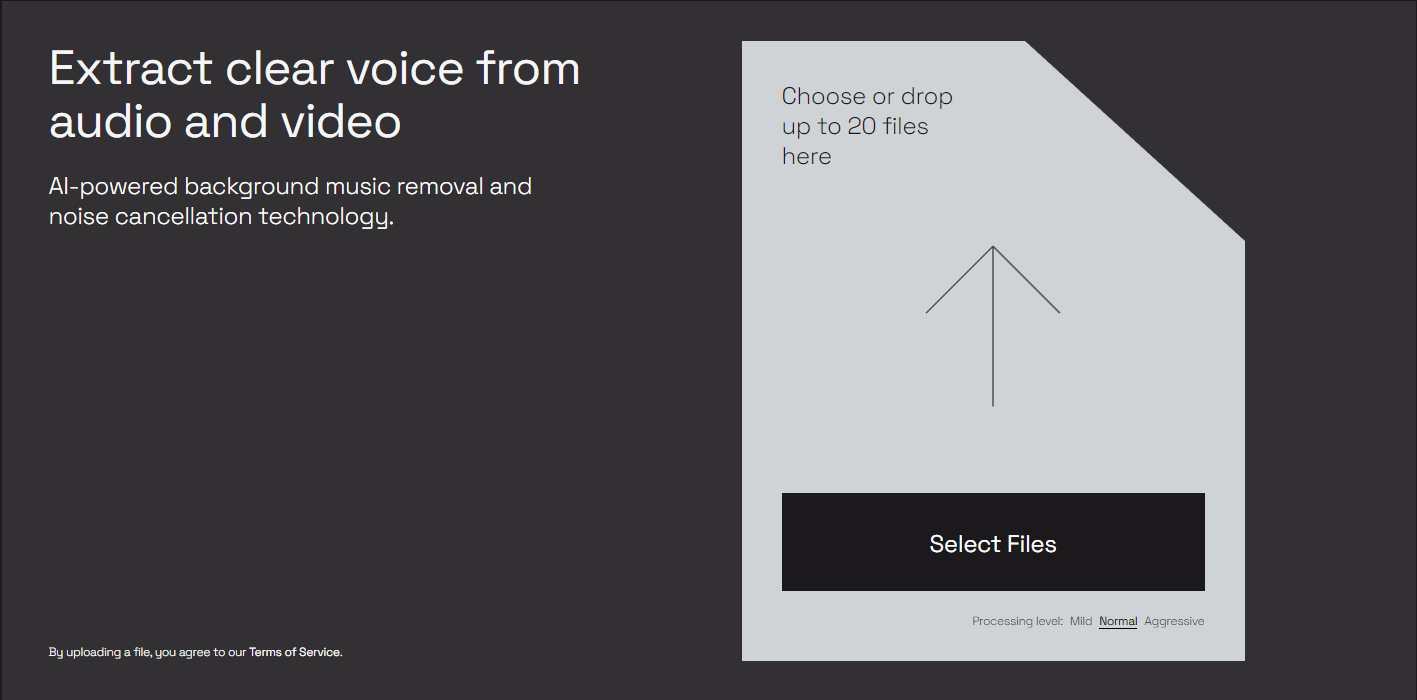 Lalal.ai's Noise Remover is another online free noise cancellation software you can use to separate noise in an audio or video file. All you have to do is upload your noisy audio/video file on their website and let the tool remove noise for you.
The de-noised audio outputs are remarkably clean and natural-sounding. The typical echo effect after noise removal is lessened, which makes it an adequate noise-canceling software you can use online. After processing, you can preview the separate audio streams before downloading to ensure clear output audio quality.
Noise Remover is super easy to use. You have to drag or select your file into the tool > wait for your file to be uploaded > their AI will process the file once the upload is complete > after separation, you can preview and download your de-noised audio output.
Features of Lalal.ai's Noise Remover:
Its AI-powered noise removal
You can split audio files.
You can separate music from video files.
You can command the tool which type of sound separation you want.
Pricing: LALAL.AI Voice Cleaner offers a straightforward pricing structure with various options to suit your needs. The Starter plan allows free uploads of files up to 50MB. For greater capacity, the Lite Pack is available for $15, enabling file uploads up to 2GB. The Plus Pack is priced at $30 and provides the same 2GB limit for users with higher demands. The Master plan, priced at $100, also offers a 2GB file size limit, catering to users with extensive requirements.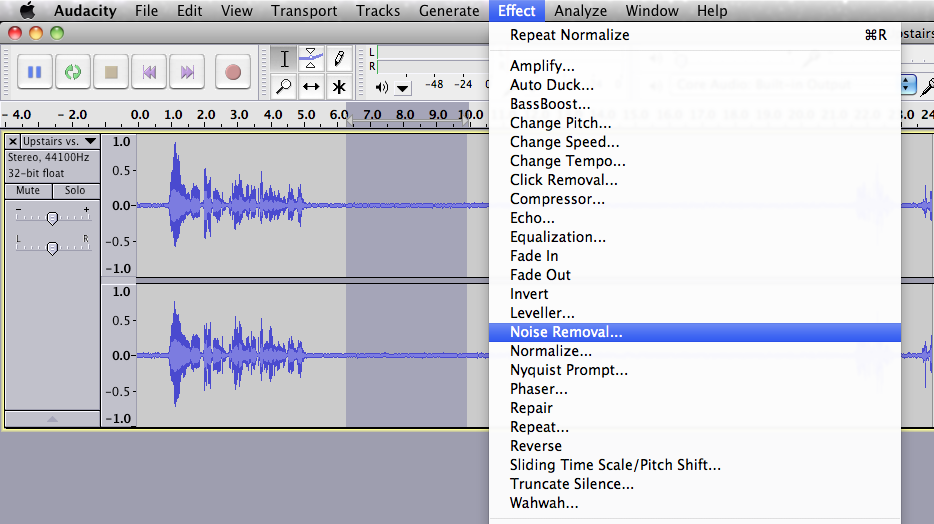 Audacity is a free, open-source, cross-platform audio editor and recording software. It can be used to record and edit audio files and apply effects such as noise reduction.
Audacity has a noise reduction tool that is powerful to remove unwanted background noise from audio recordings.
Audacity's noise reduction tool is not perfect. It can be effective at removing constant background noise, such as hum, whistle, whine, buzz, and "hiss," such as tape hiss, fan noise, or FM/webcast carrier noise. However, it is not as effective at removing irregular background noise, such as from traffic or an audience.
Some key features of Audacity:
Audacity allows you to record multiple tracks simultaneously, which makes it useful for recording podcasts, music, and other audio projects.
It provides a wide range of editing tools for adjusting audio levels, trimming, splitting, and combining audio clips, removing noise, and applying various effects.
It has various audio effects, such as reverb, echo, phaser, chorus, and downloadable plugin-ins.
Pricing: Audacity is a great free and open-source software you can use without any subscriptions or free trial offers.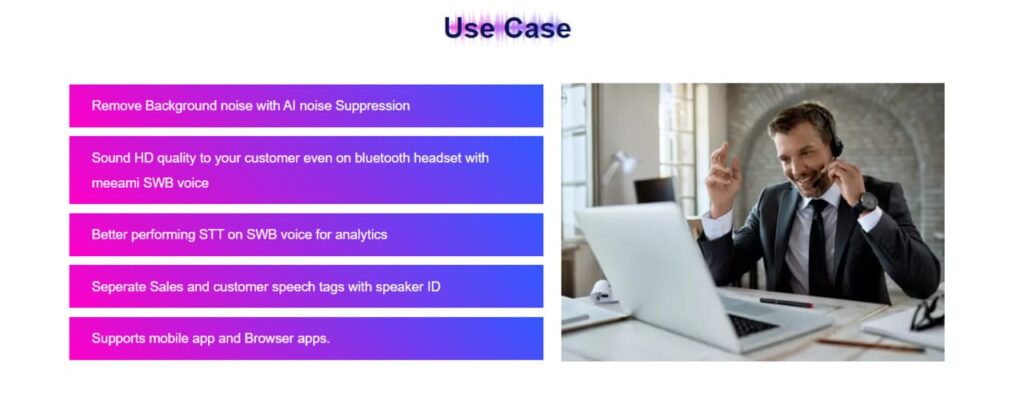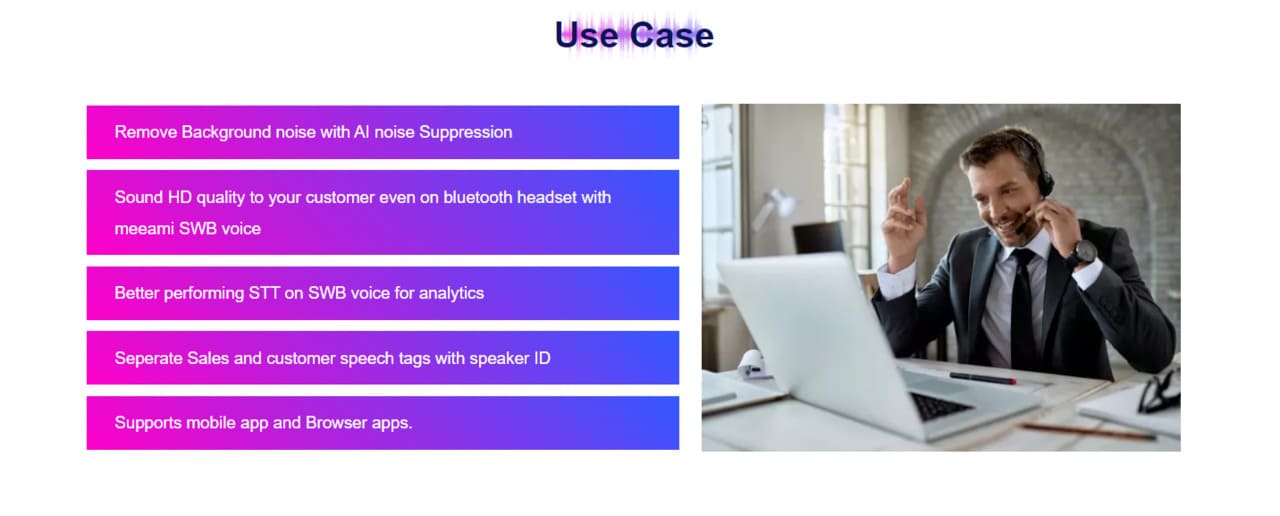 Meemai's noise reduction module, AI SWB Noise Suppression, relies on its deep learning and voice signal processing algorithms to eliminate about 50 types of noises.
AI SWB Noise Suppression works by first identifying the primary speaker in the audio recording. Once the primary speaker has been identified, the AI algorithm then filters out any background noise that is not coming from the primary speaker.
Their AI-based noise suppression technology reportedly aims for low-power and high-performance noise suppression on handheld devices, making it an ideal choice to use on your smartphones, laptop, and embedded devices in meeting rooms.
It can be used to improve the clarity of voice calls, make it easier to transcribe audio recordings, and create more immersive audio experiences.
Key features of Meeami Noise cancellation feature:
Meeami Audio can work with multiple microphones to capture sound from different directions and cancel noise more effectively.
Its noise-cancellation technology is specifically designed for speech signals and can enhance speech clarity and intelligibility.
You can customize it for specific use cases and environments, with the ability to adapt to changing noise conditions.
Pricing: If you're curious about pricing for Meeami's AI SWB Noise Suppression tool, please reach out to them at [email protected] for more information.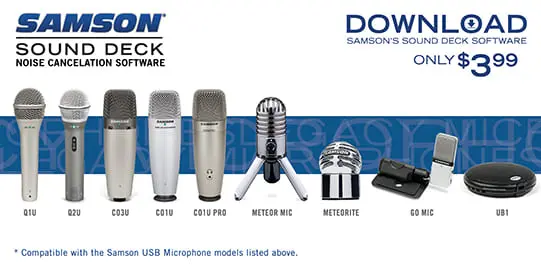 Samson Sound Deck is a noise cancellation software that is designed to improve the quality of audio recordings and communications. It is compatible with Windows and Mac computers, and it works with Samson USB microphones.
Sound Deck uses a digital noise reduction algorithm to remove unwanted background noise from audio recordings. The algorithm is based on the same technology that is used in military fighter jets and tactical Special Forces units. This technology is designed to cancel out repetitive background noises, such as typing, traffic, and air conditioning.
Some of the key features of this tool:
Effective at removing repetitive background noise.
Easy to use.
This software is memory efficient.
Compatible with a wide range of Samson USB microphones.
Pricing: Samson's Sound Deck audio enhancement software is available to download from their website for only $3.99. Plus, if you purchase the all-new Go Mic Direct Portable USB Microphone, you'll get the software for free!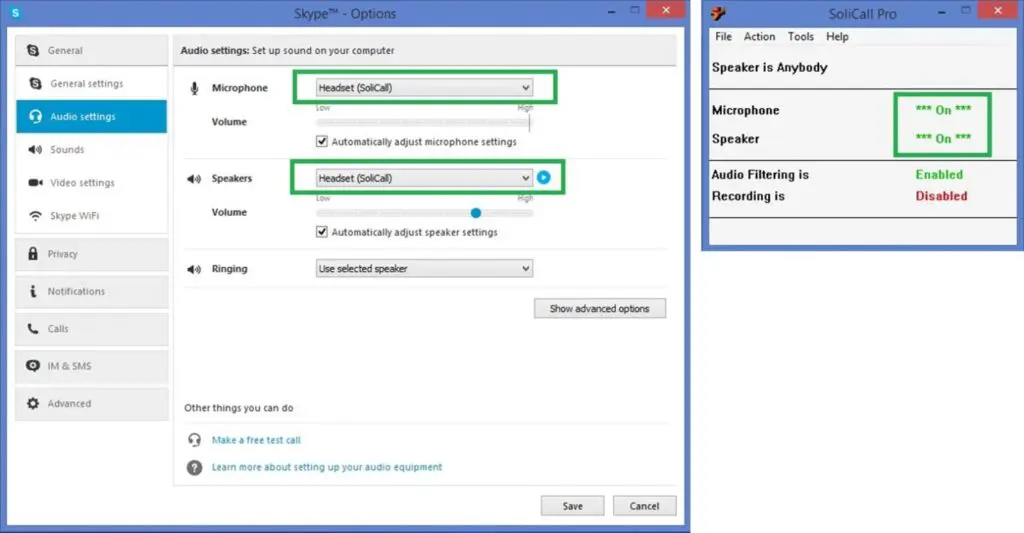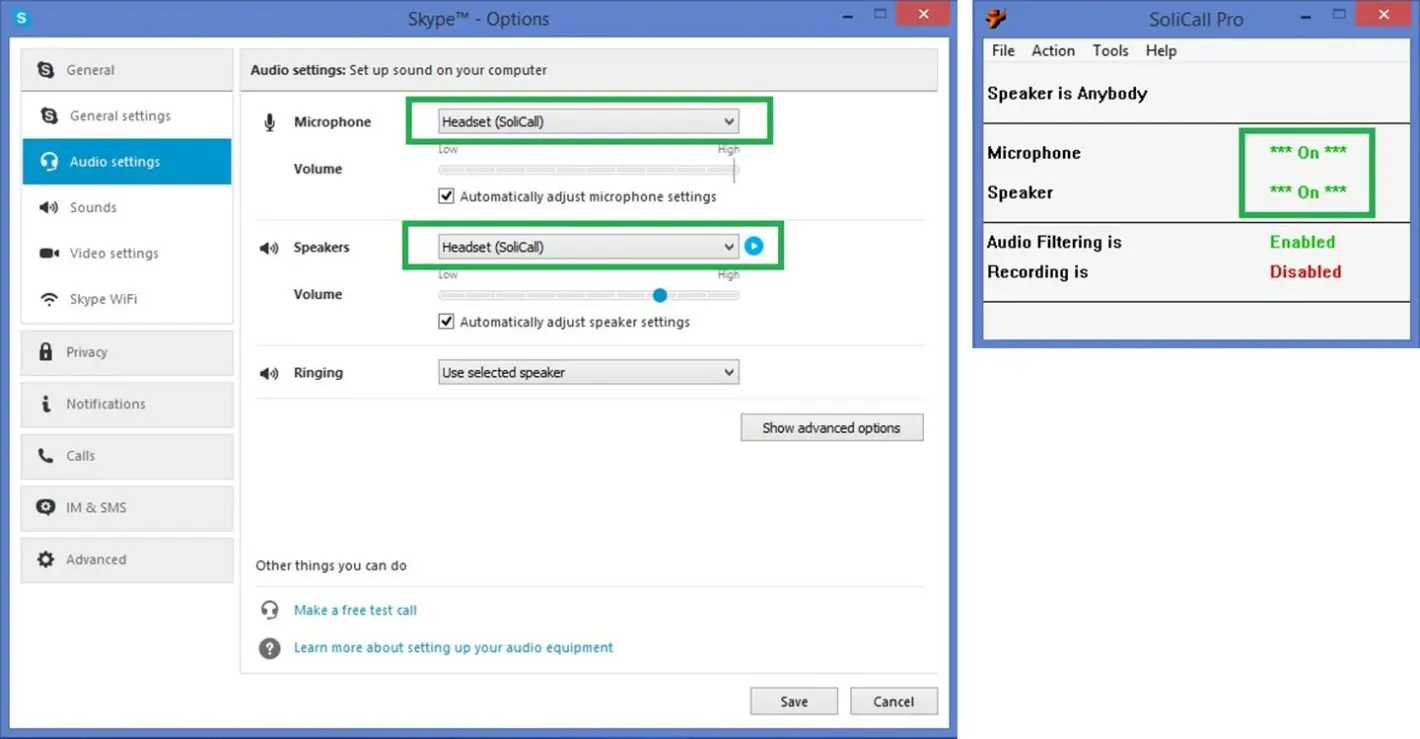 SoliCall is compatible with Windows and Mac computers, and it can be used with any microphone.
Organizations and professionals often favor SoliCall's exceptional noise reduction capabilities and advanced features that ensure a high-quality audio experience.
Its Profile-based Noise Reduction (PNR) technology focuses on your voice and separates it from any background noise.
Plus, it has a bidirectional audio filter to deliver a noise-free experience for both incoming and outgoing audio. SoliCall also offers a Software Development Kit (SDK) for developers using other operating systems to incorporate its features into their own software.
Additionally, you can opt-in for their dedicated cloud services for mobile devices to get a desktop-quality noise-free audio output.
Some features of this tool:
Adaptive noise cancellation cancels out background noise using a reversed signal.
Beamforming focuses on the specific sound direction with multiple microphones.
Noise gate removes silence, enhancing audio clarity.
You can record calls with SoilCall.
Compatible with any cloud-based communication app.
Pricing: SoliCall Pro offers users a monthly and yearly subscription; however, there's no mention of price on their website. They also provide a free 14-day trial. You can reach out to them to understand the cost.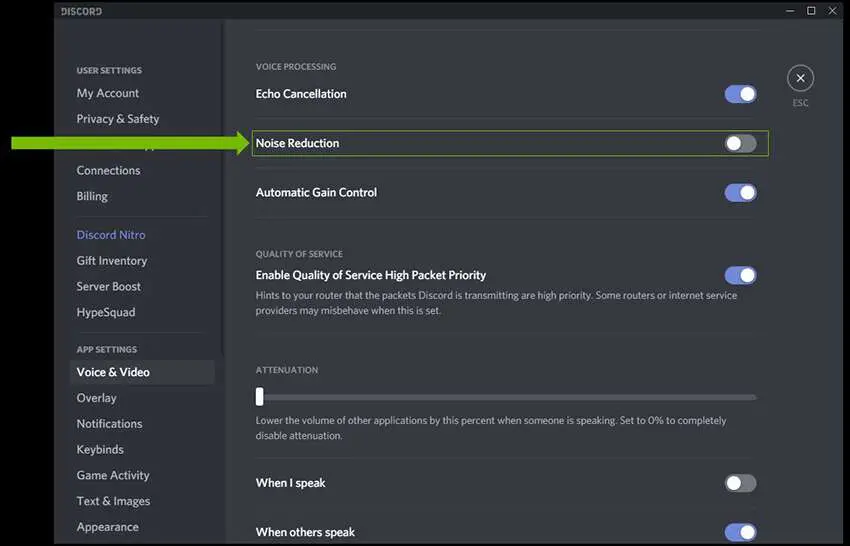 Nvidia RTX Voice is a free noise cancellation software that utilizes the AI capabilities of Nvidia graphics cards. It eliminates background noise from your audio clips, creating noise cancellation filters for crystal-clear streams and calls during gaming sessions.
If you have a compatible Nvidia graphics card, you can use this software to remove unwanted background noise without investing in a noise-reducer tool.
RTX Voice was introduced by Nvidia in April 2020 and exclusively designed for use with Nvidia GeForce RTX or Quadro RTX graphics cards, including the latest RTX 30-series down to the GTX 600-series with at least driver v410.18 or newer on Windows 10.
With RTX Voice, you can have clear and noise-free audio communication through all your PC communication apps, like Zoom, Skype, Teams, Slack, and many more. However, it is not available for mobile devices yet. NVIDIA has officially announced the support for various communication apps on PC.
Nvidia RTX Voice is a free tool you can use if you have a GTX or RTX GPU. Although, you will still need to invest in the GPU itself.
Key Features of Nvidia RTX Voice:
AI capabilities to eliminate background noise from your streams and calls
Eliminates PC and fan noises on the Microphone.
Eliminates distracting keypress sounds from a mechanical keyboard.
The audio outputs are crystal clear.
Support two-way noise removal means incoming & outgoing noise filtering.
Support a wide range of communication apps.
Pricing: Nvidia RTX Voice is free; you only need a supporting GPU for this application to work on your PC.
Related article: 6 Ways To Fix GeForce Experience Login Not Working Issue
NoiseGator is a free and open-source software that can be used to reduce background noise from audio recordings. It is a noise gate, which means that it works by setting a threshold for the volume of the audio signal.
If the audio signal falls below the threshold, NoiseGator will silence it. This can be useful for removing background noise such as fan noise, traffic noise, or other ambient noise from audio recordings.
NoiseGator is a Java application, so it can be run on any operating system that supports Java. It is also a very lightweight application, so it will not slow down your computer even if you are using it to process large audio files.
NoiseGator is a good option for anyone who wants to improve the quality of their audio recordings during gaming or online Skype conferences.
Key features of NoiseGator:
They are designed explicitly for Skype call sessions.
It's an open-source program.
Straightforward to utilize and lightweight program.
Pricing: NoiseGator is open-source software, and everyone can use it for free.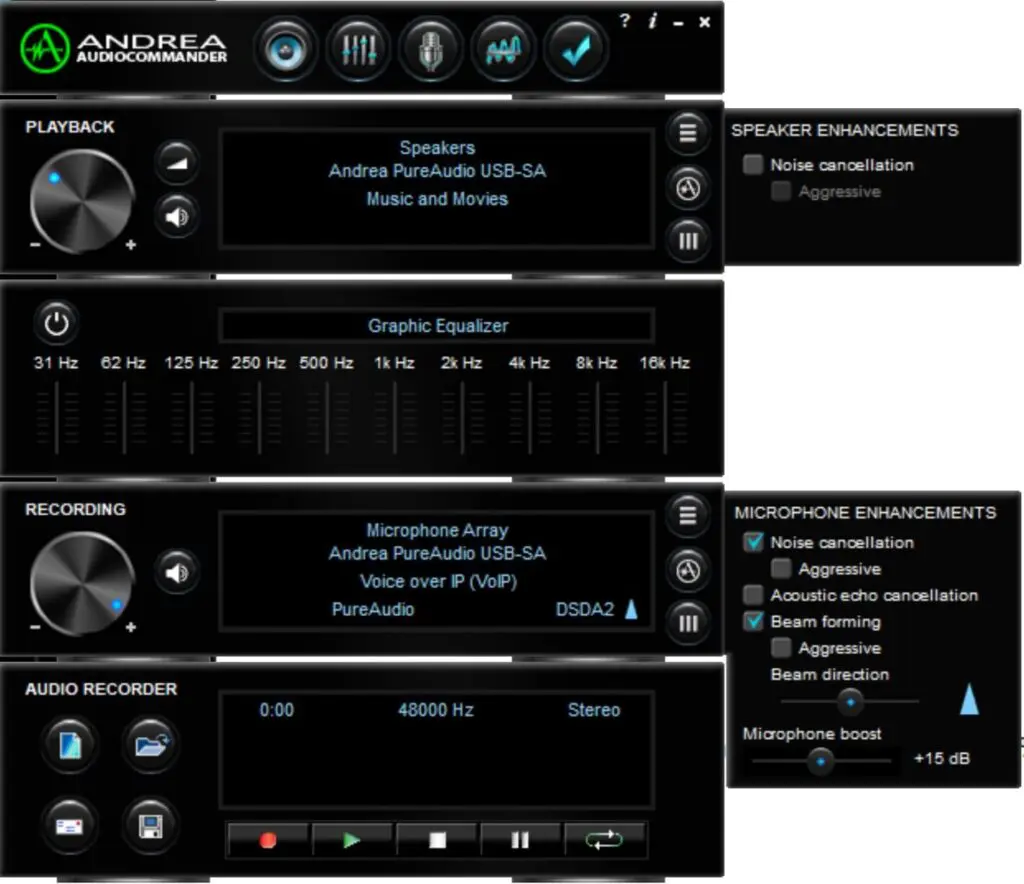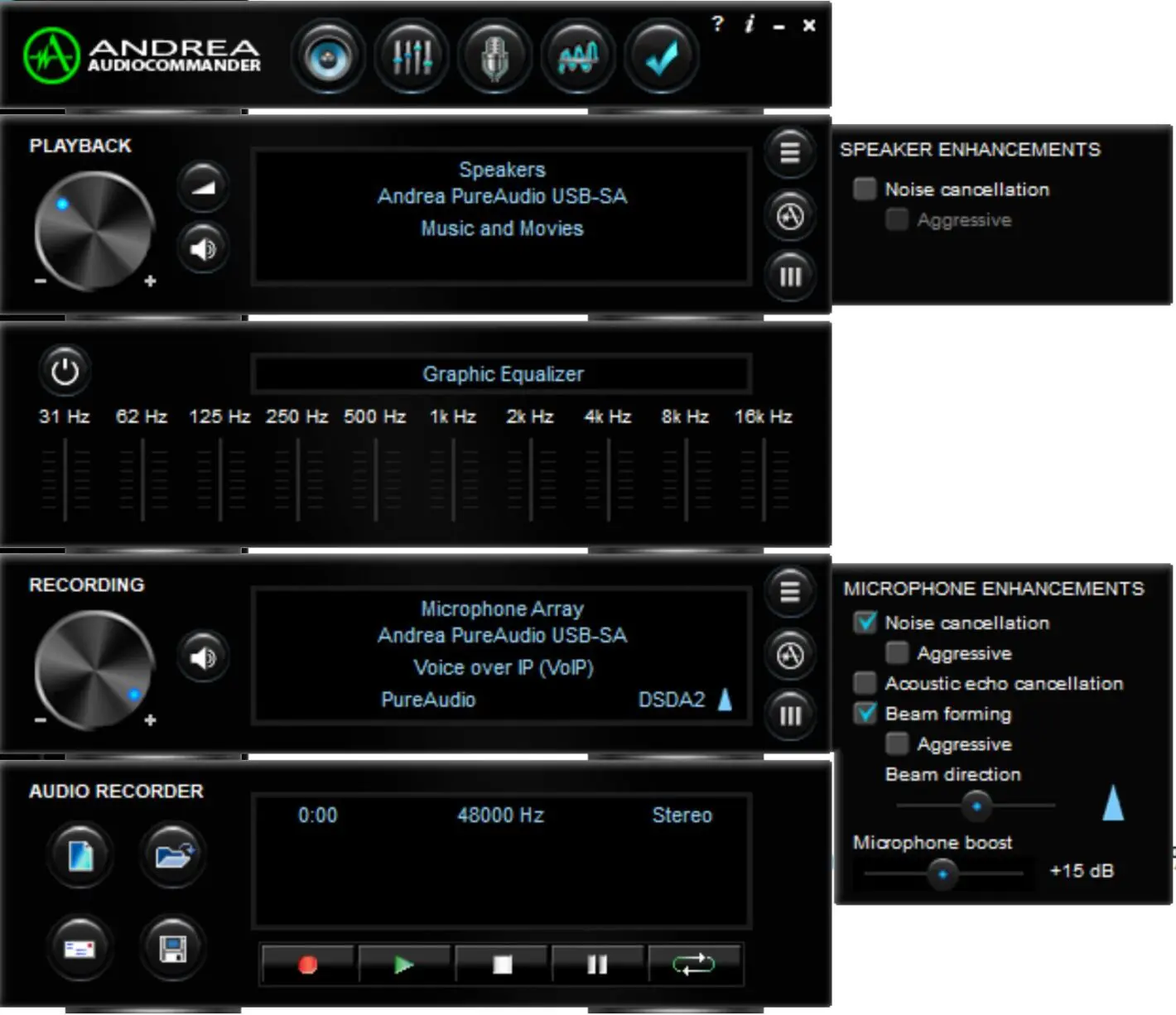 Andrea Audio Commander is a noise cancellation software developed by Andrea Electronics. It is designed to work with Andrea USB audio devices, such as the PureAudio USB Array Microphone. AudioCommander provides a number of features for noise cancellation.
Its PureAudio technology eliminates background sound on both left and right channels for crystal-clear audio recordings. The graphic equalizer further enhances the quality of your audio production while its advanced recording capabilities, like acoustic echo removal, let you tailor it perfectly according to your needs!
Additionally, many other valuable features, such as light beamforming, stereo noise cancellation, aggressive beam forming, and microphone boost, help bring out better-sounding outputs.
Some great features of this tool:
Stereo and Acoustic echo cancellation.
Dedicated 10-band Graphic Equalizer with multiple presets.
Directional beamforming noise reduction.
Microphone Boost to supply up to +30dB of additional input to the microphone.
More accurate speech recognition in high-noise environments.
Pricing: Andrea Audio Commander offers three versions with varying features and pricing. The basic version is free and includes features like noise cancellation, a graphic equalizer, and acoustic echo cancellation.
The Pro version, priced at $49.99, includes all basic features along with extras like a noise gate, a compressor, and a limiter.
For enhanced functionality, the Ultimate version is available for $99.99, incorporating Pro features as well as a voice changer, a soundboard, and a recording studio.
Conclusion:
These are some good options for anyone who wants to improve the quality of their audio recordings and for reducing background noise to enjoy crystal-clear audio output.
Additional articles: