In the hustle and bustle of modern life, it's crucial to have the right equipment to stay on track and minimize interruptions. Neglecting noise cancellation means you are missing out on the chance to leverage technology for a peaceful recording experience and ensure your online meetings are free of unwanted sounds.
Choosing between reliable noise-canceling headphones and top-notch software can be tricky. Yet, both options are equally proficient at blocking out unwanted sounds, and your decision ultimately boils down to your preference.
So, if the headphones aren't cutting it, you can easily opt for noise cancellation software and still be able to enjoy the same level of noise reduction efficiency.
Noise cancellation software works by recording the background noise, inverting it to create an anti-noise signal, and combining it with the output signal. The anti-noise signal cancels out the surrounding noise when it reaches our ear. However, the approach and algorithms may vary for different noise-canceling applications.
Here's the general theory of how it works: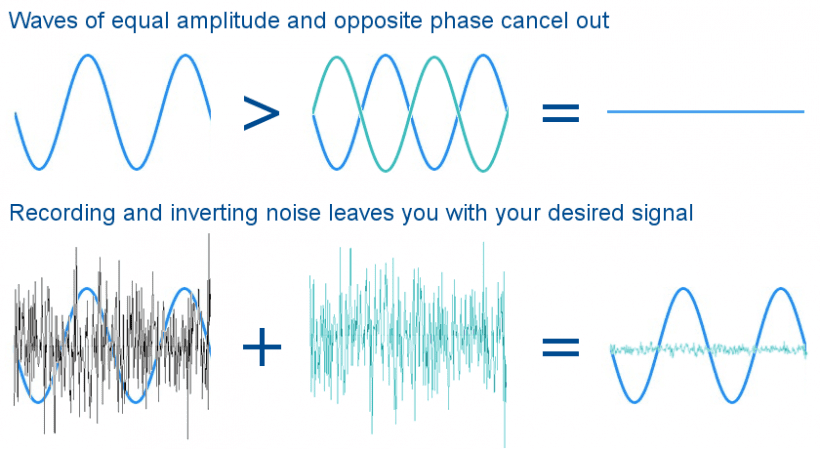 Now you want to use a noise suppression tool that is actually good, and technically you have a wide range of options to choose from… it can be confusing; because the best tools in this business have distinguishable characteristics.
Hopefully, this guide helps you find out the noise-canceling application you need.
What noise cancelling software fits you best?
Choosing the right noise-cancellation software is a highly personalized decision that depends on your unique requirements. For example, if you're a musician or often work with sound effects, Audacity or Adobe Audition should be your ideal choice.
A journalist who frequently makes high-quality business calls over Skype may lean towards Krisp or NoiseGator to improve communication clarity.
Again when you have no time or space to install a program on your PC but need to remove noise from an audio or video file, you can go for an online noise cleaner service like Noise Eraser or Lalal.Ai's Voice Cleaner. So, no matter your needs, you will find a compatible noise-cancellation tool to help you do the job.
The following list represents some highly rated noise cancellation software by people in different industries and with different OS or platforms.
Best Noise Cancellation Software For Different OS & Platforms
1) Noise Remover – Online Utility
Lalal.ai's Noise Remover is an online tool for separating noise in an audio or video file. All you have to do is upload your noisy audio/video file on their website and let the tool remove noise for you.
The denoised audio outputs are remarkably clean and natural-sounding. The typical echo effect after noise removal is lessened, which makes it an adequate noise-canceling software you can use online. After processing, you can preview the separate audio streams before downloading to ensure clear output audio quality.
Using Noise Remover, you can extract vocals, drums, bass, piano, instrumental, electric guitar, acoustic guitar, and synthesizer tracks from an existing audio or video file without losing quality.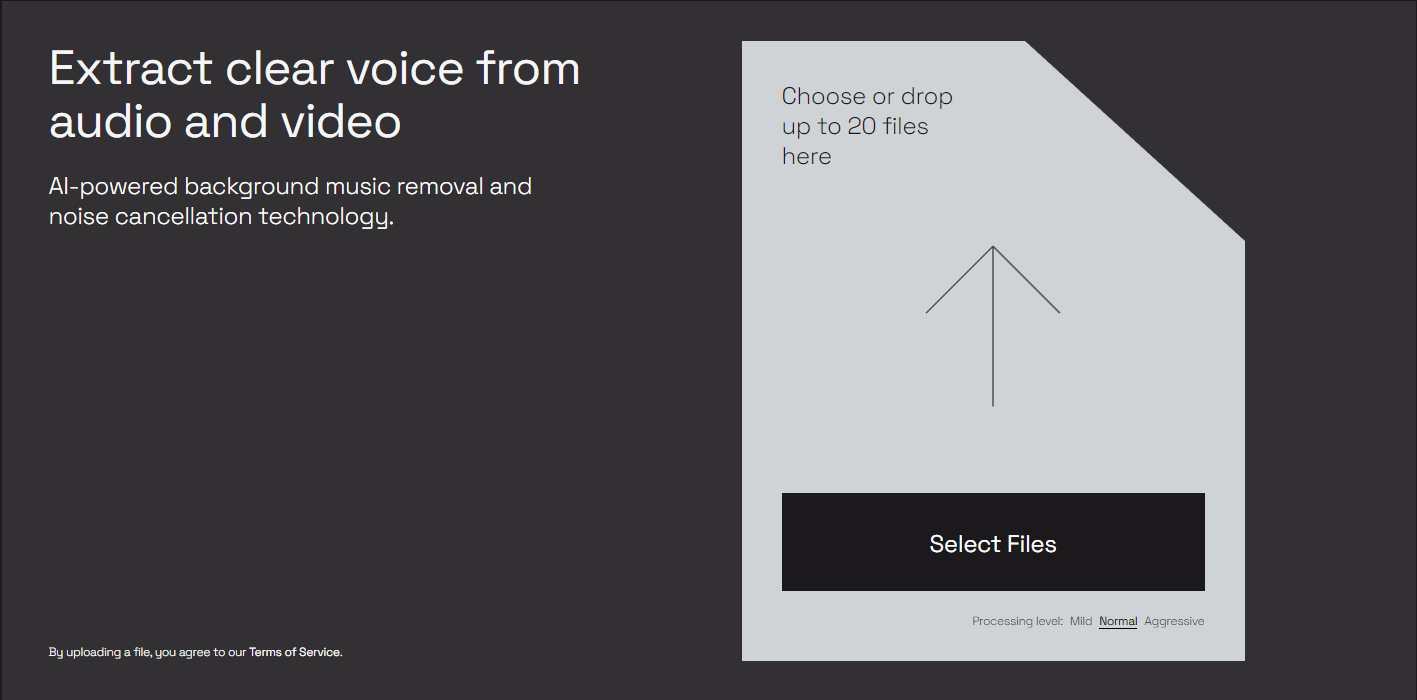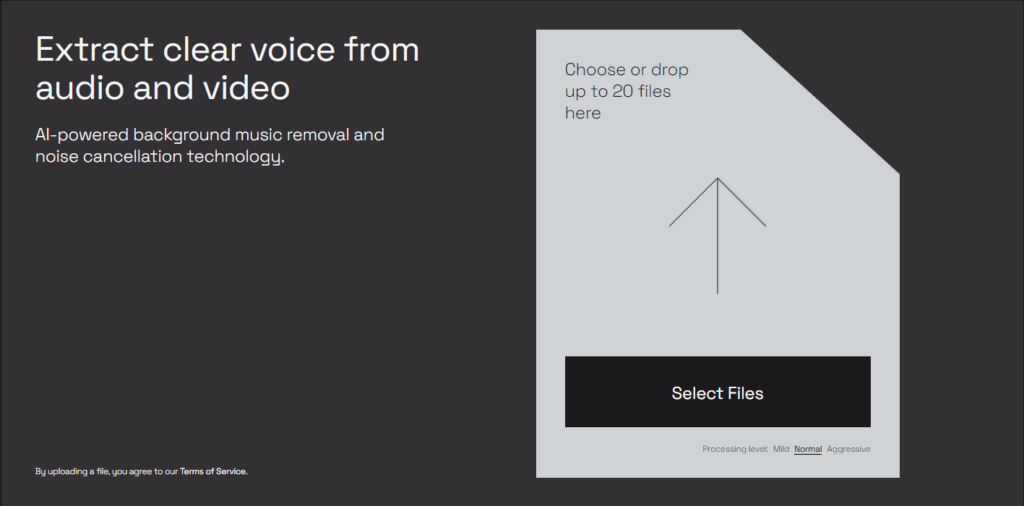 Noise Remover is super easy to use. You just drag or select your file into the tool > wait for your file to be uploaded > their AI will process the file once the upload is complete > after separation, you can preview and download your denoised audio output.
Pros
No software download is required.
Super simple to use.
It can significantly reduce or eliminate unwanted sounds.
Cons
Without a subscription, you will have to adjust with limited minutes.
File upload size limitation can be an issue.
Features of Lalal.ai's Noise Remover:
Its AI-powered noise removal
You can split audio files.
You can separate music from video files.
You can command the tool which type of sound separation you want.
2) Krisp – for Windows, Mac, and Android
Krisp is probably the most popular on this list. If you are a remote worker, Krisp can seriously improve your communication quality. It is an AI-powered noise-canceling app that eliminates external noise in real-time. The AI automatically identifies and reduces ambient noise when you are on a call is a standout feature of Krisp.
It is a reputed app for delivering crystal-clear, high-quality, and crisp audio with all background noises filtered off. They were awarded as one of TIME's best inventions of the year 2020 and are an Industry favorite.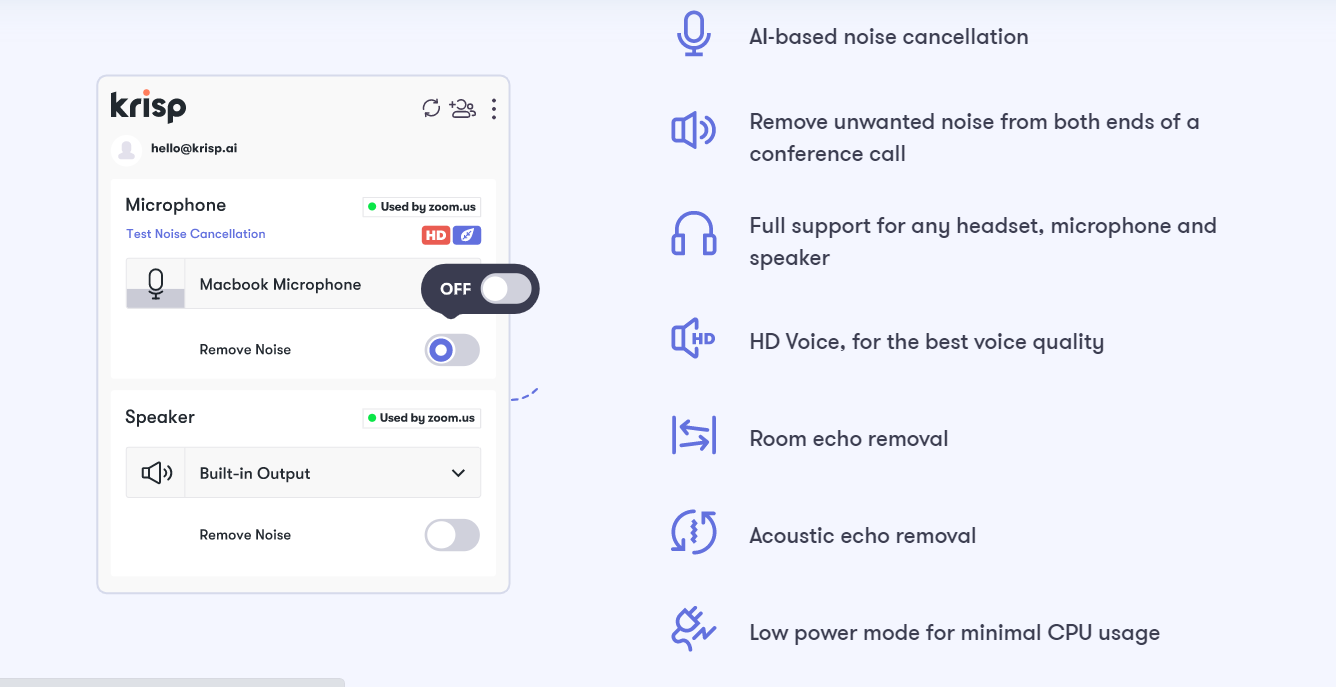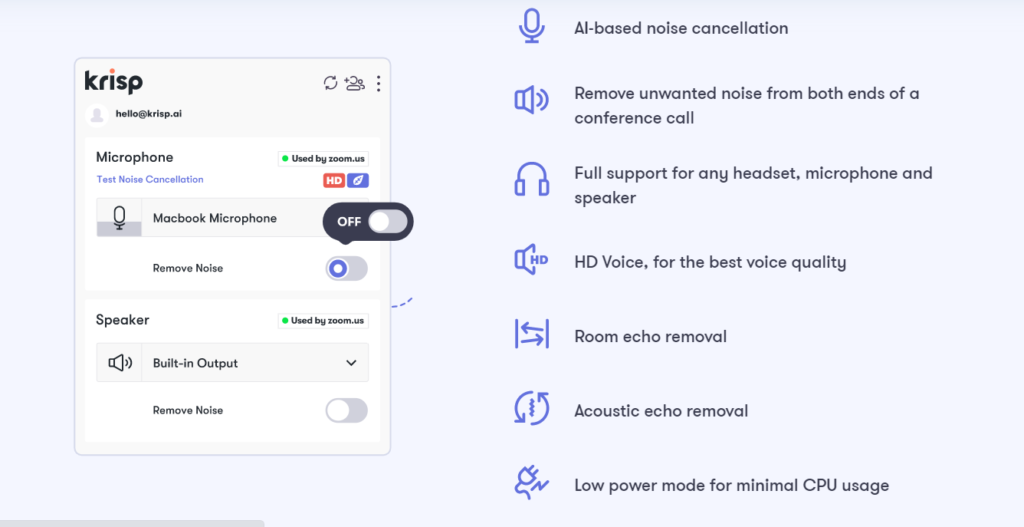 Krisp runs silently in the background during your meetings and ensures a less distracting background. Noise such as barking dogs, crying babies, keyboard clicks, street noise, unpleasant echoes, and a lot more falls into Krisp's favorite removal list.
The AI helps it automatically learn from your audio feed and determine what noise to remove and transmit the important audio.
Key Features of Krisp:
Krisp is compatible with 800+ communication and streaming apps.
It can remove noise from Microphones and Speakers.
The application is compatible with most headsets, microphones, and speakers.
The program demands minimal CPU usage.
Its floating widget is convenient for quick access.
Pros
Great for real-time noise cancellation during calls
Cross-platform compatibility.
Packed with lots of unique features.
Compatible with popular meeting applications.
Cons
Require subscription for unlimited use.
3) Adobe Audition – Windows and MacOS
Adobe Audition is a high-quality audio processing tool by Adobe. It's packed with everything you need as an audio editing professional to produce high-quality audio, whether you're working on a project, creating music, or recording a podcast.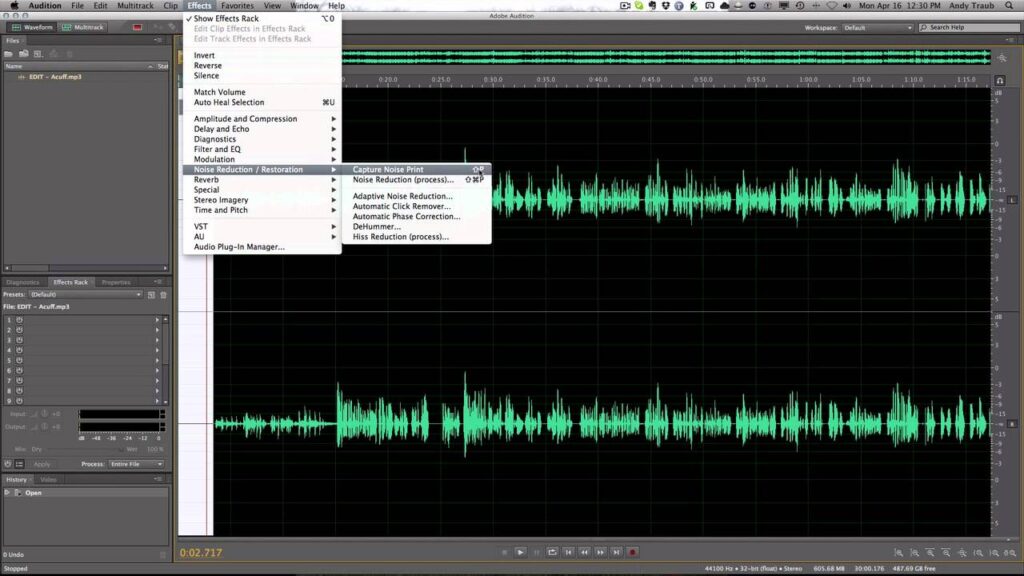 Adobe Audition might be a bit complicated for beginners, but with the right guidance, you should be able to master this application and create excellent voice outputs.
The noise reduction settings in this software allow you to control noise levels, clean up audio with the DeNoise effect, and adjust frequency levels, so unlike Krisp, you might need some manual actions on your end, but shouldn't that be the cost of a clear audio generation?
Additionally, it has the Automatic Click Remover to eliminate unwanted clicks and crackles. In addition, with the adaptive noise reduction effect, Audition lets you significantly reduce wind noise, tape hiss, power-line hum, and more.
Key Features of Adobe Audition:
Adobe Audition allows you to record, edit and integrate audio clips.
The audio outputs are high-quality crispy audio.
You can create a podcast right from the dashboard with great sound quality.
Audition can help you re-arrange the song to fit any duration with Remix.
Pros
Easy to produce professional-quality, clear audio output.
Provide you with 100 GB of cloud storage.
Outstanding output sound quality and great noise suppression ability.
Robust digital audio production solution
Cons
A 7-day free trial is available, so there is no free plan with limitations.
You may require some guidance as a beginner.
4) Noise Eraser – Web, PC, Mac, Android, and iOS
Although I discovered this particular tool later than the rest on my list, I was amazed by its simplicity and efficiency in eliminating noise from audio & video recordings. Whether you find yourself recording in a crowded metropolis, a police car with sirens blaring just passing by, or amid strong blows of wind, and anything that's a disturbance to your main audio stream, this tool effortlessly eliminates them.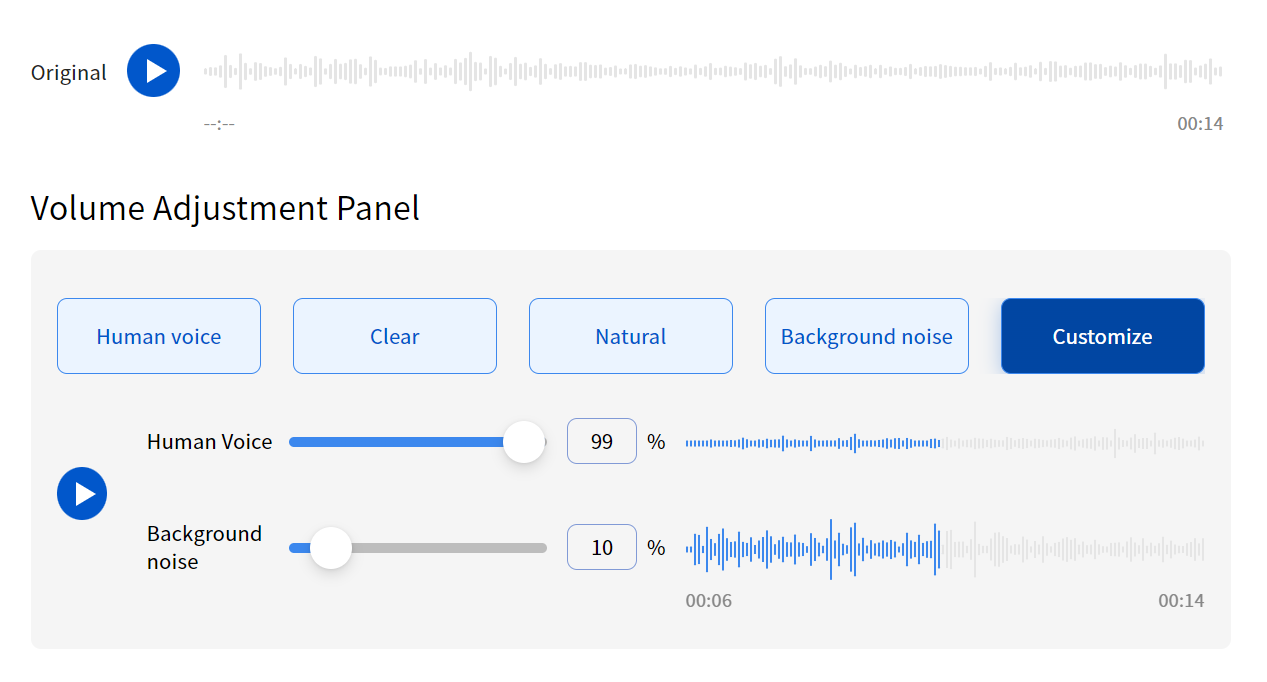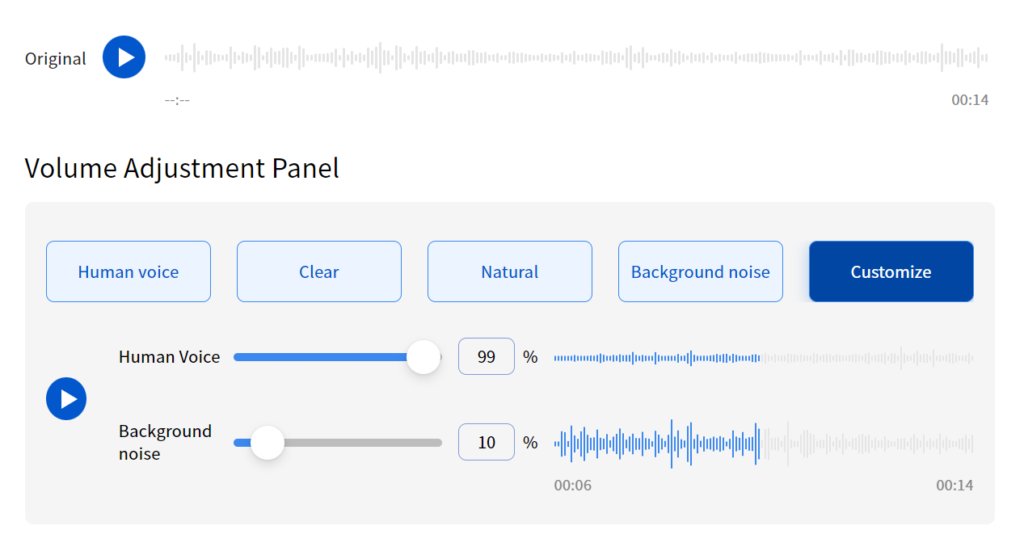 DeepWave's Noise Eraser is a great option for filtering background noises from pre-recorded files. You can conveniently install the app on any device because it supports all mainstream operating systems. Alternatively, if installation is not an option, you can access their web tool and continue via your account from where you left off.
The user interface is simple and focused. You get to upload your file > if your audio/video is 8 minutes longer, that costs you one wave point, and cost increases according to your audio stream length > after a complete upload, it processes the file (to be fair, it's pretty quick at what it does) > and gives you the output where you can compare between original and denoised audio before downloading to your local drive, or you can share it to someone using a private/public link.
If you are still unsatisfied with the output, you can adjust between the audio streams to find your desired audio.
Key features of Noise Eraser:
The process is fast without losing the quality of noise cancellation.
A dead simple user interface that does not require higher technical skill to operate.
It's a reasonable option; you can extend your wave points when required. You can purchase 65 mins at Noise Eraser (Web) for around 10.5 USD.
Cross-platform compatibility is a great advantage of this application.
Pros
Affordable utility & comes with a free and premium plan with a free trial

.

Supports a wide range of audio and video formats.
The output quality is fantastic.
Cons
Not an app for real-time noise cancellation during calls and meetings.
5) Audacity – supports Windows, macOS, and GNU/Linux
Audacity is versatile, affordable, and well-suited for many content creators. It allows you to capture live audio through a microphone or mixer or use digitized files from other sources.
It has an inbuilt noise reduction utility that you can find in the Effects menu. The noise reduction quality is pretty good at eliminating common background noises such as hums, whistles, buzzes, and hissing sounds. While Audacity is not mainly advertised as a noise removal tool, it effectively eliminates unwanted background noises.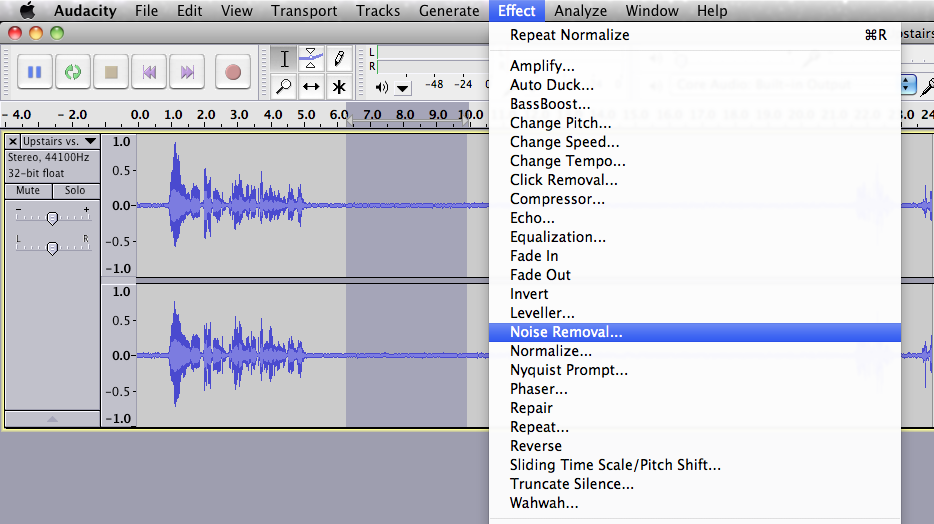 Audacity supports audio files in various formats like MP3, MP2, AIFF, FLAC, and WAV. You also get the utility to change the speed or pitch of the audio.
Key features of Audacity:
Audacity allows you to record multiple tracks simultaneously, which makes it useful for recording podcasts, music, and other audio projects.
It provides a wide range of editing tools for adjusting audio levels, trimming, splitting, and combining audio clips, removing noise, and applying various effects.
It comes with various audio effects, such as reverb, echo, phaser, chorus, and downloadable plugin-ins.
Pros
Open source, free to download.
Easy to use interface.
Great community and user forums are available.
It is a cross-platform noise reduction tool.
Cons
Manual adjustments may be needed to remove noise.
6) Meeami Noise Suppression – Windows, MacOS and Android
Meemai's noise reduction module is called Noise Canceller that relies on its deep learning and voice signal processing algorithms to eliminate about 50 types of noises, including click noise, babble noise, high-traffic noise conditions, crying babies or barking dogs in the background, road noise, and many more.
All you need is a mic for this tool to cancel out noises, and that's why it can be used with your typical devices like laptops, tablets, and mobiles. It can cancel out echo and reverberation in real-time, which makes it reasonable to combine with conferencing and telecommunication applications.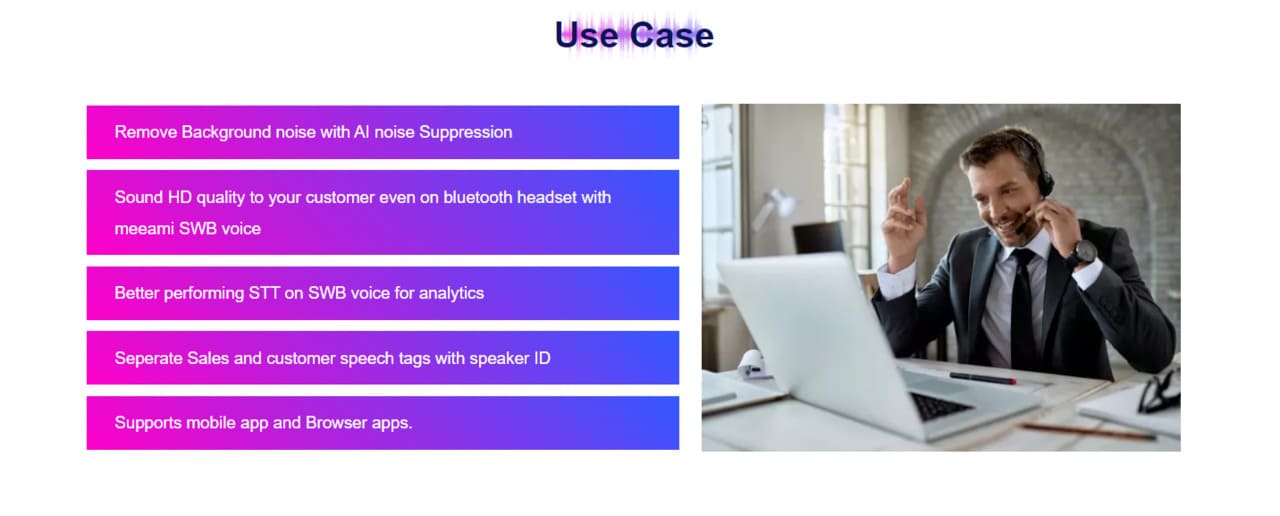 Their AI-based noise suppression technology reportedly aims for low-power and high-performance noise suppression on handheld devices, making it an ideal choice to use on your smartphones, laptop, and embedded devices in meeting rooms.
It also has an AI-based speaker ID and far-field speech enhancement, which can detect targeted speeches in a boisterous environment.
Key features of Meeami Noise cancellation feature:
Meeami Audio can work with multiple microphones to capture sound from different directions and cancel noise more effectively.
Its noise-cancellation technology is specifically designed for speech signals and can enhance speech clarity and intelligibility.
You can customize it for specific use cases and environments, with the ability to adapt to changing noise conditions.
Pros
Effective noise reduction tool for high noise conditions.
Compatible with home appliances.
Supports mobile app and Browser apps.
Can identify sales and customer speech with speaker ID
Cons
Note enough guidelines on setup.
No free trial is available on the website.
7) Samson Sound Deck – for Windows and MacOS
Samson sound deck is a dedicated, cost-effective noise-canceling software that is claimed to use digital noise reduction algorithms inspired by technology used in military fighter jets and tactical special forces units to deliver crystal clear results in any environment.
The output audio quality of the sound deck combined with Samson's microphones removes noises and delivers crystal clear audio.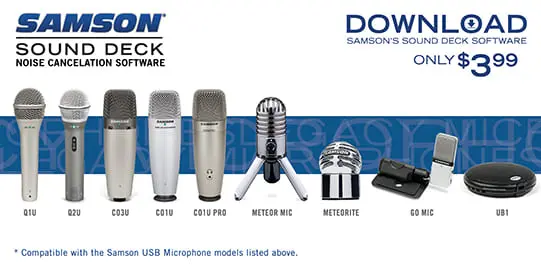 It is compatible with both Windows and Mac PCs. In addition, Sound Deck seems to be a memory-efficient tool that does not consume a lot of memory while running in the background as your primary communication or audio recording programs are running.
Samson has made its Sound Deck available to be used with its series of portable and desktop USB microphones. The utility can be purchased for $3.99 as a digital download from Samson's website.
Key features of Samson Sound Deck:
It works well on both Windows and Mac PCs.
This software is memory efficient.
It has filters to let you control the audio output.
Great tool for recording webinars, voice memos, and audio files.
Pros
Inexpensive noise reduction tool.
Excellent output when used with Samson audio gadgets.
A great utility for multipurpose audio solutions.
Famous among the artists
Cons
No free trial is available.
You may need Samson gears for this to be highly effective.
8) SoliCall – SDK for all popular platforms
Organizations and professionals often favor SoliCall for its exceptional noise reduction capabilities and advanced features that ensure a high-quality audio experience.
Thanks to its dedicated noise reduction technology, it can improve audio quality by real-time detection and filtering of audio signals from the speaker's vocal stream.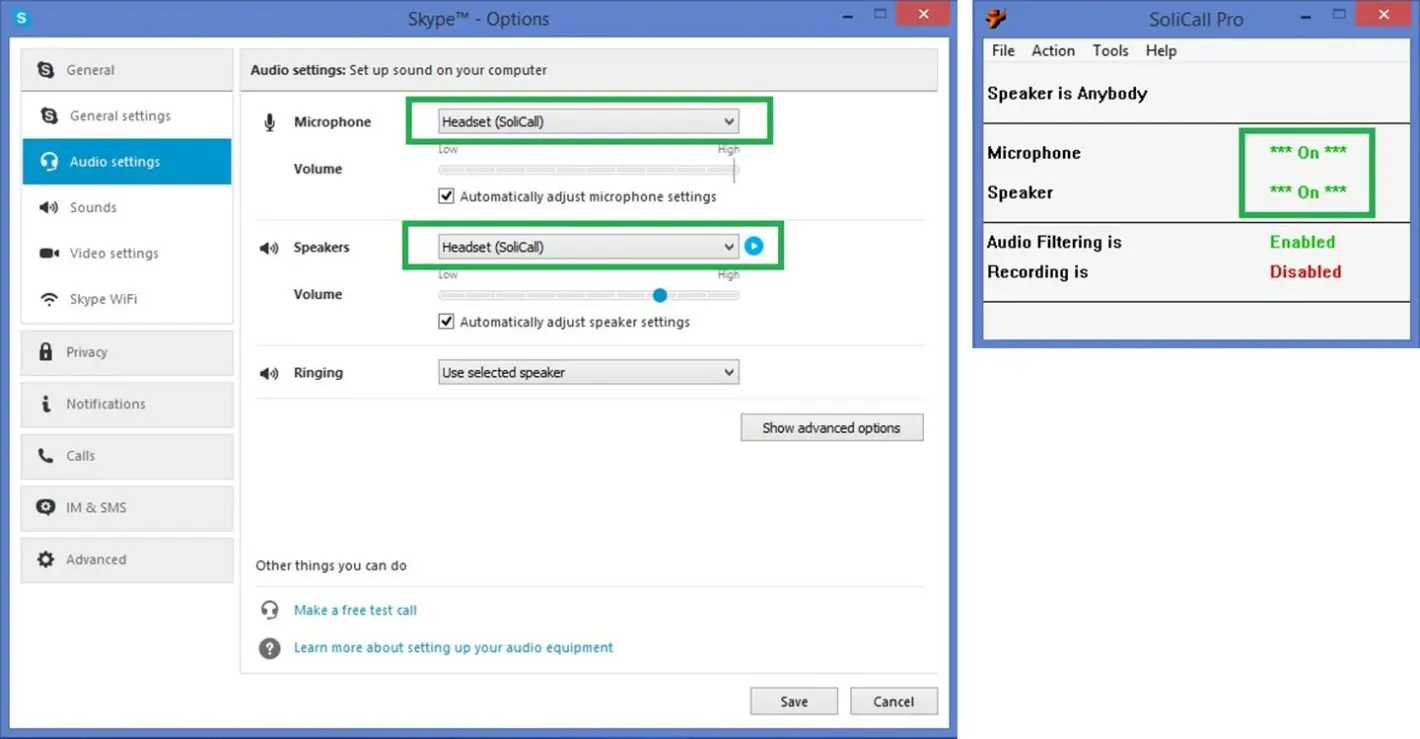 The profile-based noise reduction (PNR) technology focuses on the speaker's voice rather than specific noises and separates them. It has a bidirectional audio filter to deliver a noise-free experience for both incoming and outgoing audio.
So if you are looking to enhance your audio experience on Windows, SoliCall could be a great option. Other operating systems can use its SDK to inherit SoliCall's ability.
You can opt-in for their dedicated cloud services for mobile devices to experience a desktop-quality noise-free audio output.
SoilCall Pro offers a 3-day trial period, according to their official website. After that, you must contact their support team to upgrade to the premium version.
Key features of SoliCall:
Noise reduction and Echo cancellation are done on both sides of the call
It supports all audio formats
Integrating Solical with your phone is rather simple.
You can record calls with SoilCall.
Compatible with any cloud-based communication apps
Pros
Versatile real-time noise cancellation utility.
It has a cloud platform that supports mobile devices.
Compatible with cloud-based communication apps.
Filtered outputs with great audio quality.
Cons
Three days free trial is available.
9) Nvidia RTX Voice – Supports Windows OS
Nvidia RTX Voice is a free noise cancellation software that utilizes the AI capabilities of Nvidia graphics cards. It eliminates background noise from your audio clips, creating noise cancellation filters for crystal-clear streams and calls during gaming sessions.
If you have a compatible Nvidia graphics card, you can use this software to remove unwanted background noise without investing in a noise reducer tool.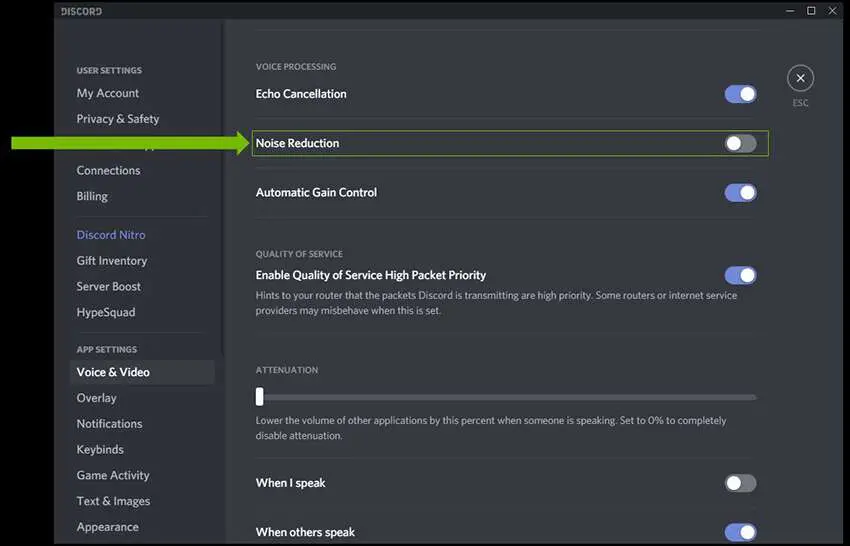 RTX Voice was introduced by Nvidia in April 2020 and exclusively designed for use with Nvidia GeForce RTX or Quadro RTX graphics cards, including the latest RTX 30-series down to the GTX 600-series with at least driver v410.18 or newer on Windows 10.
With RTX Voice, you can have clear and noise-free audio communication through all your PC communication apps, like Zoom, Skype, Teams, Slack, and many more. However, it is not available for mobile devices yet. NVIDIA has officially announced the support for various communication apps on PC.
Related article: 6 Ways To Fix GeForce Experience Login Not Working Issue
Precaution: RTX voice does consume system resources, and you would want to avoid running it all the time; instead, run it only when your speaker and microphone are being used.
Nvidia RTX Voice is a free tool you can use if you have a GTX or RTX GPU. Although, you will still need to invest in the GPU itself.
Key Features of Nvidia RTX Voice:
AI capabilities to eliminate background noise from your streams and calls
Eliminates PC and fan noises on the Microphone.
Eliminates distracting keypress sounds from a mechanical keyboard.
The audio outputs are crystal clear.
Support two-way noise removal means incoming & outgoing noise filtering.
Support a wide range of communication apps.
Pros
It's a free-to-use noise reduction tool.
Great tool for use during gaming sessions.

Compatible with communication apps: Discord, Twitch, etc.

Eliminates PC fan and keypress sounds
Cons
Need an Nvidia GTX GPU
Consume system resources can hinder gaming performance
10) Andrea Audio Commander – for Windows PC
The Andrea PC Audio Commander is PC software with a bi-directional noise-cancellation filter. It has a similar approach to Sound Deck; the results are great when this application is used with Andrea USB devices.
Its PureAudio noise reduction technology ensures bypassing of microphone background noise on left and right channels. In addition, the graphic equalizer and advanced audio recording interface help you to enhance your audio quality.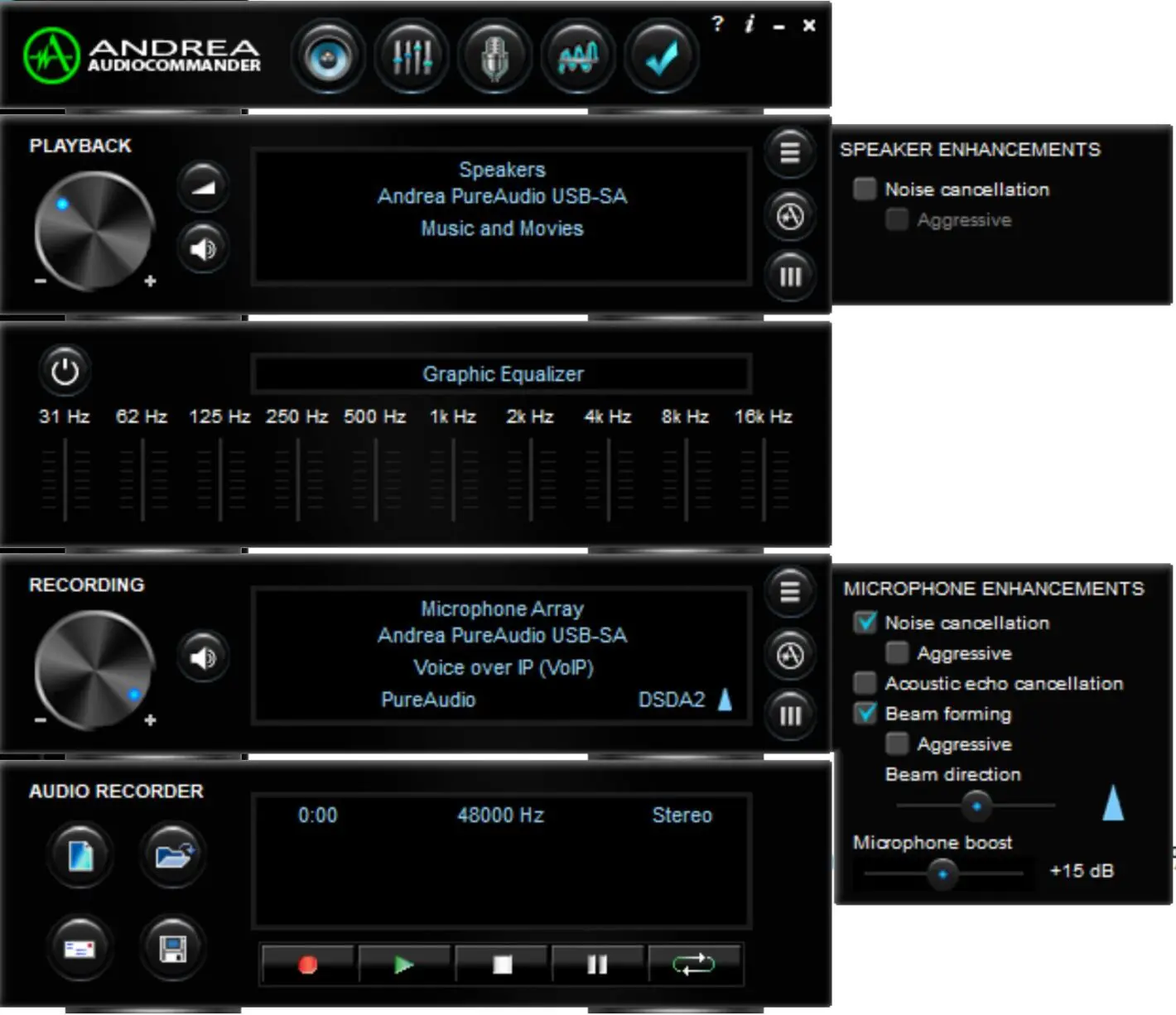 The tool includes essential microphone recording features such as acoustic echo removal, light beamforming, stereo noise cancellation, aggressive beam forming, beam direction, microphone boost, and more.
You can simply enable noise cancellation for the speaker and microphone to reduce noise effects on your audio production.
It has a variety of noise suppression extensions, each with unique pricing. You can find the price for some modules, but for others, you may need to contact their support or sales team to find out.
Key features of Andrea:
PureAudio noise reduction on speaker output.
Stereo and Acoustic echo cancellation.
Aggressive PureAudio noise reduction for even more filtered audio output.
Dedicated 10-band Graphic Equalizer with multiple presets.
Directional beamforming noise reduction.
Microphone Boost to supply up to +30dB of additional input to the microphone.
More accurate speech recognition in high-noise environments.
Pros
Stereo and Acoustic echo cancellation ability.
Accurate speech recognition in high-noise environments.
Clear audio output with their PureAudio technology.
Super easy to use
Cons
A free trial is not available.
It may require a dedicated input device from Andrea Electronics
11) NoiseGator – Windows, Mac and Linux
Noise Gator is specifically created for noise suppression on Skype calls. It eliminates noise from your audio input or the speaker output based on their gate logic.
During Skype calls, Noise Gator analyzes background noise's audio level and volume. Audio input bypasses the advanced noise filter if the average audio level exceeds the threshold. If the intermediate audio level drops more than the threshold, the gate closes, and Noisegator will cut the audio.
You can use this tool with a virtual cable that acts as a noise gate for either input(microphone) or output(speakers). It can be used for long sessions during gaming or online conference (on Skype). Switching audio input during use does seem to work fine for me.
The developer recommends Windows users have a VB-Cable driver installed or updated while using this digital active noise cancellation software.
Key features of NoiseGator:
Designed explicitly for Skype call sessions and compatible.
It's a lightweight open-source program.
Pros
Best for those who make Skype calls frequently.
It's an open-source tool & free to download.
Straightforward to utilize.
Cons
It requires Java 7 or higher for Windows.
Requires Java 6 or higher for Mac.
To use it with VIOPs, a virtual audio cable is required.
12) Audio Noise Reducer & Recorder – Android and iOS
If you are looking for a noise cancellation app for your mobile phone, then you should try this app. It runs on their AI-powered noise suppression utility that can eliminate audio noise on your audio files.
Noise Reducer also doubles as an audio recording app with inbuilt noise-canceling ability during recording audio.
This app is a quick way to clean up noise in audio files from your phone. Also, it's super lightweight and won't hog your phone's storage.
This app can be a perfect choice for you to create audiobooks with reduced noise and clear audio quality using your smartphone.
Pros
Decent noise reduction ability for an android app.
It lets you compare noisy and clean audio.
Can save audio outputs in 15+ audio formats.
High-Quality Audio Recorder.
This android app is free to use.
Cons
It does not provide real-time noise cancelation.
Similar post: How To Fix Amazon Prime Video Audio Out of Sync
13) Reduce Noise in Audio & Video – Android
This is another Android app available on the Google Play Store. Reducing background noise in audio recordings is the primary goal of this app, and it does that quite effectively. If an android noise-canceling app is what you are looking for, you can try this one and it can be a great alternative to the Audio Noise Reducer app.
The interface is simple and intuitive, making it easy for everyone to use. It contains ads, but they are not annoying like most apps.
This app reduces a significant amount of background noise, though there may still be some residual noise that remains audible. The key benefit is that the residual noise becomes much less noticeable.
In general, it excels at discerning which sounds should be prioritized. However, occasionally, the audio may have a slight metallic quality due to numerous ambient noises, making it challenging to achieve flawless output.
Pros
It's free to use.
Reduces noise to a significant degree.
Lightweight app.
Super simple to use.
Cons
Not available for iOS
Slight metallic sound in the output audio
Lower volume on primary audio as output
Are you able to pick your noise cancellation software?
These noise reduction tools are listed based on their capabilities and overall user experience. On top of that, these tools are stuffed with tons of fantastic features you can try.
You explore more about these tools on their official pages and see which one suits your needs. Besides, there are other tools you might want to give a try as well. Some of the iOS apps I have not covered in this article are Noiseless, Hear, MyNoise, Sound Sleep, etc.
Additional articles: