Noise cancellation software is a practical way to eliminate or lessen unwanted sounds such as background noise, microphone hum, keyboard typing, mouse clicks, and mic noises to produce clear sounds during online meetings, phone calls, streaming, and general recordings.
When you don't have access to a high-quality microphone or are not a fan of immediate ways to prevent unwanted noise by masking the microphone and moving it closer to the mouth then noise-canceling apps are there to help.
In modern-day audio productivity, noise cancellation plays an essential role in drowning out their surroundings and producing crisp audio quality. Nowadays, popular conferencing applications come with built-in noise cancellation features. These applications are capable of canceling ambient noises and isolating the primary sound source. 
You can find plenty of noise gate software online to avoid unwanted sounds; not necessarily all of those are adequate. In this post, we have listed some of the most helpful noise cancellation software you can try on your PC and Android phone.
How does noise reduction software work?
Noise cancellation software works by recording the background noise, inverting that noise signal to create an anti-noise signal, and combining it with the output signal. The anti-noise signal cancels out the actual surrounding noise by the time it reaches our ear.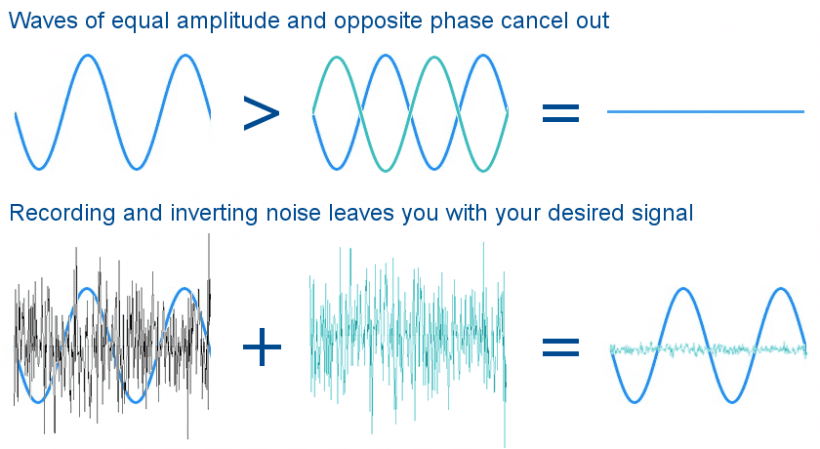 12 Top Noise Cancellation Software You Can Try
1) Lalal.ai – AI Powered Noise Cancellation
Lalal.ai is an excellent tool for high-quality sound separation with the help of AI technology. It allows you to extract vocals, drums, bass, piano, instrumental, electric guitar, acoustic guitar, and synthesizer tracks from an existing audio/video file without quality loss.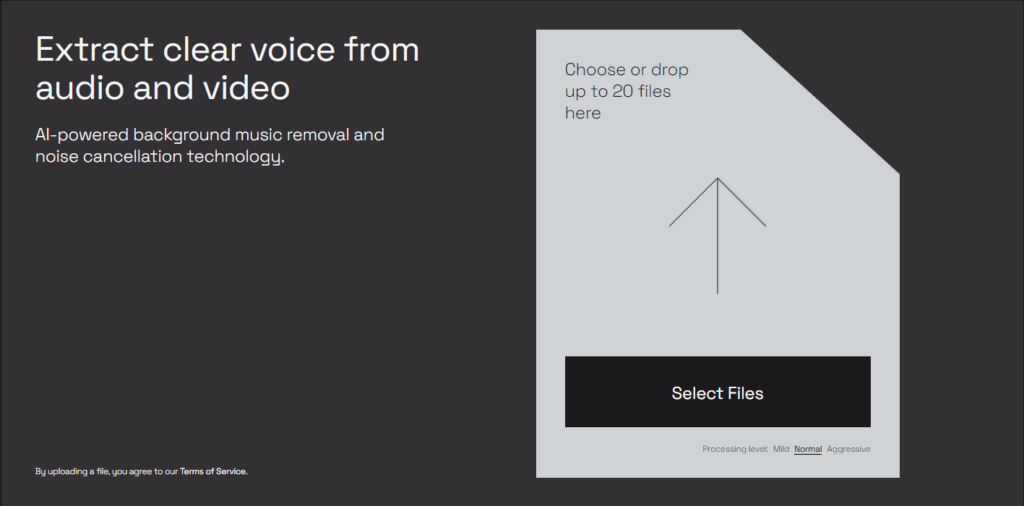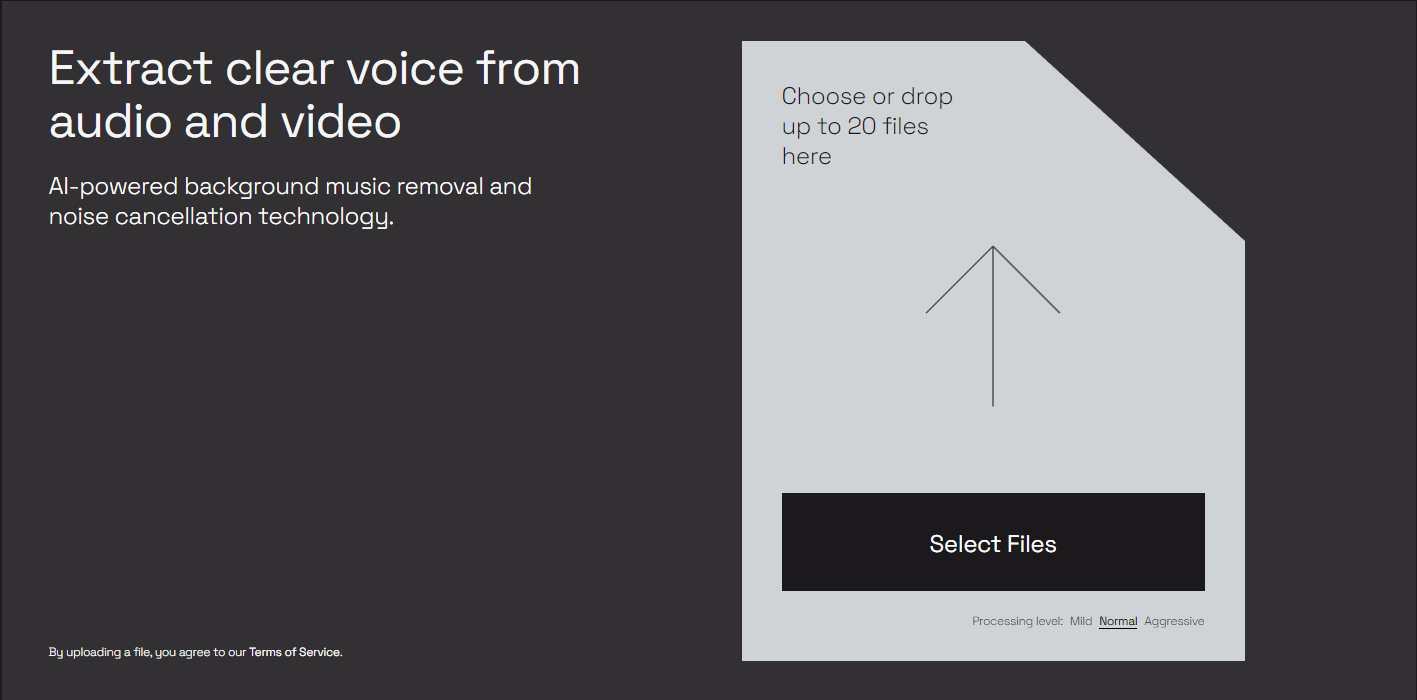 The outputs are so clean and natural-sounding that it has to be the closest to perfection compared to other similar audio-splitting software. In addition, Lalal.ai features a voice cleaner tool that lets you extract clear voice from audio & video file using AI-powered background noise cancellation technology.
It's easy to use. You can start by uploading your files by simply dragging them into the webpage or using their file selector. Wait for your file to be uploaded and once the upload is complete Lalal.ai will process the file before letting you choose the stem separation type. You can preview the separated stems too before having the tool prepare downloadable files.
Key Features
Voice cleaner offers AI-powered noise removal
Let's you split audio files.
You can separate music from video files
You can command the tool which type of sound separation you want.
High-quality output stems.
Cost-effective premium plans.
Pricing Plans
Lalal.ai is free up to 10 minutes of audio splitting and noise cancellation. Anything above 10 minutes (audio/video length) in total requires a premium upgrade. Their plans have a one-time fee approach specifically for a fixed minute range, and an uploading size limit. The premium plans include other benefits such as batch upload, fast processing queue, more compatible input-output formats, and downloading.
Lalal.ai's plans look like this:
Starter ($0, Number of minutes = 10)
Plus Pack ($30, Number of minutes = 300, One-time fee)
Lite Pack ($15, Number of minutes = 90, One-time fee)
It's incredible how well this tool is able to separate noise from a file thanks to its algorithm and trained AI on a large-scale dataset and with time, it's only going to get better.
2) Krisp – for Windows and macOS
If you are a remote worker then Krisp is a must-have app for you. It is a user-friendly AI-Powered noise reduction tool that cancels external noises in real-time. Automatic ambient noise identification and ambient noise reduction technology are flagship features of Krisp.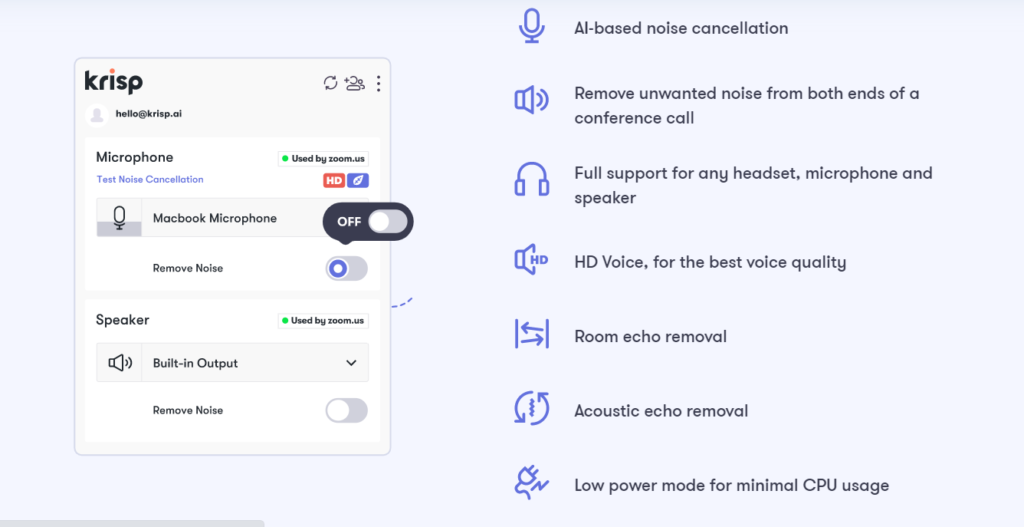 Krisp is a reputed app for delivering crystal-clear, high-quality, and crisp audio with all background noises filtered off. This noise cancellation app was awarded as one of TIME's best inventions of the year 2020 and is an Industry favorite.
From unwanted barking dogs, crying babies, keyboard clicks, and street background noises up to unpleasant acoustic and room echoes, Krisp is your automatic mute button for all that chaos.
Its AI-powered noise suppression relies on machine learning to analyze an individual's audio feed, filter out the noise, and retain only the primary audio signal. 
Key Features
It has an AI-powered noise filtering system.
It is compatible with 800+ communication and streaming apps.
Removes all noise coming from Microphones.
Removes all noise coming from Speakers.
Cancels out Acoustic echoes.
Room echo removal.
Full support for any headset, microphone, and speaker.
Low power mode for minimal CPU usage
HD quality voice output.
Inbuilt audio recording.
Floating widget quick feature accessibility. 
Pricing Plans
Krisp is a freemium tool.
It has premium plans but also comes with a free trial limited to 240 minutes per week. You will be able to use features like microphone noise removal, speaker noise removal feature, acoustic echo cancellation, HD Voice, room echo cancellation, and 1 GB of recording storage.
Premium Krisp plans look like this:
Personal Pro ($12 per month, billed monthly)
Teams ($12 per user per month, billed monthly)
Enterprise (quotation-based pricing).
All of these premium plans come with unlimited minutes of use with monthly or yearly subscription options.
3) Adobe Audition
Adobe Audition is a dedicated digital audio processing workstation developed by Adobe Inc that includes everything you would need as a professional. With their audio professional toolkit, you can produce quality audio output for your projects, music, podcast recording, and so on.
Not a lot of people use this software because of the application complexity and you would certainly need some guidelines as a starter.
Audition is an extended toolset that comes with a spectral display to create, mix, edit, and restore audio content. In addition, you would be benefited from features such as multitrack, waveform, etc. The output sound quality is very polished and avoids external noises when produced properly.
Its noise reduction settings allow you to maintain noise levels, use the DeNoise audio effect, as well modifying frequency levels. It comes with Automatic Click Remover to fix crackles from wireless microphone, Adaptive Noise Reduction effect to avoid wind sound, tape hiss, power-line hum, etc. If you are looking for noise cancellation software to use on both PC and mobile devices, Adobe Audition is a perfect tool to try out.
Key Features
Allow you to record, edit, and integrate audio clips.
Help you produce professional-quality crispy audio.
You can create a podcast right from the dashboard with great sound quality.
Audition can help your re-arrange the song to fit any duration with Remix.
Pricing Plans
Adobe Audition comes with a 7-day free trial following which you will have to accept one of their plans. There are discounts for teachers and students.
The Monthly plan costs US$ 31.49/month that can be canceled anytime, no fee will be charged.
The Annual plan costs US$ 20.99/month, and if you cancel after 14 days additional charges apply.
Another prepaid Annual plan costs US$ 239.88/year that doesn't come with a refund if you cancel after 14 days.
4) Andrea Audio Software – for Windows & Mac & iOS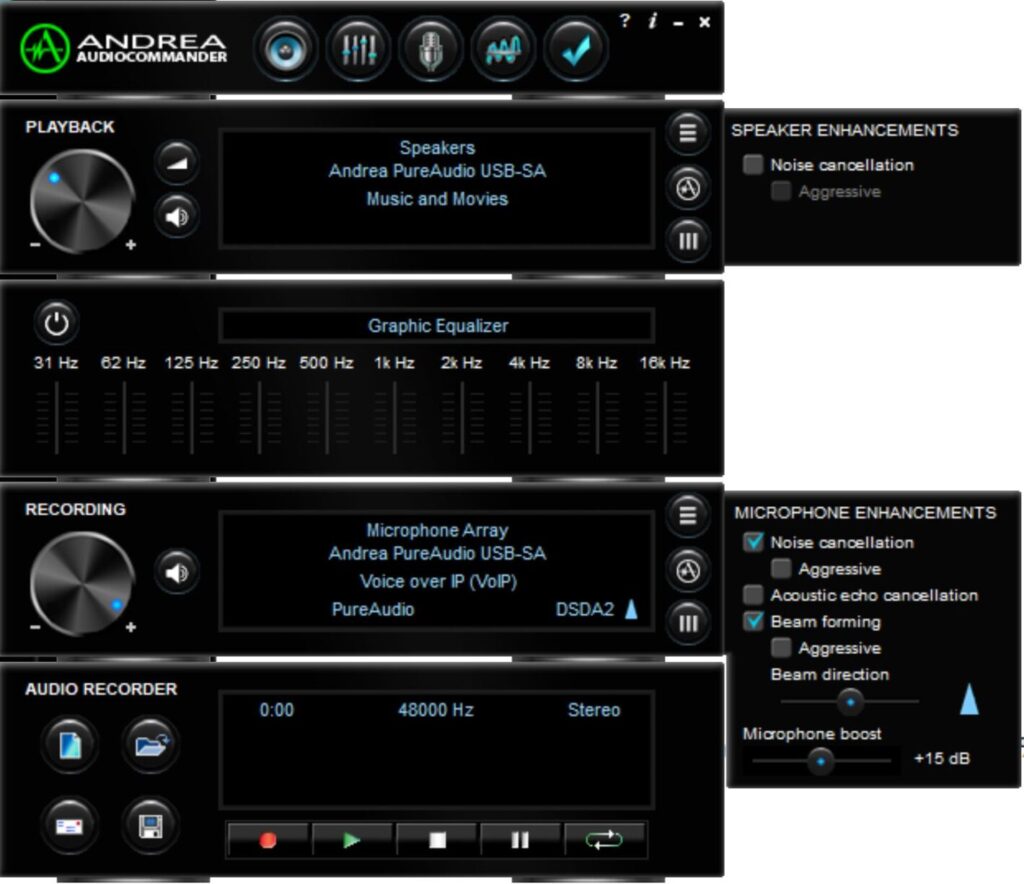 The Andrea PC Audio Software solution comes with advanced noise cancellation filters to use with Andrea USB devices. This is a feature-rich noise-canceling app bundle for windows and Mac that let users mask annoying background noises with ease.
Its aggressive noise reduction functionality ensures avoiding microphone background noise. In addition, the graphic equalizer and advanced audio recording options help you with immediate audio quality enhancement. 
With active noise canceling tools like Andrea Audio you can focus on producing great quality recordings and have no issues during phone calls. The tool is packed with important microphone recording features such as acoustic echo removal, light beamforming, stereo noise cancellation, aggressive beam forming, beam direction, microphone boost, and a lot more.
Key Features
PureAudio noise reduction on speaker output.
Stereo and Acoustic echo cancellation.
Aggressive PureAudio noise reduction for even more filtered audio output.
Dedicated 10-band Graphic Equalizer with multiple presets.
Directional beamforming noise reduction.
Microphone Boost to supply up to +30dB of additional input to the microphone.
More accurate speech recognition in high noise environments.
Pricing Plans
Andrea Audio software solution has multiple applications related to noise suppression. The price point of each module is different. You can either get the price during purchase and some other modules might need to contact their support or sales team.
5) Nvidia RTX Voice – for Windows and macOS
Nvidia RTX Voice is the new noise-canceling plugin that is designed to work with RTX graphics cards. It does a fantastic job of removing unwanted background noise from your audio clips. RTX Voice uses its AI capabilities to create noise cancellation filters and thus able to eliminate background noise from your streams and calls.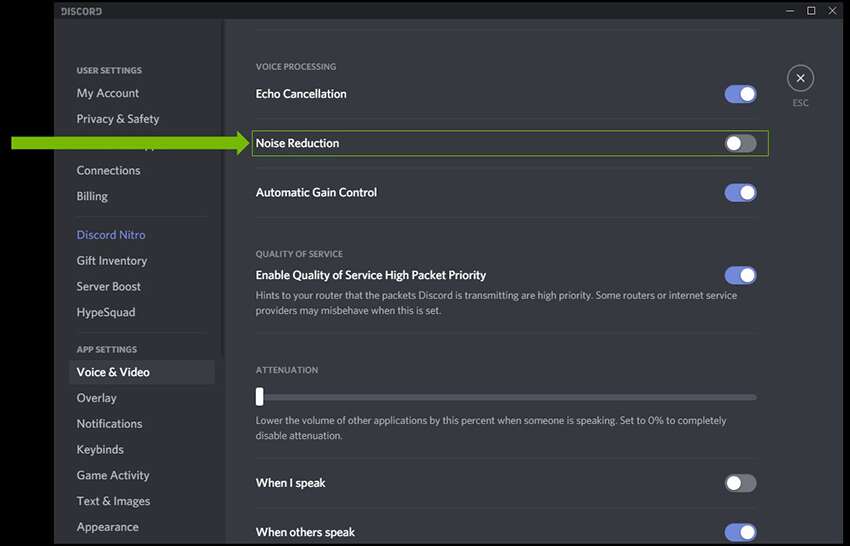 RTX Voice was introduced in April 2020 by Nvidia as a new extension for RTX 20-series GPUs to enhance audio communication by diminishing undesired background noise with AI support. It is capable of suppressing noise in incoming audio from other players in noisy environments during gaming sessions.
You must have an Nvidia GeForce RTX or Quadro RTX graphics card on your system to use RTX Voice. RTX Voice now officially works with all high-quality graphics cards in the RTX 30-series down to the GTX 600-series) which means you can use RTX voice with NVIDIA GTX or RTX graphics cards but need to have at least driver v410.18 or newer as well as be on windows 10.
It supports all kinds of communication apps on PC; however, you can't use it on your mobile phones, unlike Krisp. NVIDIA's official statement about supported communication apps are:
OBS Studio
Streamlabs
XSplit Broadcaster
XSplit Gamecaster
Twitch Studio
Discord
Google Chrome
Battle.net Chat
WebEx
Skype
Zoom
Slack
Teams
Steam Chat
Precaution: RTX voice does consume system resources, and you would want to avoid running it all the time, instead run it only when your speaker and Microphone are being used. 
Key Features
AI capabilities to eliminate background noise from your streams and calls
Eliminates PC and fan noises on Microphone.
Eliminates distracting keypress sounds from a mechanical keyboard
Provides Crystal Clear Audio.
Support two-way noise removal means incoming & outgoing noise filtering.
Support a wide range of communication apps.
Pricing Plans
Nvidia RTX voice is a free tool and is available for both GTX and RTX GPUs. Technically, you will still be spending $$$ on your GPU.
Also read: How to fix this person is unavailable on messenger issue
6) SoliCall – for Windows
SoliCall Pro is a professional Noise Cancellation Software. Because of its noise reduction capacities and advanced features, many organizations and professionals prefer this application for a high-quality audio experience.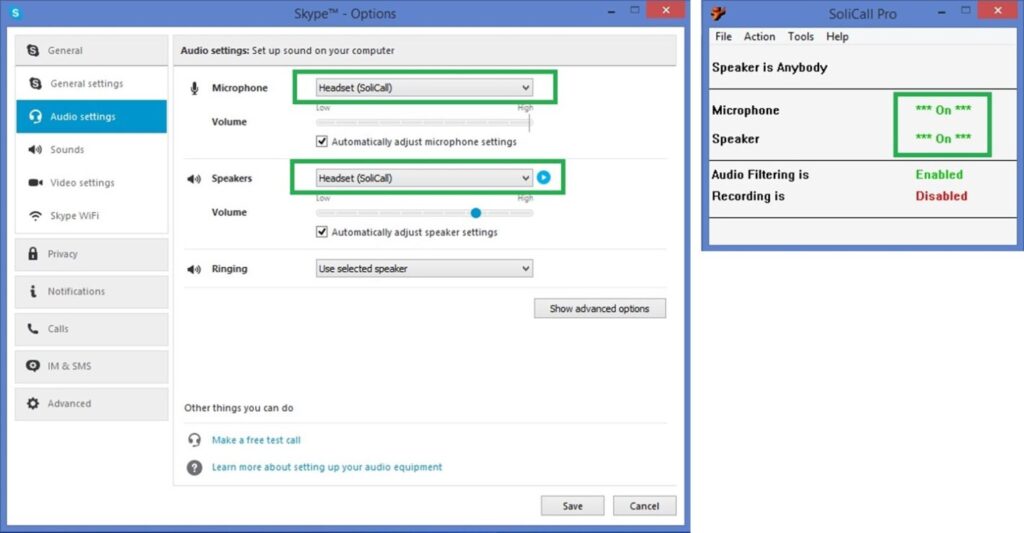 SoliCall uses an innovative and patented noise reduction technology that improves audio quality by detecting & filtering audio signals that are not originated from the speaker's vocal stream.
Their profile-based noise reduction (PNR) technology does not focus on specific noises like other software we mentioned earlier; instead, it focuses on the speaker's voice.
The PNR technology works for bidirectional audio streams and is, therefore, able to provide you with a noise-free experience for both incoming and outgoing audio streams.
SoilCall is compatible with all modern versions of Windows. During a call, it provides crystal clear audio quality on both sides and filter echos. Also, since they have cloud services, you will benefit from its service on mobile devices.
This noise-canceling software is one of the best background noise removal tools you can have on your PC. Organizations like call centers use this active noise canceling solution because SoilCall's Noise Farewell feature help prevents ambient noise in call centers and averts customers from overhearing it.
Key Features
Noise reduction and Echo cancellation are done on both sides of the call
Supports all audio formats
Works with all commercial phones
Integration with your softphone is quite simple
Records the calls
Modest CPU requirements.
Compatible with any cloud-based communication apps
Pricing Plans
SoilCall pro has a trial period of 3 days, and as it seems on their official site. You will have to contact their support team to go for the premium.
7) NoiseGator (Noise Gate) – Linux/Mac/Windows
It's a simple noise suppression software capable of background noise removal during Skype calls. It can wipe out noise from your audio input or the speaker output based on their gate logic.
During Skype calls, Noise Gator analyzes the audio level, and volume of background noise and if the average audio level is higher than the threshold, audio input bypasses the advanced noise filter. If the average audio level drops more than the threshold, the gate closes, and Noisegator will cut the audio.
You can use this tool with a virtual cable that acts as a noise gate for either input(microphone) or output(speakers). It can be used while gaming or online conference (on Skype) for long sessions. Switching audio input during use does seem to work fine on my tests.
Key Features
Designed explicitly for Skype call sessions and compatible.
It's a lightweight open-source program.
It requires Java 7 or higher for Windows.
Requires Java 6 or higher for Mac (Java 7 recommended)
To use it with VIOPs, a virtual audio cable is required.
Pricing Plans
Noise Gator is open-source software. The developer recommends Windows users have a VB-Cable driver installed or updated while using this digital active noise cancellation software.
8) Mp3, MP4, WAV Audio Video Noise Reducer, Converter – for Android
This is an Android app that comes with AI-based noise suppression features for audio noise removal on android devices. This app can also be used as an audio recording app with built-in noise-canceling features.
‍Mp3, MP4, WAV Audio Video Noise Reducer, Converter uses the latest deep learning technology (as described) to remove or cancel noise from an audio file. 
This app is very lightweight; it doesn't take much of your phone's space. It is also effortless to use. One disadvantage is the app doesn't work with music, so you won't be able to clear noise while playing music on your phone. Nowadays music comes at a high bit rate anyway.
With this app, you can create audiobooks obviously with reduced noise and clear audio quality; that's all by the way on your android phone in hand.
Key Features
Makes Audio noiseless and clean
Facilitates comparison between noisy and clean Audio
Saves Audio in 15+ audio formats
High-Quality Audio Recorder
Facilitates sharing of Noiseless Audio and Video
Pricing Plans
This noise-cancelling app is free to use.
9) Neutralizer – for Android
Neutralizer is an interesting one in this list but not a typical noise-cancelling app. It's more of an equalizer made for sound restoration and improves the audio experience on a mobile device.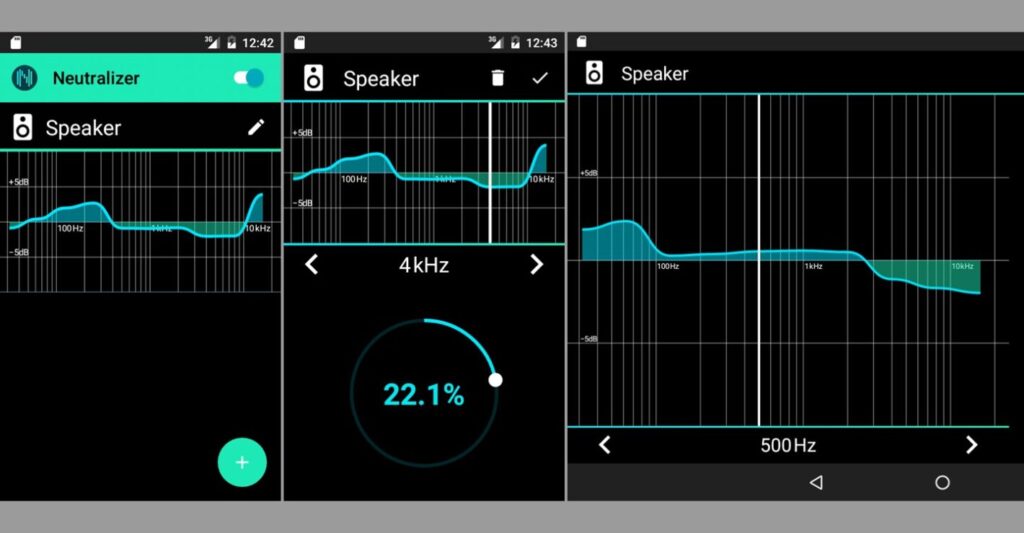 Most of the time, we believe that we need high-quality audio output hardware. While this is true, you can also achieve a high-quality audio experience with hearing enhancement. With that logic, Neutralizer is developed to minimize the lack of your acoustic track.
The neutralizer tests your hearing ability in key frequency ranges and adjusts the system equalizer to use that profile for a better listening experience.
This app is quite flexible regarding the audio customization feature. You can manually cut off unwanted audio frequencies to meet your preferred listening experience as well. Neutralizer is better in this particular app category because it doesn't distort sound quality like other apps. 
Key Features
A hearing examination feature is provided
Adaptation of sound
Noise reduction mode is Activated
An Adaptive System Equalizer is provided
Various Key Frequency ranges are available
Pricing Plans
Neutralizer is free to use and available for Android users.
New post: 10 Best Sword Enchantments In Minecraft – Gamespec
10) Samson Sound Deck – Windows/Mac
Samson Sound Deck is another free noise cancellation software with Samson's new "Go Mic Direct Portable USB" microphone. Sound Deck comes with a complete package to improve computer communication and audio recording.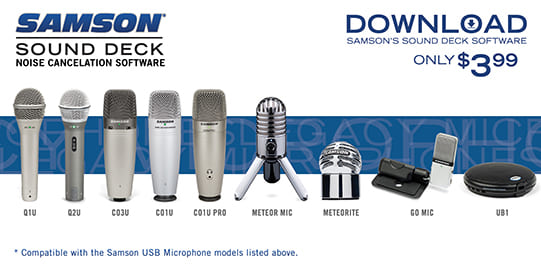 It is powered by state-of-the-art digital noise reduction algorithms that help it produce high-quality crystal clear audio outputs. Important to mention that digital audio processing technology is used on cockpits of military fighter jets and tactical Special Forces units. This technology heavily inspires Samson Sound Deck.
Key Features
As mentioned above, Sound Deck is a complete audio utility tool combined with various recording and output solutions.
Works well on both Windows and Mac PCs.
This tool seems to be memory efficient on our tests.
It has filters to let you control the audio output.
Too good to record webinars, voice memos, and audio files.
Pricing Plans
Samson Sound Deck costs around $4 and does not have any trial or demo version.
11) Noise Killer – Android-only noise-cancelling app 
Noise Killer is another noise suppression software only available for Android phones. It helps in managing noises in crowdy – very useful in libraries, classrooms, offices, and other places where you need to maintain silence.
Noise killer is one of the most straightforward noise reduction apps to monitor sound levels. The app will alert you if the sounds exceed the maximum value of the sound level you have set or it's the default configuration.
It features a handful of alert types for example vibration, beep, message, etc. You can manage the volume level depending on the surrounding noise. It has a "shake" function that can adjust the volume based on your phone's movement.
Key Features
Noise level monitoring
Automatic volume adjustment
Speed movement monitoring
Geo-position access
Shake function
Pricing Plans
Noise Killer is a free-to-install app and is available on Playstore.
12) Urban Denoiser
UrbanDenoiser is an app designed for people to enjoy their favorite music. But it can act as noise cancellation software by automatically adjusting volume and frequency masking to eliminate undesirable noises in the background.
This noise-canceling app allows you to hear and listen better as well as does a great job of suppressing the noise during video calls. The UrbanDenoiser won the Microsoft AppCup in 2015.
Key Features
Noise reduction
Patented natural sound restoring
Sound amplification equalizer
Volume booster
Pricing Plans
UrbanDenoiser is another free-to-use app with in-app ads.
Are you able to pick your noise cancellation software?
These seven tools are selected based on their capabilities and overall user experience. On top of that, these tools are stuffed with tons of awesome features that you would want to try out. Either explore their official pages or try them yourself to see which one suits you best. Additionally, there are other tools in the market that you might love.
Additional articles: